Welcome to your new school! This half term we are learning through the theme Getting To Know You. We are looking forward to meeting you all!
Week beginning 10th July 2017
This week we have listened to the story of Elmer the elephant. We have written our own ideas for alternative tricks that Elmer might play on his friends. Suggestions were plentiful and included Elmer squirting his friends with water, Elmer dressing up as a bear, Elmer dressing up in a sweet costume and Elmer walking into a giant orange and visiting the queen!
The children have enjoyed applying their learning to play shops, buying and selling our toy plastic wild creatures.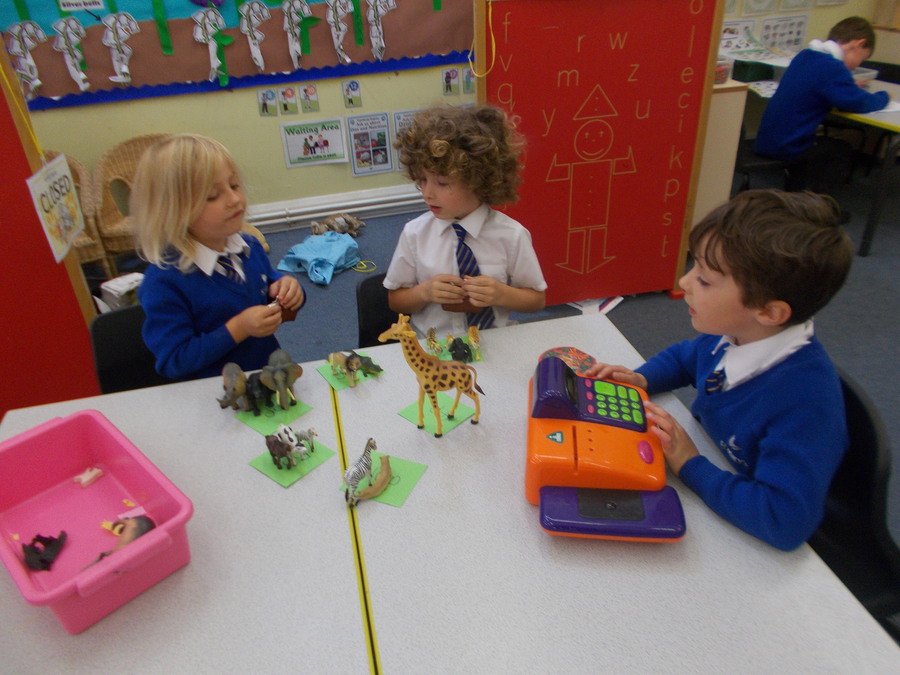 In RE we have re-enacted the story of David and Goliath and talked about how God gave David the courage to battle the giant. David trusted God to look after him and we thought about who we trust in our lives.
Goldfinches presented a super class assembly to their parents and the rest of the school on Tuesday afternoon. Everyone used big voices and sang beautifully. Well done Goldfinch Class. Your teachers are proud of you all.
This will be our last news page entry this year. We hope you all have a super summer holiday. We look forward to seeing all parents at the end of term service on Tuesday at 1.15 at St Mary's Church. Many thanks to everyone for their support this year.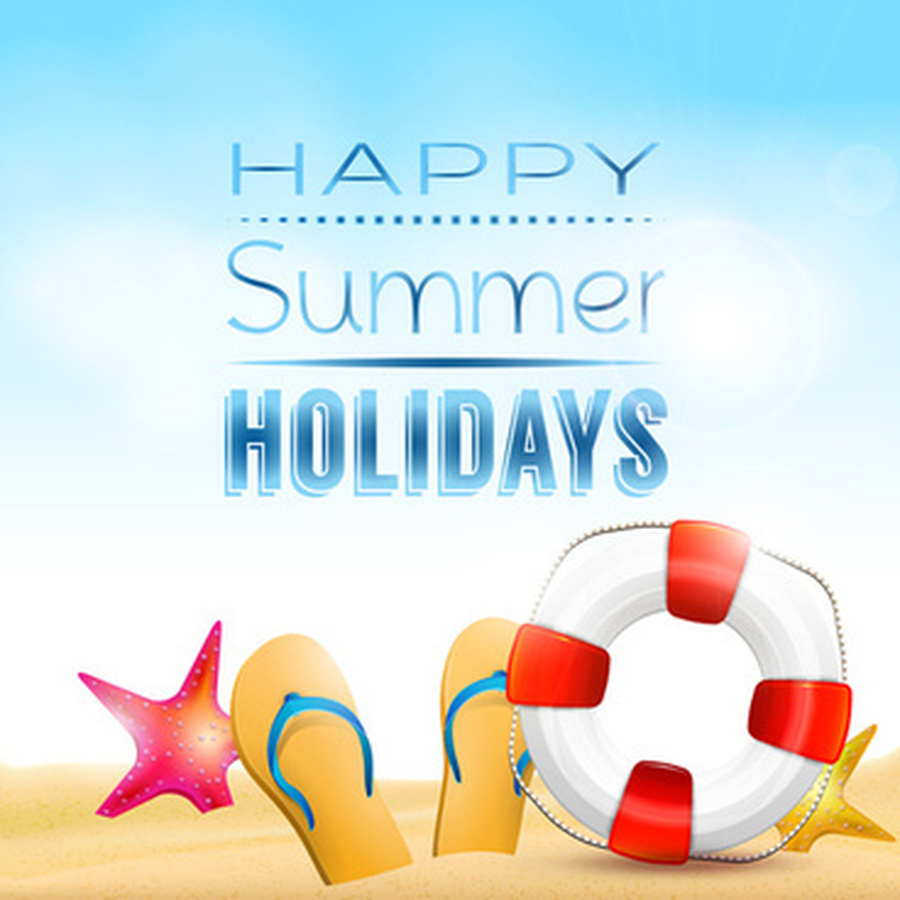 Week beginning 3rd July 2017
This week our learning has been linked to wild animals. We have begun to make our own pictures of a wild animal caught in a storm based on the famous painting below. We have used collage materials to make the backgrounds and next week we will be creating the wild animals to add to our pictures.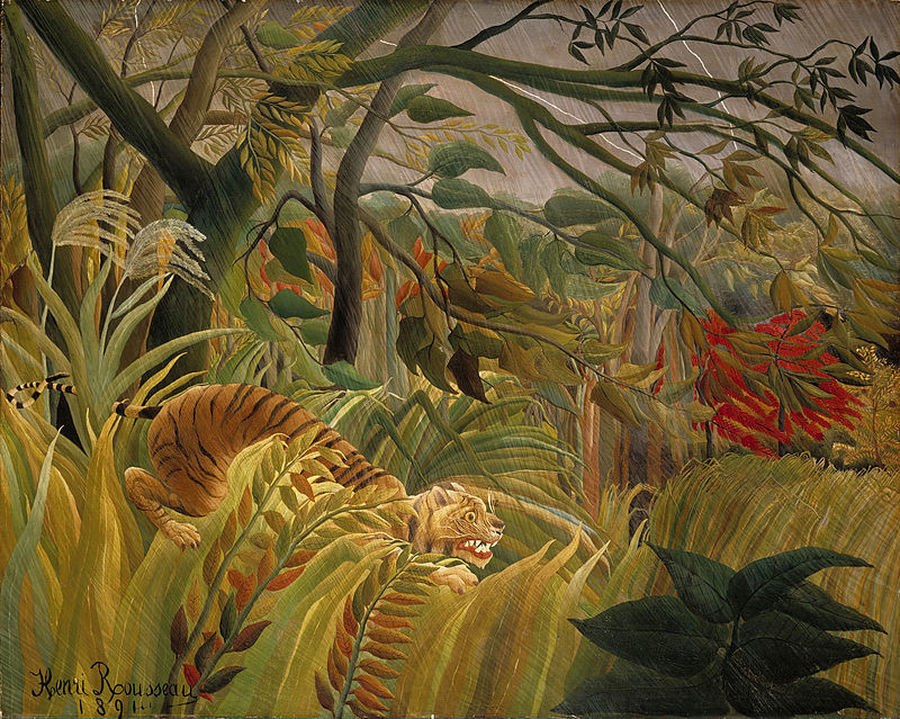 We enjoyed listening to and joining in with the story 'Baby Bear, Baby Bear, What do you See?' and we have had a go at writing our own lines to add to the book.
Week beginning 12th June 2017
This week we have been learning about minibeasts. We have looked at information books about minibeasts, designed our own minibeasts on the computer and listened to the story of the Very Hungry Caterpillar. We looked carefully at the caterpillars in our classroom and wrote some super sentences about our observations.
Some children have said that our caterpillars will change into butterflies, so we made some colourful paintings about what they might look like.
The children have brought into school their soft toy animals and some of them are now sporting some rather fetching waterproof jackets!
We held sports day on Friday morning and Goldfinch Class were spectacular! Everyone tried their very best. Well done children - we are very proud of you all.
Week beginning 22nd May 2017
Our nursery rhyme focus this week has been Humpty Dumpty. We have enjoyed singing the nursery rhyme and we have written our own alternatives. We have had great fun outside throwing and catching our own balloon Humpty Dumpties.
We have used cake decorations and icing on biscuits to make edible Humpties - yum-yum!
We have made some super pictures to show our favourite nursery rhymes. We used 3D shapes and used everyday and maths words to explain our pictures.
We have also made patterns using different items and talked about our work.
Week beginning 8th May 2017
We have enjoyed singing the nursery rhyme Incy Wincy Spider this week and we have made our own spiders using different materials to model heads and bodies, taking care to add the right number of legs!
We have read information texts about spiders and learnt all sorts of interesting facts. We shared our own experiences of spiders with each other and wrote fact booklets to share our learning.
Incy Wincy spider was very resilient! He was brave and was not put off trying to climb the spout when he was washed away. Just like Incy, we persevered to build the highest towers we could even when that meant trying over and over again!
Our beans have grown! A few weeks ago we planted beans in beakers and we have been watching them change over time. It has been so interesting to watch the roots, shoots and leaves develop and they seem to have grown very quickly!
Finally, well done Goldfinches for performing your May dances so beautifully at our May Celebrations on Friday. All the practising paid off. Your teachers are very proud of you all.
Week beginning 24th April 2017
On Thursday we went on our Spring Walk to Frensham Common. We stopped and listened for different sounds and looked out for natural things such as birds, trees and bracken. We searched for signs of spring and then enjoyed a scavenger hunt. Down on the sand we constructed Jack's and Jill's hill and sang the nursery rhyme. We were definitely ready for a snack before walking back to school!
Our nursery rhyme for the week is Mary, Mary quite contrary. We have loved playing with Mary's garden of shells, flowers and wood pieces.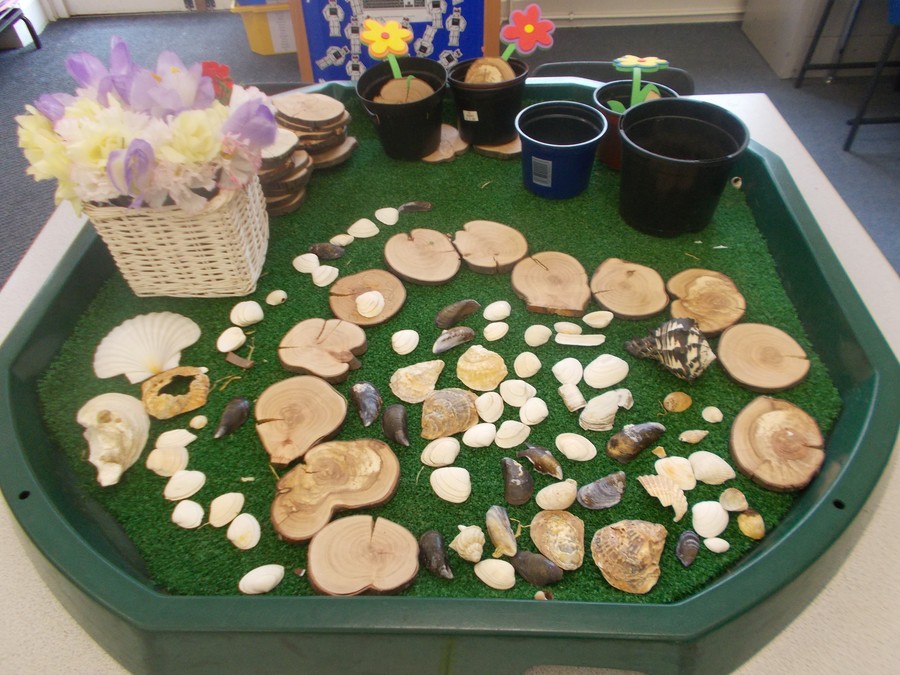 We have been practising using mixed sets of coins to buy flowers.
We have made some fabulous paper plate flowers using different collage materials for Mary to add to her garden.
Week beginning 27th March 2017
We have had an Easter bonanza of activities this week! We have had fun hunting for Easter eggs on the common and we have enjoyed making Easter hats and decorating eggs for our parade and egg rolling competition. On Wednesday we held our Easter Pause Day trying out different activities to make us think about the true meaning of Easter. We have also been practising our songs for the Easter service on Friday. We look forward to seeing you all there. Happy Easter everyone!
Week beginning 13th March 2017
This week we have been finding out about police officers. We enjoyed a brilliant visit from PC Warren who talked to us about how the police help people. He also showed us some of his police kit. Some lucky children even got to try some of it on! The children also had an opportunity to ask PC Warren some questions. What a lot we all learnt, even the grown-ups! A special big thank you to PC Warren for coming in to see us.
We also learnt about road safety and practised our new skills outside while some children rode on bikes and scooters outside in the playground.
We have been improving our cutting and fixing skills this week. Our challenge was to create a paper traffic jam of emergency vehicles. We cut them out and joined them together in lots of different ways ... treasury tags, glue, wool, sticky tape, masking tape, staples.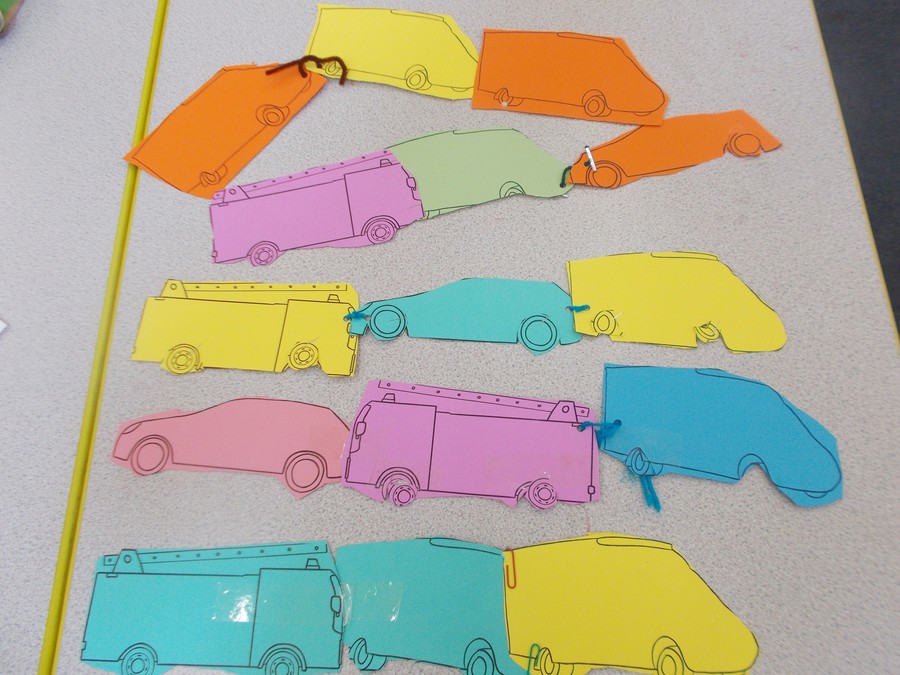 In maths this week we have been finding doubles and counting sets of items in sets of two to find answers to What is...? and How many...? word problems. Everybody loved using the numicon and the joining elephants.
Week beginning 27th February 2017
This week we have been learning about the role of builders. We have enjoyed playing outside in our 'building site,' we have constructed our own towns on the computer and we have cut out and labelled items that could go into a toolbox. We have also worked together to build strong walls, sharing our own ideas and listening to the ideas of others to build the best wall that we could.
On Thursday it was World Book Day and Goldfinches arrived at school in all manner of amazing costumes, dressed up as characters from favourite stories. We showed off our outfits in a parade around the hall.
Our Christian value this half term is fairness. We talked about the meaning of fairness and looked at pictures of people behaving fairly and unfairly. Then we created our own prayer cards asking God for his help so that we may work and play fairly everyday.
Week beginning 6th February 2017
This week we listened to the story 'Aliens Love Underpants.' We talked about our favourite parts of the book and explained why we like them. We made our own 'Wanted' posters for the naughty aliens trying hard to use some good descriptive vocabulary in our writing.
We had much fun designing and printing our own underpants - I wonder if the aliens from the story might like these ones?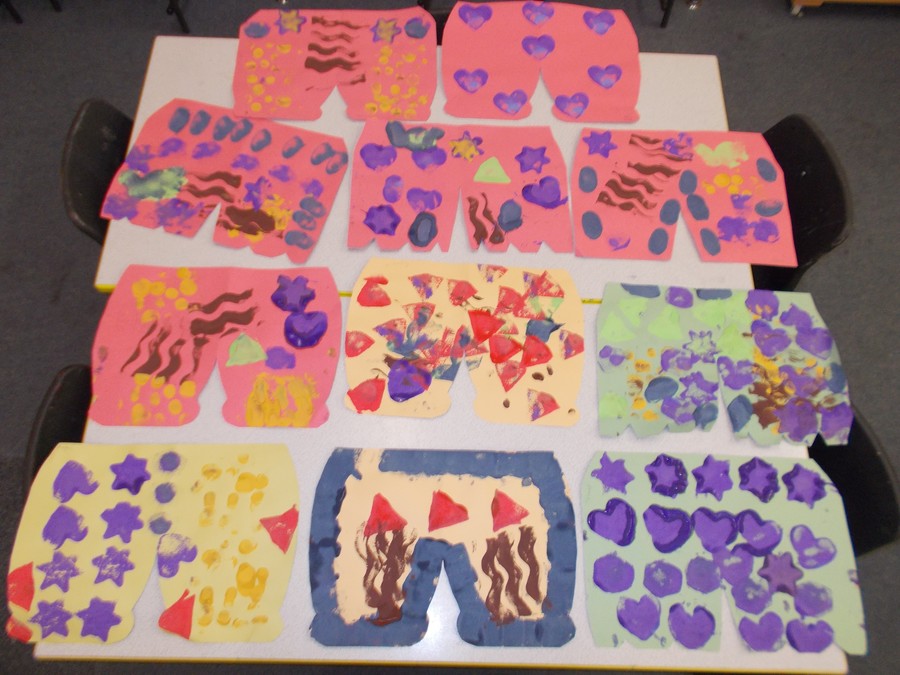 Miss Revell constructed our dark den and we enjoyed looking at things that shone and sparkled in the torch light in the dark We talked about why some things shine and reflect the light.
Our fingers have worked hard this week - We used small fiddly pieces to make new things. In forest school we collected natural items and pressed them into clay to make faces, while in our art area, we made our own funny aliens from saltdough and added lollipop sticks, match sticks, pipecleaners and other bits and bobs to create features.
Happy half term holiday everyone. We hope you have a lovely break and we shall see you all in a week's time.
Week beginning 30th January 2017
We began this week with a marvellous Chinese Workshop as part of learning about Chinese New Year.
We have also enjoyed tasting Chinese food, making Chinese lanterns, writing cards and exploring Chinese artefacts and writing labels for them. We have talked about Chinese traditions and customs and thought about how they are different to our own. Later this week we shall be making up our own Chinese Dragon Dance.
In maths, we used links to find totals of two sets of numbers. We recorded our work in our own way using numbers and pictures.
Week beginning 16th January 2017
The most amazing spacecraft have been constructed in Goldfinch Class this week. We used old cardboard boxes and cartons to create model vehicles for only the very best astronauts!
The children had to solve a problem on Thursday. Samuel Spacestar, an American astronaut, sent us a letter asking for our help to find a material for his space shuttle that his new magnetic boots would be attracted to. We tested a variety of items and sorted them. We discovered that metal would work best.
We have had great fun creating animated space pictures. The children learnt how to add a background to their pictures, how to make it move and added appropriate phrases and words to accompany their pictures. What a lot of learning!
Week beginning 2nd January 2017
Welcome back everyone. We hope you had a wonderful Christmas holiday. This week we began learning through our new theme, Outer Space. There was lots of excitement as we began with an imaginary trip to space in a rocket with Miss Revell. We have also also painted our own imaginary planets, built funny aliens and enjoyed playing with our small world rocket and space station.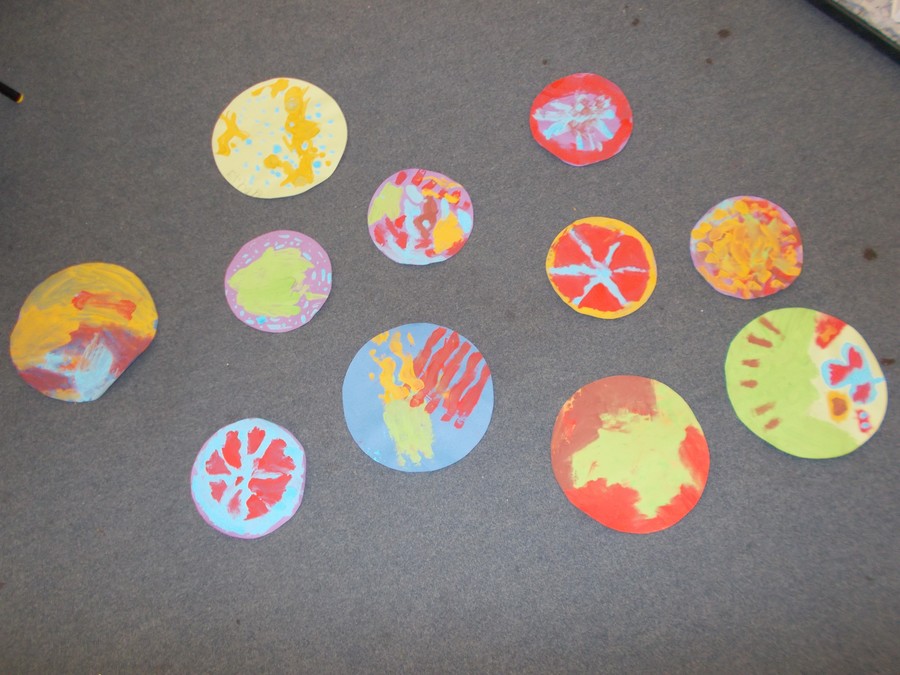 We have been ordering and measuring spacecraft by length this week. We all know where to begin our measurements from and where to finish. We used counting people, counters or multilink to measure with and counted the number we used for each to provide measurements. Some of us were really clever and decided to write down the numbers to match the units we used.
Our role-play area has become a space station this half term. Children will be busy sending astronauts into space and watching out for any unexpected visitors!
Week beginning 5th December 2016
Congratulations Goldfinch Class on two wonderful performances of our nativity play, Christmas Counts. You behaved beautifully, you sang fantastically and you spoke clearly and loudly. Your teachers and parents are very proud of you all. Well done!
We have gone Christmas crazy in the classroom this week! We have coloured Christmas pictures, completed Christmas dot to dots, made 3D Christmas stars and created Christmas tree cards. Such fun!
We have also made repeating pattern candy cane decorations for our trees at home using pipe cleaners and beads. Threading the beads helps to give us strong fingers and great control.
Week beginning 21st November 2016
It is certainly getting colder outside and our learning this week has been linked to Winter. We have created wintry scenes on the computer, printed winter pictures using seasonal printing blocks and we have composed winter poems. We have also used pictures of animals that live in snowy places to help us with adding up and taking away.
Our Christian Value this half term is Loving and Giving. We have talked about who we love and we have offered ideas about how we can show Loving and Giving at home, in school and out in the wider world. We have also composed prayers to ask for God's help to show Loving and Giving.
We have begun to practise our Christmas Performance and are excited about showing our hard work to our families. Who do you think might be wearing the hats below on the big day? Remember to practise your words at home everyone and say them as loudly as you can!
We have had much fun handling, observing and talking about ice shapes. We watched carefully for changes and thought about why the ice began to melt. The shapes were very cold!
Week beginning 7th November 2016
We have been thinking especially about Remembrance this week. We have learnt about why we have Remembrance day and we have made our own poppy wreath for our school Remembrance service on Friday. We have thought about the different ways that people show that they are remembering.
We continue to learn through our theme of Autumn and the children have had great fun making little pinecone creatures.
The children are learning how to play hockey with the games coaches. Early skills practised include how to hold the hockey stick and how to dribble the ball. Super effort Goldfinches.
Week beginning 17th October 2016
This week we have been enjoying learning activities linked to birthdays. We have written birthday cards and party invitations, made number sequencing paper chains, compared presents by weight using a balance, designed birthday cakes on the computers and made paper plate party crowns.
In RE we have been learning that Christians believe that we are all special to God. We listened to a story and talked about how we are special. We composed sentences for speech bubbles to explain how we are special.
We have also been creating shadows in a shadow box using shapes and torches in our exploring and investigating area. What a busy week! Happy half term everyone!
Week beginning 3rd October 2016
This week we have been thinking about our different senses. We have explored different items using our senses and written poems about them too.
We shared the story of the Gingerbread Man at the beginning of the week. The children enjoyed making their own gingerbread men but enjoyed tasting and eating them even more so!
In RE we have been thinking about our Christian Value, Respect. We talked about who we should respect and the ways we can show respect. We wrote our own prayers for the class prayer tree asking for God's help to be respectful.
Week beginning 19th September 2016
This week we have been working hard to stick to our charter of class rules, in particular, the one about looking after school equipment and the one about tidying up. Everybody enjoyed their reward for sunny behaviour in the playground, especially as the afternoon was warm and dry!
We have been showing our teachers some of the things we know already - We have been finding numbers, colouring, cutting and sticking, writing our names and finding letters in spaghetti and saying their sounds!
Some exciting and interesting models have been constructed this week. Children have built homes and cars and explained the detail they have included. They have enjoyed sharing their work with their friends and teachers.
Week beginning 5th September 2016
A big welcome to all children in Goldfinch Class and their parents. We look forward to getting to know you all and helping the children with their learning.
A couple of initial notes for parents - Please send into school with your child daily a named drinks bottle filled with water and a named small snack box with fruit/vegetables. Thank you.
The children are beginning to find their feet and have enjoyed taking part in activities over a busy few days. We are all ready for a well-earned weekend rest! We will see you all on Monday morning. Well done Goldfinches on a super start to the term.
Week beginning 26th June 2017
We have had a go at lots of activities linked to farm animals this week. Our small world farm is out to play and make up stories with, we have created maps to help us retell the story of 'Rosie's Walk' and we had a fantastic visit to Pierrepont Farm.
Our caterpillars created their chrysalis last week and hatched out at the beginning of this week. On Thursday we released them and it was exciting to watch them fly away out towards Frensham Common.
Week beginning 19th June 2017
Our learning this week has been linked to creatures that live in water. We have made playdough sea creatures, found out about the lifecycle of a frog and created sound makers that make the sound of rippling water or raindrops.
We listened to the story of the Rainbow Fish and wrote descriptions of him, trying hard to use some good adjectives.
In maths we have been working on using position words such as on, behind, under, above, next to, beside, in front of. We played a game with a friend taking turns to give instructions about where to place our sea creatures in an underwater scene.
Our waterproof jacket making continued this week. Here are some more well-dressed toys!
We were lucky enough to have a visit from an artist on Wednesday who is helping us to create some beautiful clay tiles for our school garden. They haven't been decorated yet, but they still look amazing!
Week beginning 5th June 2017
Welcome to the final half term of the school year. Over the next few weeks we shall learning through the theme All Creatures Great and Small. This week, our focus has been on pets. We talked about our own pets, wrote about our favourite pets and made paintings of different animals that are kept as pets. Our challenge of the week was to write down as many pets as we could think of.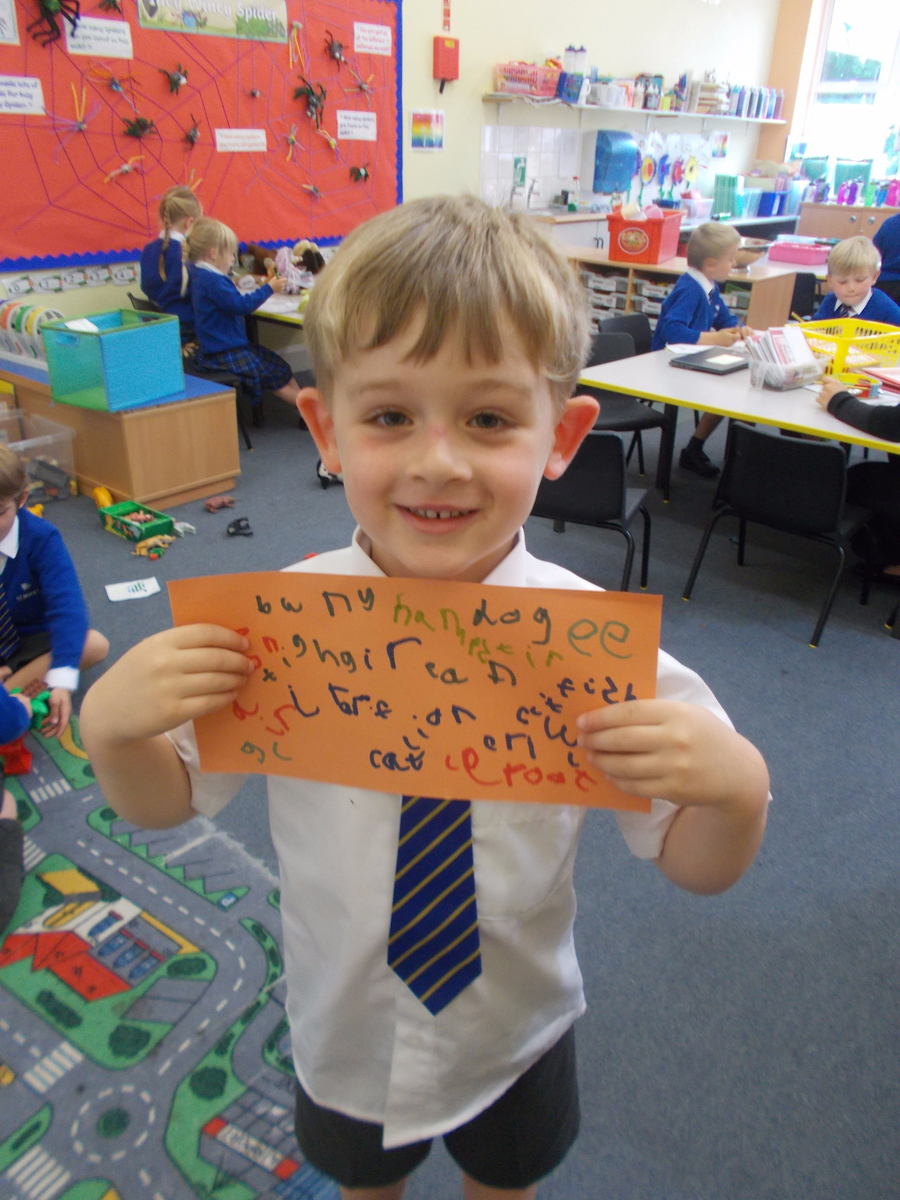 Over the next couple of weeks we will be making waterproof jackets for our soft toys. This week, in preparation, we explored different materials and investigated those that might be suitable.
In forest school, we enjoyed making crowns using natural items that we could find lying on the woodland floor.
Week beginning 15th May 2017
This week our learning is linked to the story of Beauty and the Beast. We have listened to the story and even watched some clips from the animated film. We have talked about the characters and shared our ideas about our favourites. We have enjoyed creating our own beasts with building kits, collage materials and using painting software on the chrome books.
We have also had a go at writing our own 'Beast' stories and tried to include story words like Once upon a time... One fine day... Suddenly.... Luckily.... and At last....
In maths we have sequenced morning and afternoon o'clock times and we have been learning how to read and make times (o'clock and half-past times). Can you read your clock or watch at home? What is your favourite time? Mrs Bridges likes 7 o'clock in the evening because that is dinner time!!
Week beginning 1st May 2017
Our learning this week has been through the story Little Red Riding Hood. We have rewritten the story, weighed Red Riding Hood's apples from her basket and weaved paper baskets. We had fantastic fun creating clay teacups for a tea party at Grandma's house.
Week beginning 17th April 2017
Welcome back everybody. We hope you are all rested and ready for another busy term. This week we began our brand new theme 'The Land of Far, Far Away' during which we will be taking part in activities linked to our favourite traditional tales and nursery rhymes. This week we listened to the story 'The Enormous Turnip.' We wrote our own versions of the story and some people came up with some super alternatives to the words big and enormous such as colossal!
We have had great fun making our own fruit and veg creatures...
...and we have also enjoyed making paper plate collages of healthy foods.
In maths we have been working at sharing sets of items into equal groups. We pretended our unifix cubes were vegetables growing in the garden with the enormous turnip. We shared out the vegetables among the story characters taking care to make sure they all had the same number to keep things fair.
Some of us printed with fruit and vegetables and created some marvellous repeating patterns. Excellent thinking Goldfinches!
Week beginning 20th March 2017
We have had a busy week exploring the role of doctors. We have dressed up as doctors and played with the equipment in our doctors bag, we have made notes about our patients and how to make them better, we have written get well cards and we have played with our small world hospital. We even constructed our own model hospital beds and measured their different lengths.
We had great fun creating faces with clay. We looked at our friends while we worked to help us to remember to include as many facial features as we could. We used tools to add extra detail to our work.
We enjoyed investigating how far our toy emergency vehicles would travel on ramps. Sometimes we put the ramps high and sometimes we had the ramps low to see if this would make a difference to how far they would go.
On Sunday it is Mothering Sunday. We worked very carefully with tissue paper, glue, scissors and oil pastels to make some special cards to show just how much we love our mummies.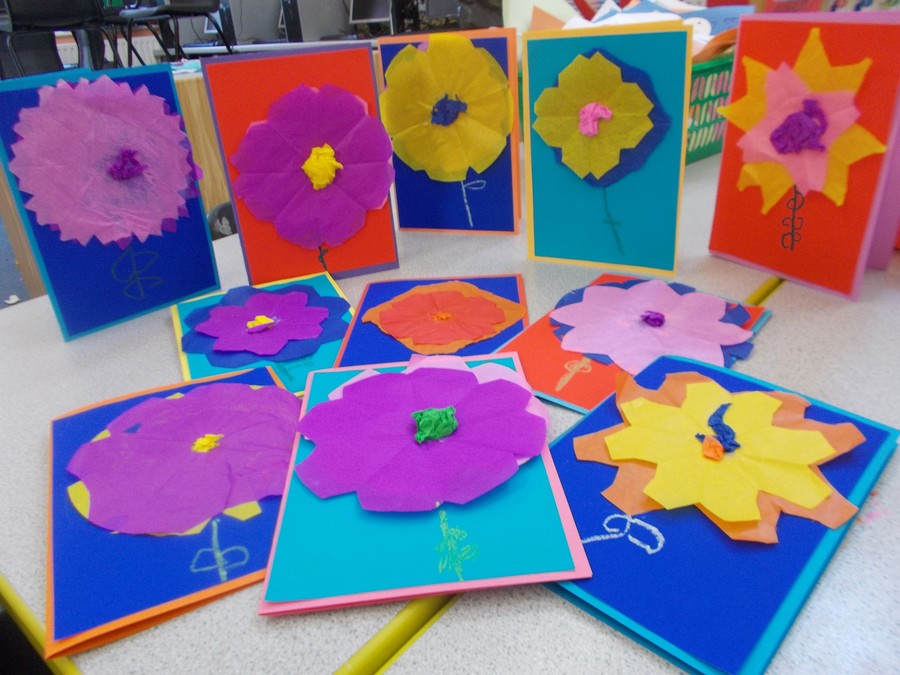 Week beginning 6th March 2017
Our learning this week has been linked to the work of firefighters. We have written labels and captions for fire engines, we have played with our fantastic small world fire station and we have pretended to be fire fighters putting out fires while also learning about capacity.
We have also enjoyed creating our own fire engines. We selected our favourite building kit from a selection and constructed models, thinking hard about all the features of fire engines that should be included. We talked about our models and explained how we make them move using words like push, pull, drag, forwards, backwards and around.
Week beginning 20th February 2017
We began our new theme, People who Help us, with learning activities linked to the role of teachers. We have taken turns to be a teacher in our role-play school and had fun being bossy and taking the register!
We have written signs for the classroom and enjoyed painting portraits of the grown-ups who work in our classroom. We tried hard to choose appropriate colours and to include plenty of detail to make our portraits the best we could paint.
In RE, we talked about our favourite meals and who we share them with. Then we listened to the story of the 'Feeding of the 5000' and thought about how Jesus managed to feed all the people from just 5 small loaves and 2 fish. We made some sandwiches and then acted out the bible story. We used the sandwiches to represent the loaves and fish. They tasted delicious!
Finally, we have been exploring pushes and pulls in the classroom. We tested all sorts of items including drawers, chairs, light switches, toy cars, the welly rack, bike pedals, to name just a few. We talked about whether we used a push or a pull or both to move them and recorded our findings on paper.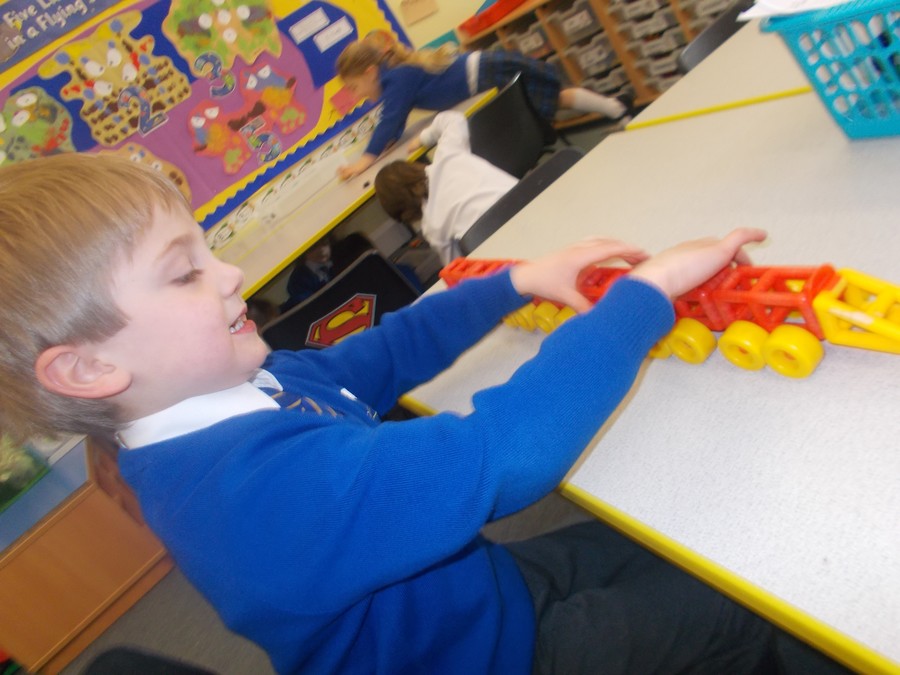 Week beginning 23rd January 2017
This week we have made blow rockets and we enjoyed making them fly high in the hall. We had to use lots of puff to make them travel. We also made shooting stars. We tried to cut carefully along the lines, thought about a decorative pattern and had to decide where to attach the streamers from. They looked beautiful!
We listened to the story of the Blue Balloon for inspiration and then drew our own imaginary worlds and lands to write about using adjectives. Ideas included 'Bunny World,' 'Castle Land,' 'Cupcake World,' 'Boat World' and 'Power Ranger Land.'
In our RE lessons, we continue to think about friendship. On Friday we talked about how we choose our friends and what we like about them. The we listened to the New Testament story about Zacchaeus and talked about how he changed once he had made a friend in Jesus.
Finally, in PE we have been practising early tennis skills, balancing balls and beanbags on rackets. Possibly some budding Andy Murrays in our midst?!
Week beginning 9th January 2017
We continue to learn through our theme of Outer Space and have enjoyed creating imaginary aliens using 2D shapes. We talked about the number of sides, whether they were curved or straight and the number of corners on the shapes we used.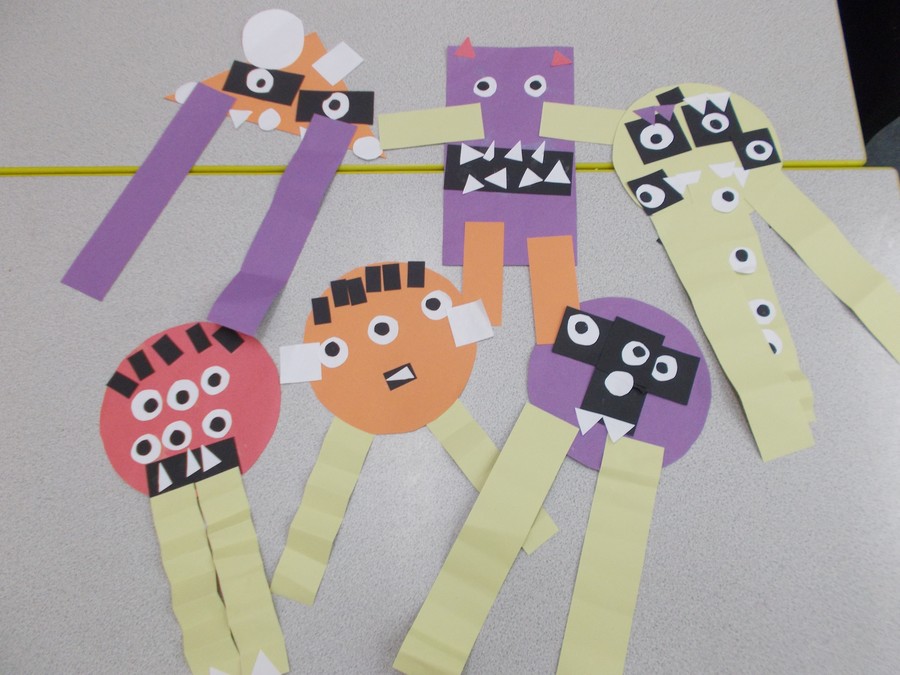 We have listened to the story 'Whatever Next' and have retold it through role-play, sequencing pictures and while creating labelled story mountains.
It has been great fun to construct our own spacecraft using small and large construction kits.
We have been exploring magnets this week in preparation for a magnet challenge next week. Watch this space!
Week beginning 12th December 2016
The Christmas party was held on Thursday. It was a great success with dancing, games and a fantastic tea prepared by FOSMs, who also managed to transform the classroom into a Christmas grotto in a very short space of time!
We have been working hard just like Father Christmas' elves! Our challenge of the week was to make a toy, using a favourite construction kit, and to explain how it works. What a variety of toys!
Happy Christmas everyone. We hope you have a wonderful Christmas holiday and return to school well rested and ready for the brand new year.
Week beginning 28th November 2016
We have been rehearsing hard for our up and coming Christmas Nativity Performance. We look forward to welcoming you all to see it next Wednesday or Thursday.
Goldfinch Class have enjoyed playing and story-telling using a Winter Wonderland small world scene created by Miss Revell. Can you guess what the snow was made out of?!
We have shared the story 'One Snowy Night' by Nick Butterworth. We listened carefully so that we could sequence pictures to help retell the story. Then we worked hard to identify and write down sounds in words to compose our own sentence for part of the story.
On Thursday, Signposts came in to our school to deliver a marvellous assembly about the story of the very first Christmas. Some of us even got to dress up to help them with their story-telling.
Week beginning 14th November 2016
We have been composing our our own poems about Autumn this week. We all thought up a line and then put them altogether to create group poems. We tried very hard to identify and write down the sounds in the words we wanted in our poem.
In RE we talked about celebrations this week. We thought about celebrations we have been a part of and also remembered the celebrations that are particularly important to Christians: Harvest, Christmas and Easter. We recalled what we are remembering and celebrating at these special times. Some of us made different cards that might be given at different celebrations.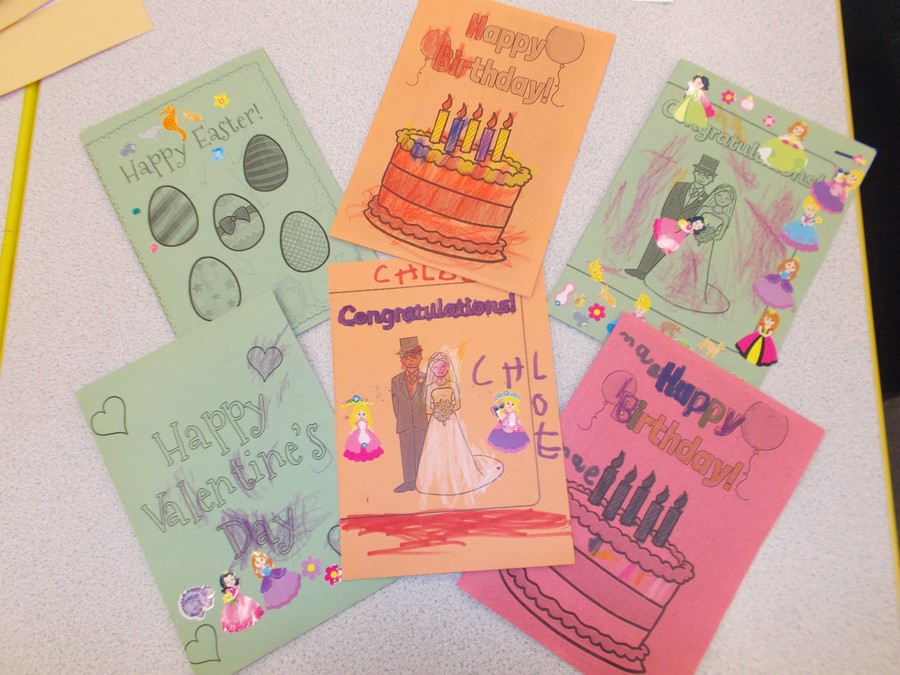 We have a new farm! The children have enjoyed making up their own stories with the different farm animal small world toys.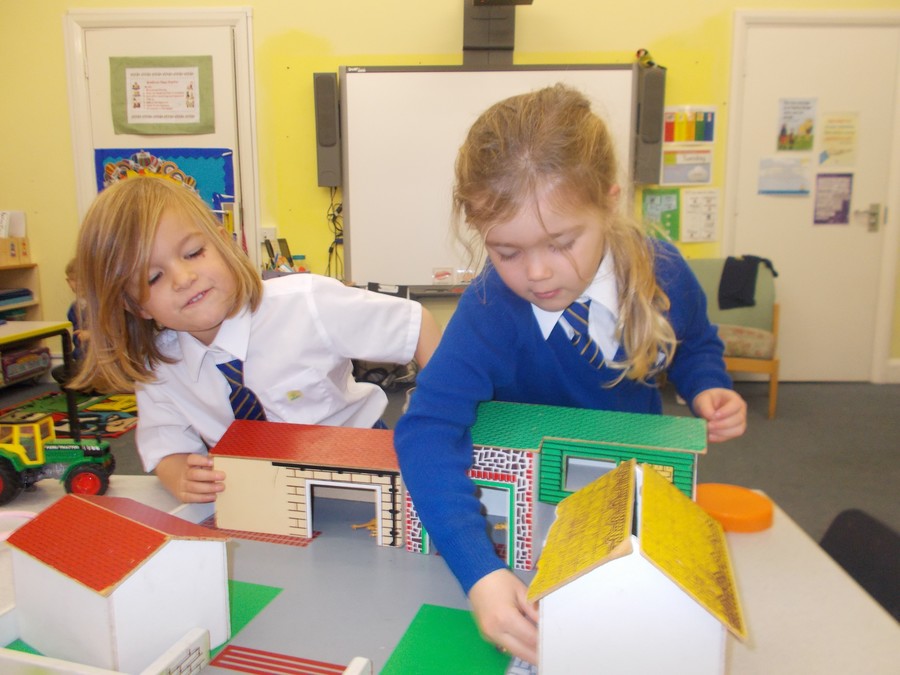 Week beginning 31st October 2016
Welcome back. We hope you enjoyed a restful half term break. At the beginning of the week, we learnt about the Hindu festival Diwali. We listed to the story of Diwali and enjoyed activities such as making rangoli mats with powder paint.
As the count down to Christmas begins, no doubt the children will be thinking about presents they might like. We have opened our own role-play toy shop to give them a few ideas! The children are enjoying playing at being the shop keeper and 'buying' items with the coins.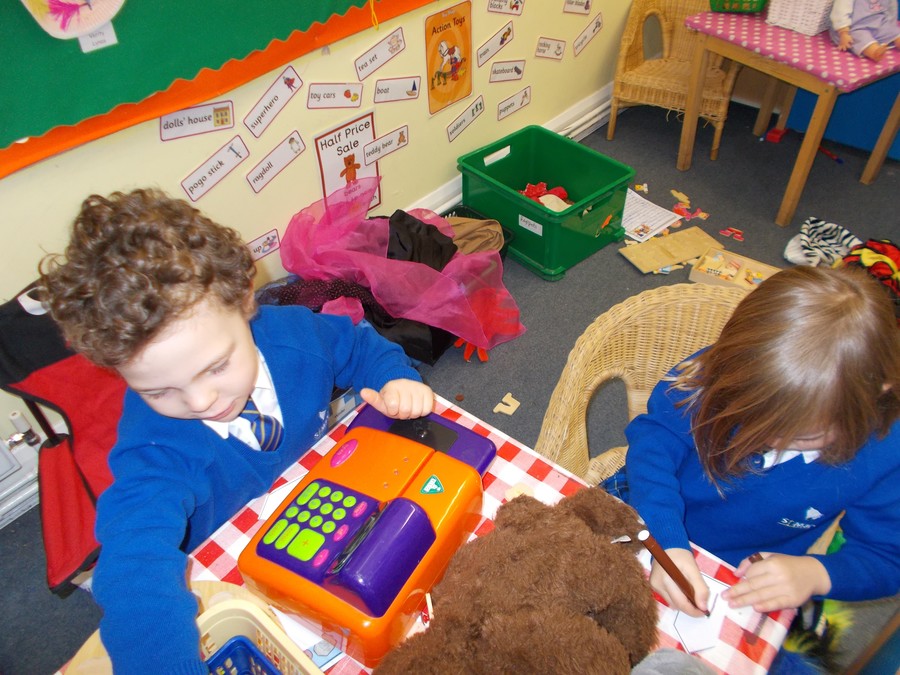 At the end of the week our learning turned towards Bonfire Night. We learnt about why we celebrate on November 5th and created our own 2D shape fireworks. We also wrote firework words and tried really hard to hear and write down initial (and even some other) sounds. We attached the words to the fireworks - now they can whizz and zoom across the sky!
On Friday afternoon we had a visit from a teacher at a theatre school. We had great fun learning a poem and acting it out, singing a song, playing a dancing game and learning a groovy dance to a Justin Timberlake song. What a way to end the week!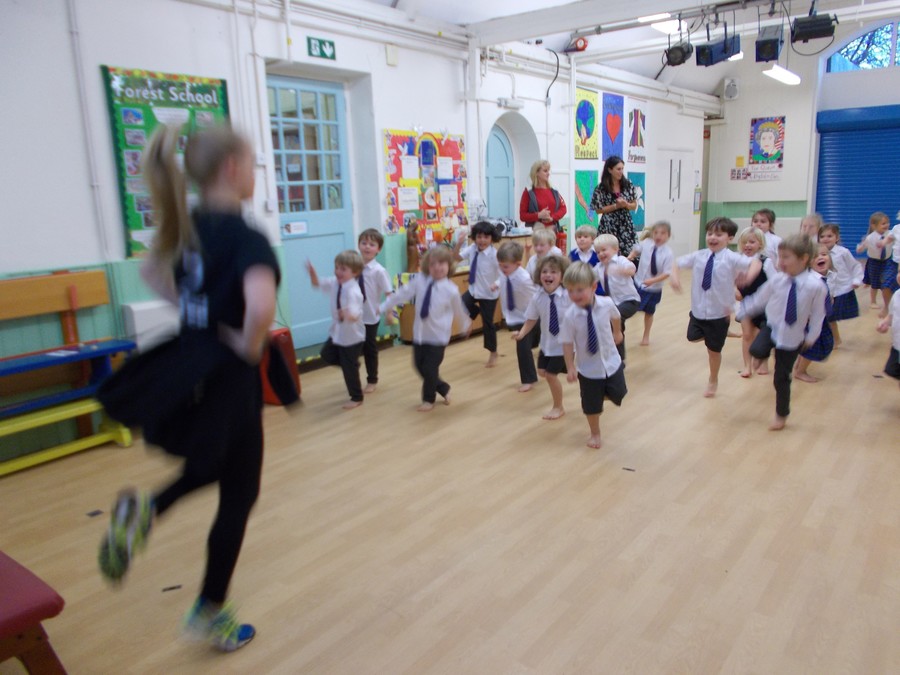 Week beginning 10th October 2016
We have enjoyed making junk models this week. We built houses and talked about our work.
Over the last couple of weeks we have been learning to program a beebot. On Friday we built the most amazing bridges and programmed our beebots to travel underneath them by pressing the buttons in a sequence.
The lifebus came to visit on Thursday. The children enjoyed joining in with the activities about the body and a healthy diet. The grown-ups were very proud because Goldfinches were polite and respectful. Well done Goldfinches.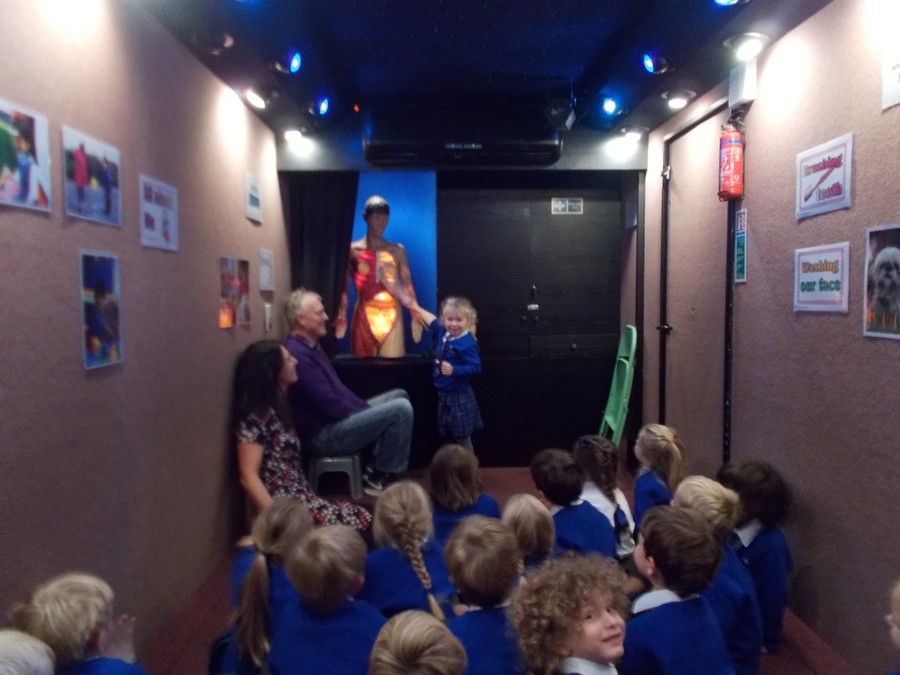 We have also been designing Christmas cards this week. Our designs will be sent off to create beautiful Christmas cards to be bought to raise money for our school. Mums and Dads, feel free to order as many packets as you like!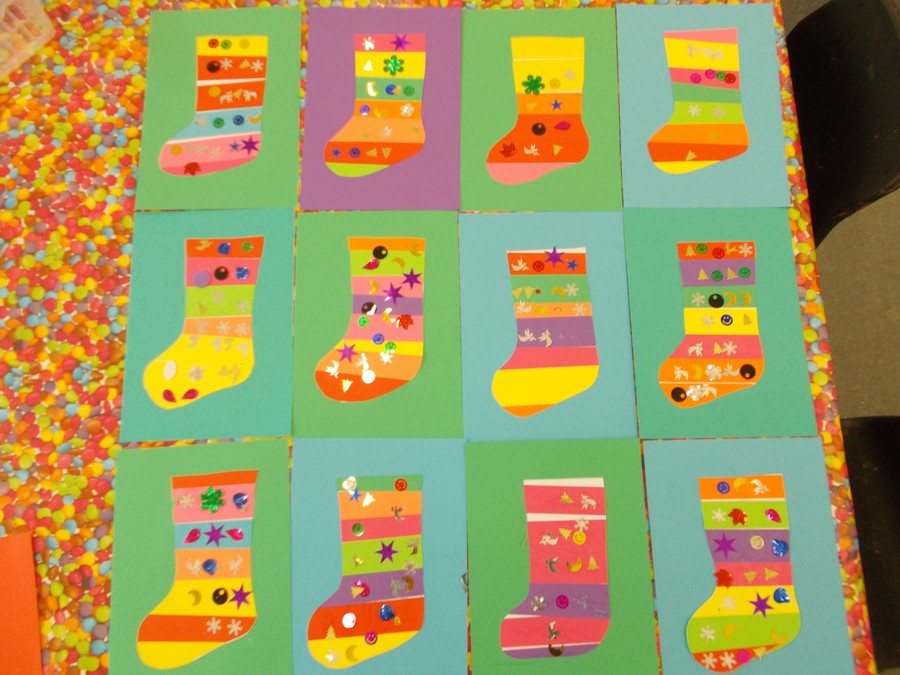 Week beginning 26th September 2016
We have been thinking about our bodies this week. We have labelled a real person with sticky labels naming the different parts of the body and we have explored lots of different things we can do with our bodies. Some of us are very good at standing on one leg!
We have listened to the Old Testament story of Creation and talked about the gifts that God gave. Then we drew our favourite parts of the story.
We have been learning the language of height and using words like taller and tallest, shorter and shortest when comparing ourselves. We also enjoyed building towers of bricks that were as tall as the tallest person in our groups. We had fun counting the number of bricks in the towers to find out how tall they were!
Week beginning 12th September 2016
The children are becoming familiar with our routines and are settling well. Together we have composed a list of rules to help to keep us safe and happy in the classroom and Mrs Bridges is writing these up into a charter for us all to sign.
We have completed our display of paper plate faces. What a lot of different ideas and materials we used.
We have enjoyed looking closely at different items with magnifying glasses and were very excited to about the detail they allowed us to see. We are trying hard to talk about our observations.
We have had the wooden bricks out this week and some children worked fantastically together to construct an amazing home for our small world dolls. Great teamwork!