GoldfincH Class News 2018/19
Welcome to Goldfinch Class. This half term our learning will be through the theme 'The Land of Far, Far Away.' Remember to log on to the VLE and click on 'learning' for activities linked to traditional stories and nursery rhymes that you can do at home. Don't forget to practise reading and spelling our words for the week on the spelling app too.
Week Beginning 13th May
Our nursery rhyme for the week has been Incy Wincy Spider. We have learnt about spiders and written our own fact sheets. We have made some spiders too!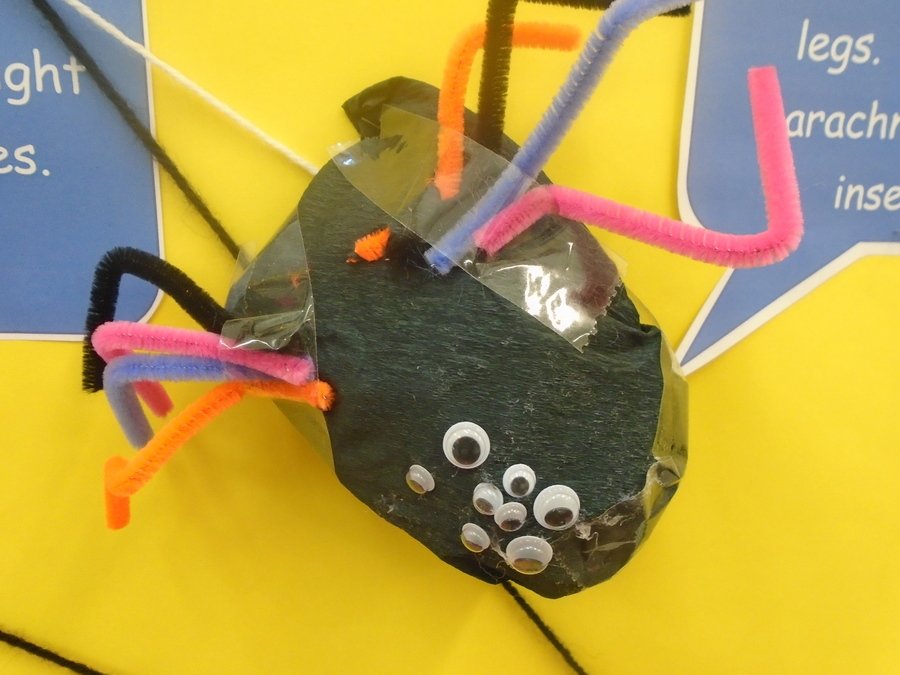 In maths we used 3D shapes to create shelters for Incy Wincy to protect him from the rain! We talked about our work trying to use shape words like cube, pyramid, cuboid, edges, faces, points, flat, straight and curved.
We had great fun playing in the water tray and exploring items that float and others that sink. We even had a go at making our own little boats using plasticine. We had to stretch them out to get them to float - very tricky!
Week Beginning 29th April
Our nursery rhyme for this week has been Mary, Mary Quite Contrary. We have enjoyed playing with items in Mary's Garden in our small world and we have been very creative making our own flowers using paper plates and different collage materials and paints.
Last week we planted runner bean seeds in beakers in the classroom. It has been really interesting to see them change and watch a plant begin to grow.
We have also written our own instructions to tell other people how to plant a seed.
On Wednesday we enjoyed a super walk to Frensham Pond collecting natural items along the way and looking out for signs of Spring. We had great fun digging in the sand using buckets and spades at the beach.
On Friday we were especially lucky to have a visit from the firefighters from Farnham fire station. We were able to climb inside their fire engine, look at their special equipment and try on one of their very hard and heavy helmets. We even got to have a go at using their hose! Thank you for coming Farnham firefighters!
Week Beginning 1st April
Our learning this week has been linked to Easter. We had a great day on Wednesday, our Easter Pause Day, listening to the Easter story and responding through a range of different activities and thinking about the true meaning of Easter.
We also had terrific fun taking part in our traditional St Mary's activities: Making hats for our Easter Hat Parade; decorating eggs; searching for Easter eggs on Frensham Common. On Friday we will be holding our Easter service at St Mary's Church where Goldfinch children will be merrily waving their Easter palm leaves.
The Goldfinch Class teaching team would like to wish all our families a very happy Easter and we look forward to seeing you again, bright and fresh, ready for the summer term.
Week Beginning 18th March
This week we have been finding out about the job of a Police Officer. We thought of some questions that we might ask a police officer. We were lucky enough to ask PC Boxall our questions when he came into talk to us about his job.
It was great fun pretending to be police officers and writing down our notes in our special notebooks.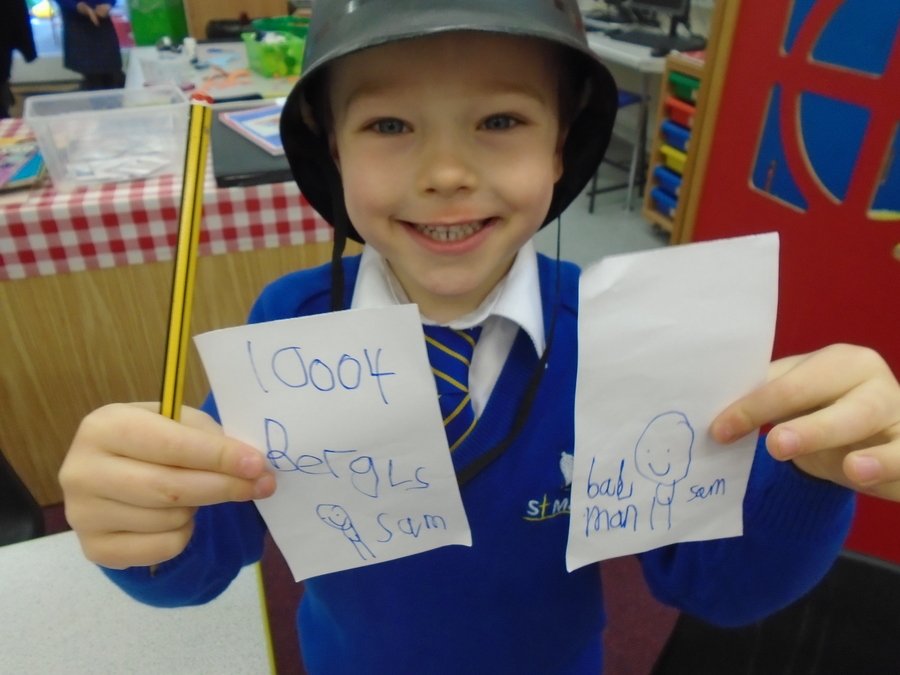 We have been learning how to write story endings. It was tricky to hold our sentences inside our heads and then write our ideas down. We came up with some very different story endings to our 'Mog the Cat' story.
We worked really hard to paint pictures of different people who help us. We tried to think carefully about the colours of paint to use to match the colours of different uniforms.
Week Beginning 4th March
This week we have been learning about the job of a builder. We listened to some information read out from picture books. We learnt some new words for different parts of building machines like diggers, cranes and bulldozers. We chose pictures we wanted to write about and made a class book to display our marvellous writing.
We have also been making different vehicles linked to 'People Who Help Us,' out of junk model materials, including lifeboats, fire engines and police cars.
On Thursday we celebrated World Book Day by dressing up as characters from Roald Dahl stories. What a fantastic range of costumes we had! We enjoyed parading around the hall to show off our costumes along with the rest of the school.
Week Beginning 11th February
We listened to the story Aliens Love Underpants this week. What a funny book - we laughed a lot! We decided to design our own pants for the aliens to steal.
We also created 'wanted' posters describing imaginary aliens warning people to watch out for them!
We made clay models of our aliens too.
On Friday we had had great fun in the hall playing with blow rockets that we had made. We enjoyed finding out what we had to do to make our rockets fly higher and further.
Week Beginning 28th January
We listened to the story 'The Blue Balloon' by Mick Inkpen this week. We made up our own imaginary worlds that a blue balloon might take us to. We painted pictures of them to show what they looked like.
We have been learning about pairs of numbers that add up to ten. We made the different pairs practically using numicon and counters on space rockets. Then we recorded our learning in our own way.
We were very lucky to join Woodpeckers to learn about some animals that were visiting the school. Ms Lankester was particularly brave with a boa constrictor!
Week Beginning 14th January
We had great fun this week making up our own creatures that might live in outer space. We made some space rocket pictures. All of our pictures were made out of 2D shapes. When we had finished, we shared our work with our friends and teachers and talked about the different shapes we had used.
We listened to the story 'Whatever Next' by Jill Murphy and drew pictures and wrote labels on a story mountain to be able to retell the story. Next week we will use our story mountains to write the story in our own words.
Week Beginning Thursday 3rd January
Happy New Year Everybody and welcome to the Spring term. We hope everyone is well rested and ready for learning.
On Thursday we caught up with news and talked and wrote about our Christmas holidays. We also made some New Year's resolutions. They are displayed in the classroom.
On Friday we began our brand new theme, Outer Space. Mrs Bridges read a little about astronauts from an information book and then we watched some great video clips about life in space in a space station. Then we had great fun role-playing a trip into space.
After that, we enjoyed learning more about space from posters, information books, video clips and activities on the chromebooks. Some of us drew pictures while others talked about their learning. A busy start to the term!
Week Beginning 3rd December
Christmas is around the corner and we have been busy with decoration making in the classroom. We have made repeating pattern paper chains and practised our cutting and sticking skills while creating some wonderful Christmas stockings.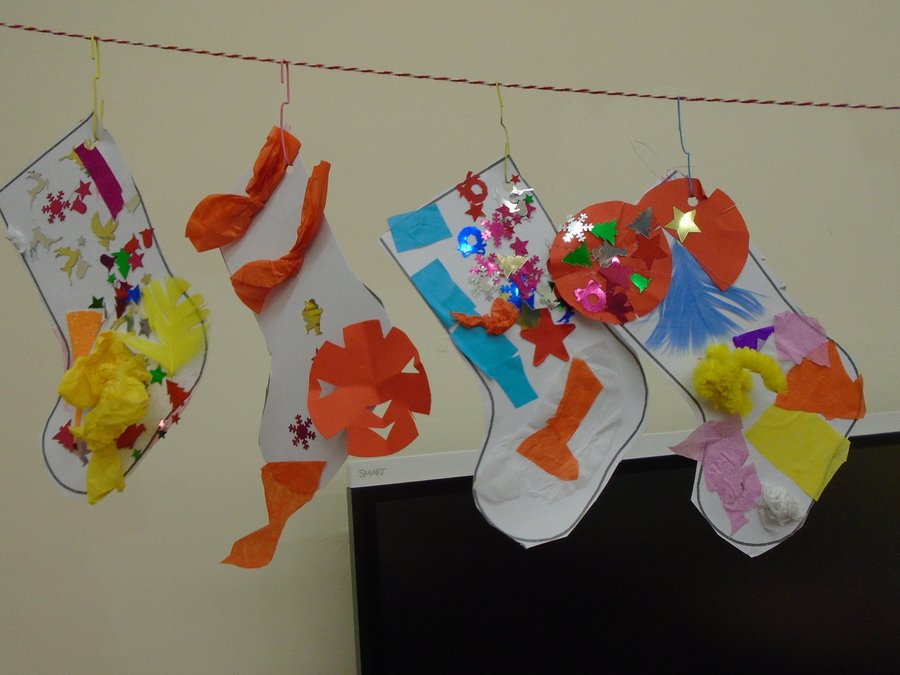 We have also made some Christmas cards which we are rather proud of. We took great care when making these because they are for very important people at home!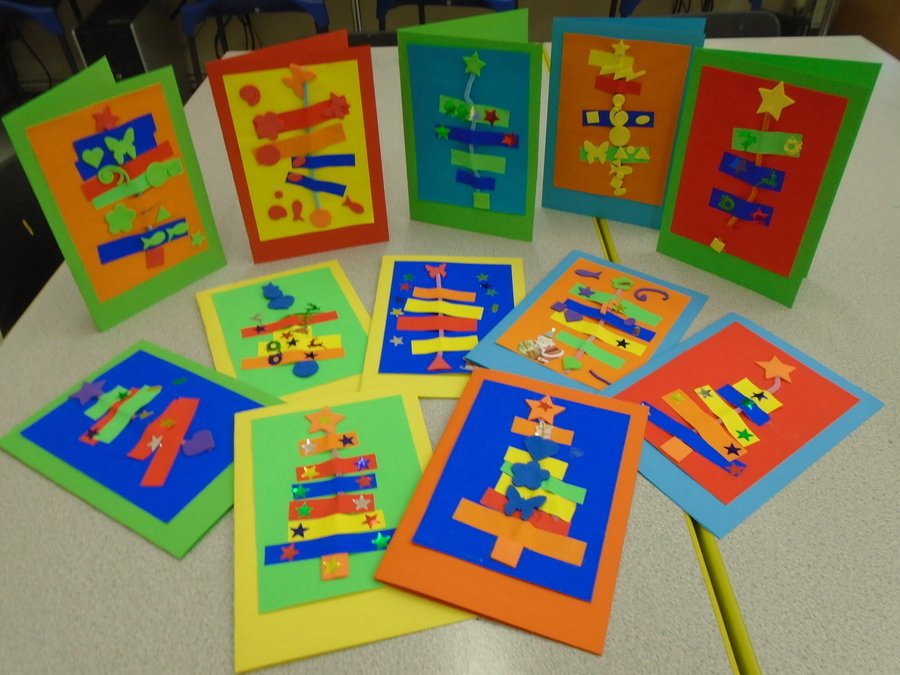 And finally, a huge well done to all children for your wonderful nativity performance, 'A Miracle In Town.' You used your fantastic speaking voices and remembered all your words, you sang beautifully and you remembered where you needed to be during the different parts of the play. You are superstars and your teachers are very proud of you all.
Week Beginning 19th November
This week we have been learning through activities linked to Winter. We have made fabulous sparkly snowflakes and enjoyed writing our own winter poems.
We have had fun making ice shapes and watching what happens when we handle and play with them.
With the weather turning cold, our winter activities seem especially appropriate!
Last week of rehearsals for our nativity performance next week, Goldfinch Class. Remember to practise your words and learn them off by heart speaking them with a big loud teacher voice!
Week Beginning 5th November
We began the week learning about the story of Diwali and we enjoyed making our own rangoli mats and clay diva lamp holders.
We have also been learning about Remembrance Day and we made our own poppy wreath which we will use during our worship on Friday.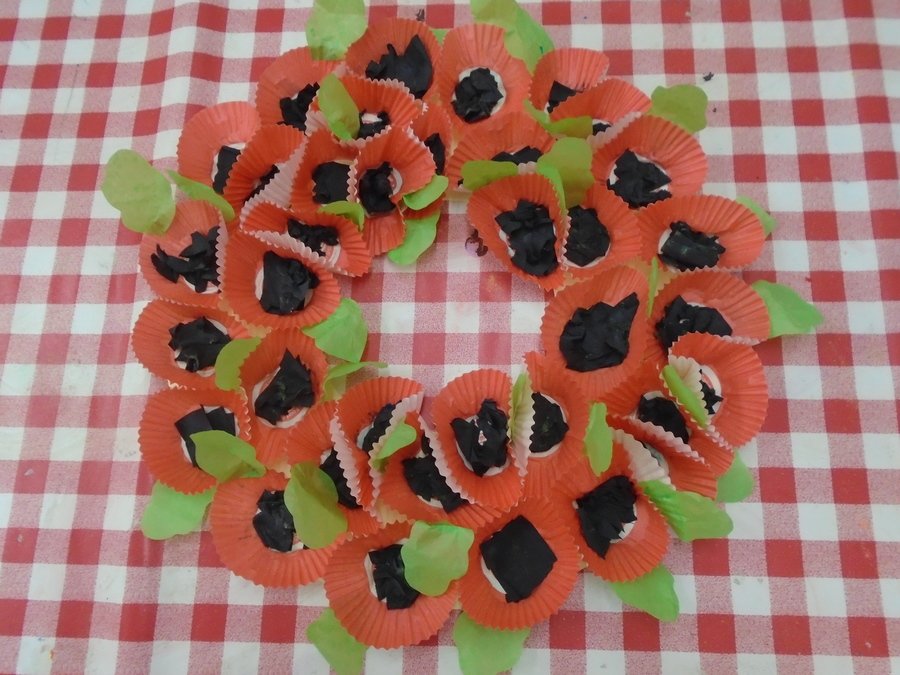 We have been using our knowledge of letter sounds in our own writing, labelling Autumn pictures.
Week Beginning 15th October
On Monday we attended our first St Mary's Church Service. Goldfinch Class performed a fantastic rendition of the harvest song 'Big Red Combine Harvester.' The children sang confidently, loudly and with smiles on their faces. Well done everyone!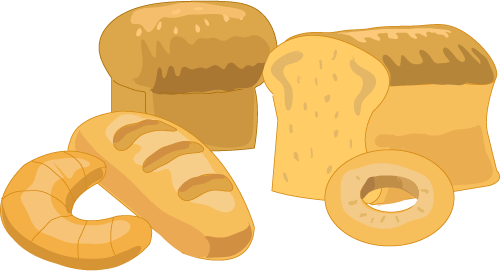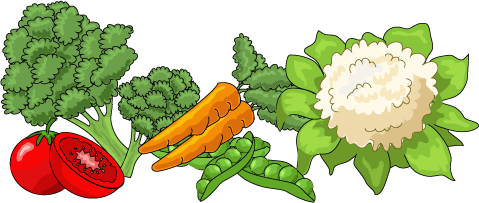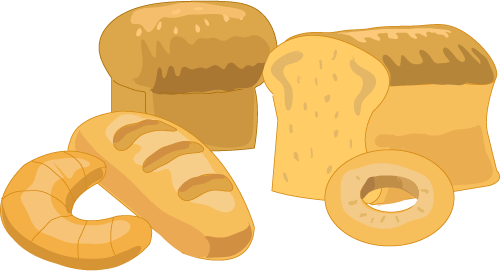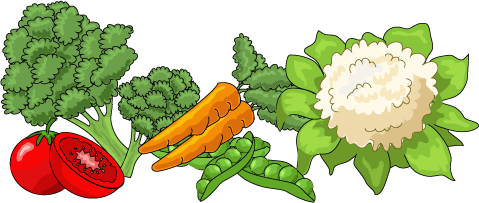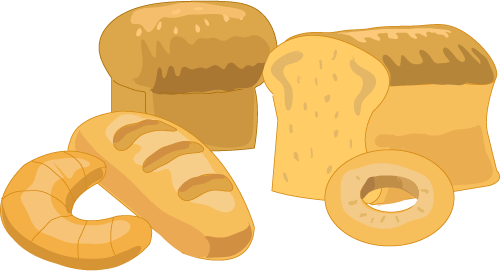 Our learning has been linked to birthday parties this week. We have talked about how we celebrate birthday parties and we have made invitations, birthday cards and written party lists. We have used a balance to balance and compare the weight of presents and we have even printed our own wrapping paper.
On Friday afternoon we held our our own birthday party for one of our class toys, Jake the dog. Some of us wore party crowns that we had made and we enjoyed playing party games. We sang happy birthday to Jake and we celebrated with special party food - fruit kebabs that we had created earlier.
We hope everyone enjoys a super half term break and we shall see you again soon!
Week Beginning 1st October
This week we have enjoyed using our senses to explore. We made some wonderful gingerbread biscuits - they tasted delicious!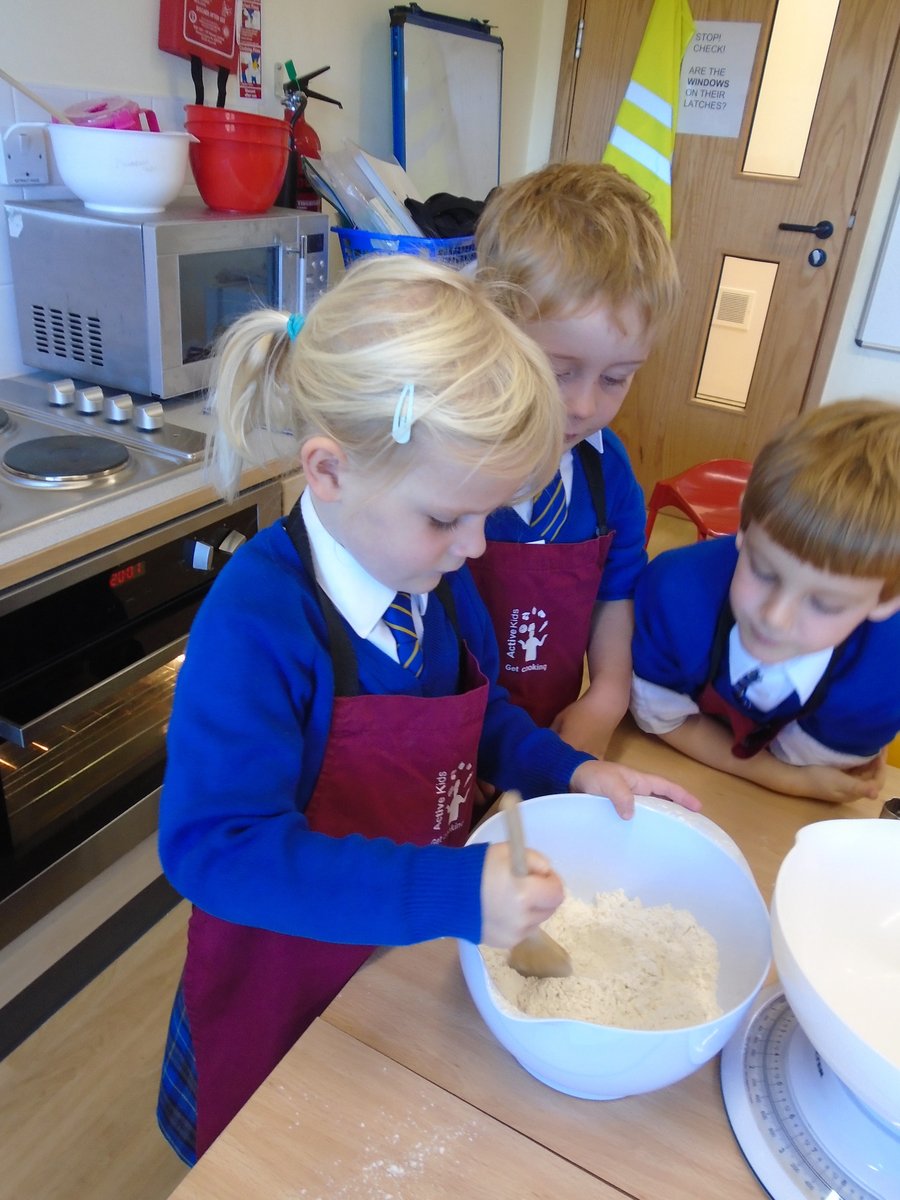 We also used our different senses to explore items in boxes and we decided which sense might be best to use.
We enjoyed a super visit from the Lifebus. We learnt about how our bodies work and what we have to do to keep them fit and healthy. We had fun learning actions, pressing buttons to make a model body light up, singing and dancing.
Week Beginning 17th September
Now we are settled properly into school and it has been a joy this week to see everyone coming into the classroom by themselves with smiles on their faces. Well done Goldfinches!
We have been finding out what we can do this week - we have tried name writing, drawing pictures, identifying shapes and numbers, climbing and hopping and practising our cutting and sticking skills.
On Friday we enjoyed a fantastic trip to see the show 'The Snail and the Whale' at Frensham Heights School. We had great fun travelling on the bus and watching and joining in with the performance. Thank you so much Frensham Heights School for inviting us to see the show and a massive thank you too must go to More House School and their wonderful drivers for driving us there and back in their minibuses.
Wednesday 5th to Friday 7th September
A huge welcome to all our new Goldfinches and their families. We hope you have enjoyed your first few days at school. We are so pleased to meet you all and look forward to playing and learning together. We have had a busy couple of days exploring the indoor and outdoor classrooms, learning a few school rules, finding out where to go at different times of the day - but of course we have also had lots of fun!
Today our brand new water tray arrived and we were so excited that we we began to use it straight away!
Week Beginning 6th May
We hope you enjoyed the long May Bank Holiday weekend - what a treat!
This week our story focus has been Little Red Riding Hood. We have listened to a couple of versions of the story and even written our own. We have written lists of items to go into Little Red Riding Hood's basket to share with Granny and we made some biscuits to go inside too! We tasted them and they were delicious! We also made our own tea cups for tea with Granny.
Our beans are growing and changing quickly. We have been observing them closely, describing and explaining what we see and trying hard to remember all the proper plant words - stems, flower, leaf, seed and root.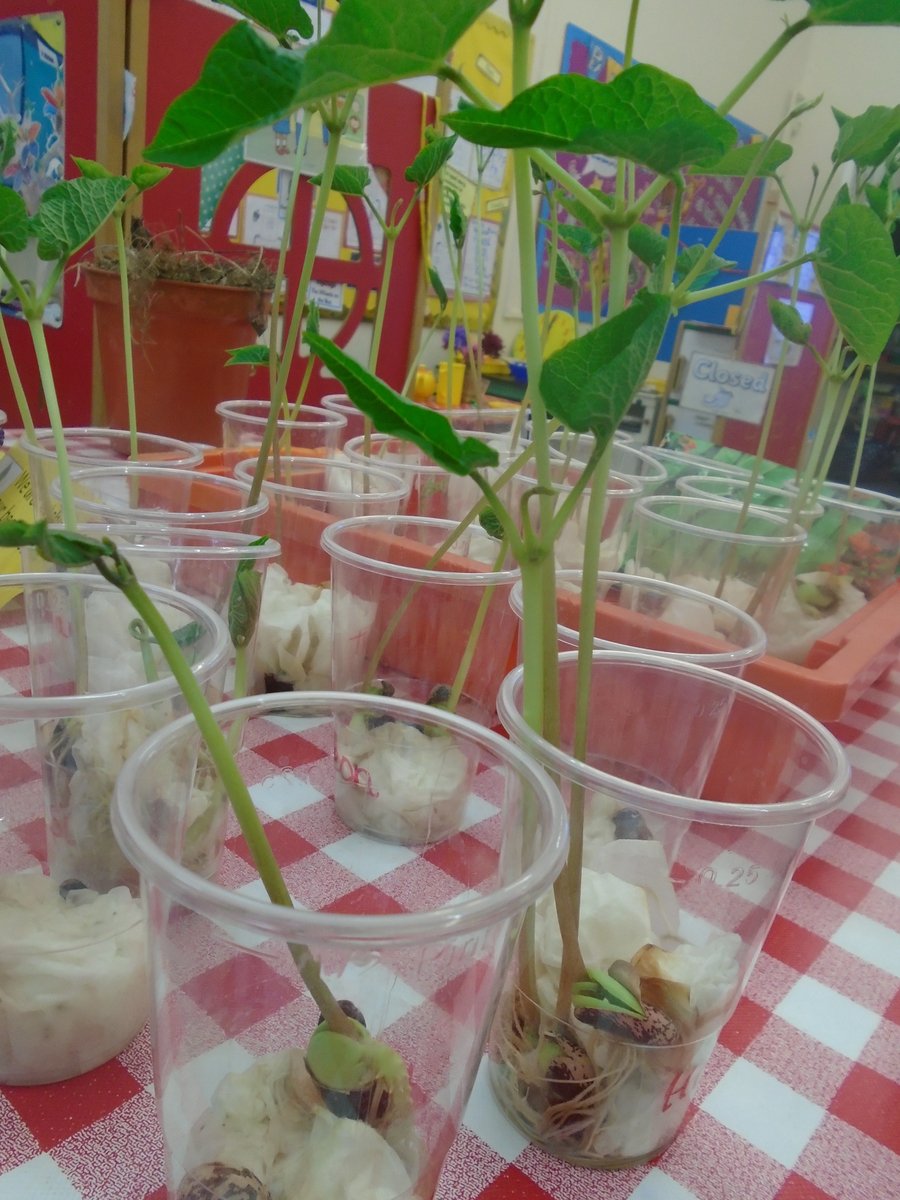 Week beginning 23rd April
Welcome back Goldfinches. We hope you had a lovely Easter break and enjoyed the long weekend and lovely warm weather!
This week we began our brand new theme, 'The Land of Far, Far Away.' Over the next few weeks we shall be linking activities to traditional stories and nursery rhymes. The children have listened to the story 'The Enormous Turnip' and made their own fruit and vegetable creatures.
Our role play area is a tea shop belonging to Polly from the nursery rhyme Polly Put the Kettle on. We have enjoyed pretending to be cooks, waiters and waitresses and customers. Some delicious sandwiches, cakes and drinks have been eaten!
We have been working at sharing a large set into smaller equal groups. The children pretended unifix cubes were their favourite fruit and vegetables and shared them amongst the story characters. Sometimes there were leftovers and we had decide where to put those because we had to keep things fair!
Week beginning 25th March
This week we have enjoyed learning about the job of a doctor. It has been great fun to dress up as doctors, use doctor play equipment and write doctor notes.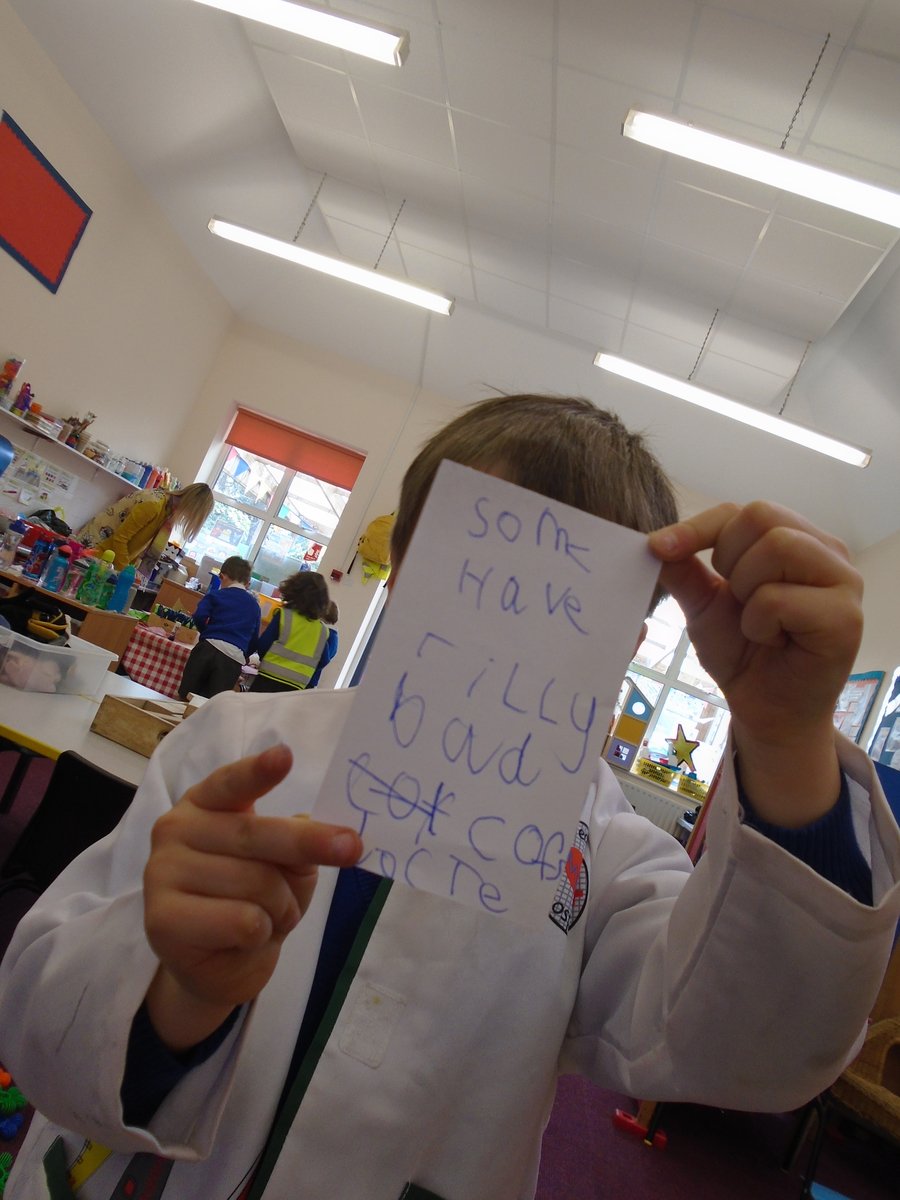 We have made beds for poorly patients and measured the lengths of each. We have ordered and compared the lengths of the beds using length words such as longer than and shorter than, longest and shortest.
The challenge this week was to make the best pictures or collage of a person. We tried hard to include all the details and features we could think of.
Week Beginning 11th March
This week we have been learning about Firefighters. We have made fire engine collages, explored websites about the fire service and constructed our own model fire engines and talked about how we make them work.
We had great fun dressing up as firefighters and putting out pretend fires with pretend fire extinguishers. We learnt and used words like full, empty, half full, half empty, full to the brim and over-flowing while we played.
We have been learning how to share items into equal groups this week, making sure we keep things fair and checking by counting and comparing.
Week Beginning 25th February
Welcome back to school Goldfinches! We hope everybody had a lovely break.
On Monday we began our brand new theme, People Who Help Us. Each week this half term our learning will be linked to a job of somebody who helps us. This week we have thought about the role of teachers. We have written signs to be put up around the school and we have painted pictures of the teachers and teaching assistants. Our role-play area is set up as a school and the children have enjoyed pretending to be teachers and children. There has been lots of rule-setting and learning!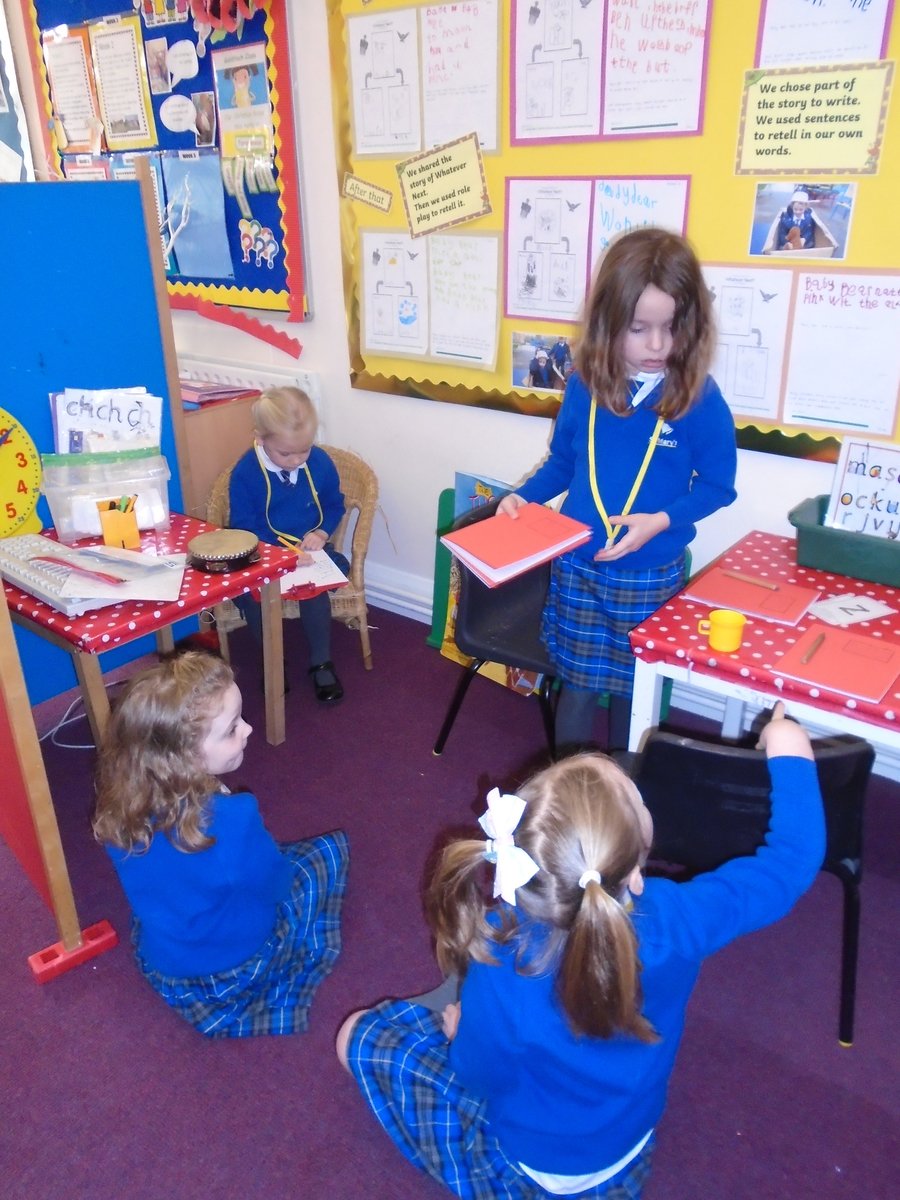 Outside, we have enjoyed pretending to be builders in readiness for next week's learning.
In PE, the children have been practising early tennis skills and they are getting rather good at balancing balls on the rackets.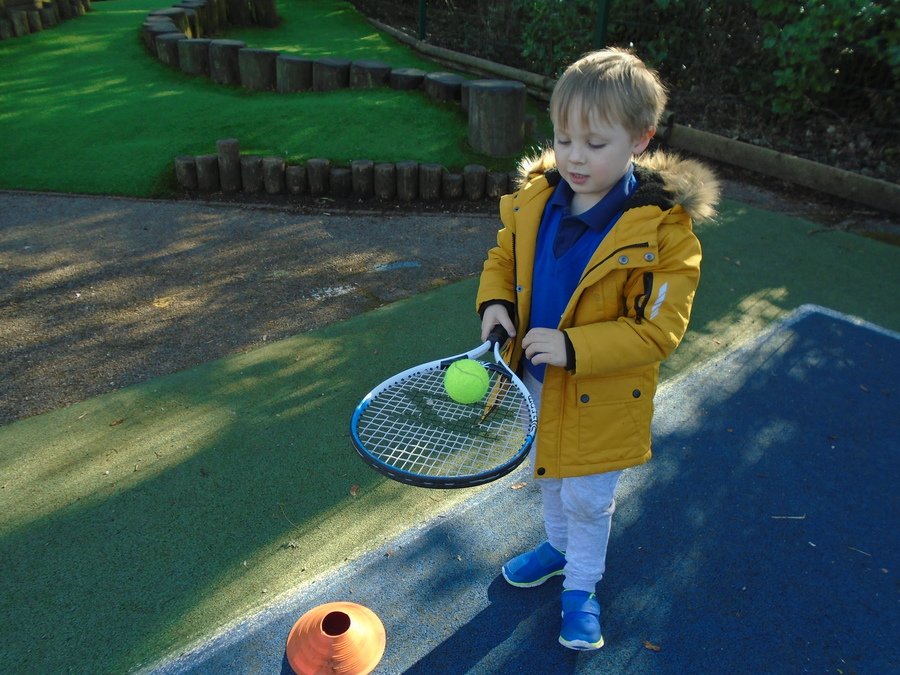 We have also enjoyed playing games in maths to support our learning about counting on and back.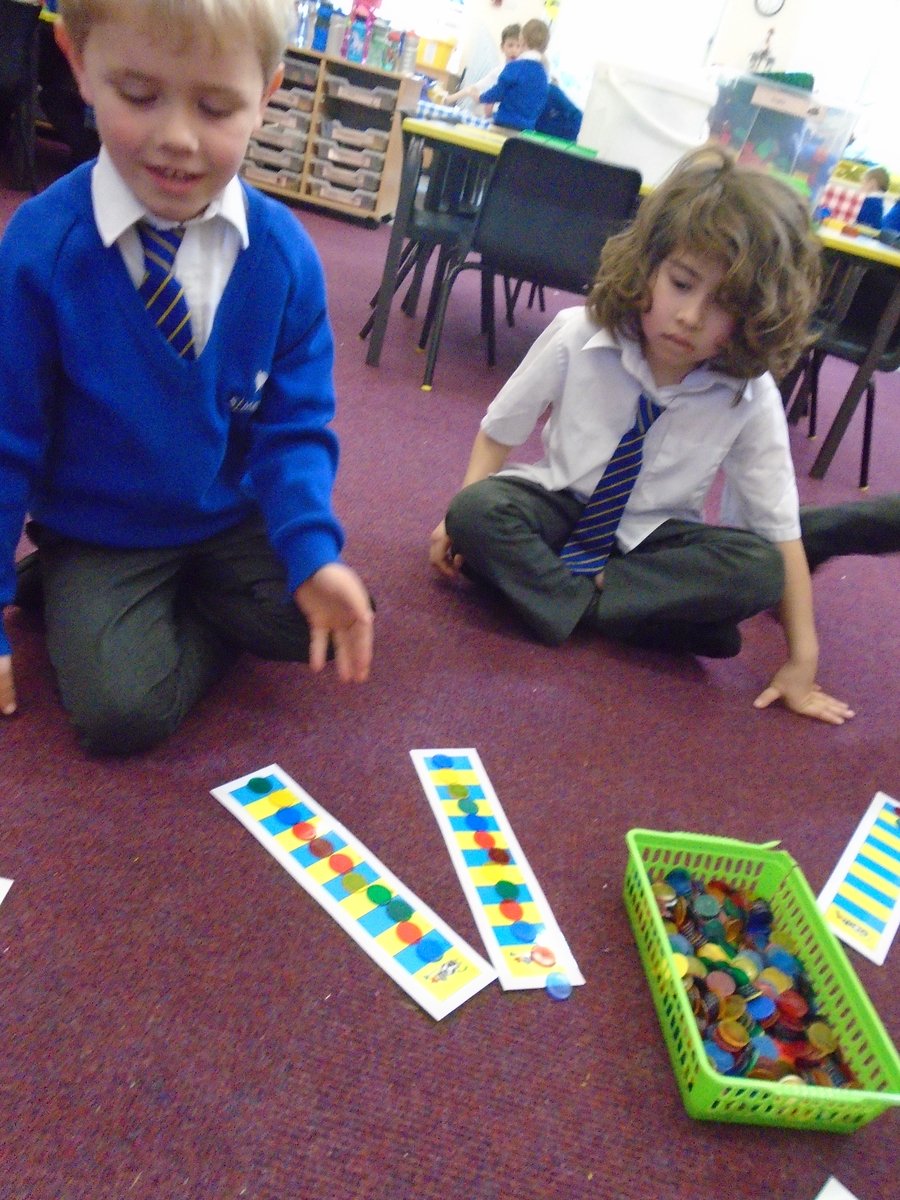 Week Beginning 4th February
We took a break from our Space theme this week to learn about how Chinese New Year is celebrated. We have tried on Chinese clothes, written our names in Chinese writing and explored and handled objects, decorations and photos linked to the festival. We even created our own dragon head and made up our own Chinese dragon dance!
We enjoyed making and eating some Chinese food. Delicious!
We enjoyed a fantastic music and dance workshop. The children loved playing the instruments and having a go at a lion dance and a dragon dance.
Tuesday was Safer Internet Day and the children took part in stories and activities designed to help them make sensible decisions about using phones, tablets, computers and the internet to keep the selves and others safe. Goldfinches understand if they are not sure about something, they must always ask a sensible grown-up for help.
Week Beginning 21st January
This week we acted out the story 'Whatever Next' and then we wrote a sentence or two to retell our favourite parts. We worked hard at composing our sentences and holding them in our heads. We tried hard to sound out to spell, to remember to leave finger spaces between words and add full-stops to the end of our sentences.
We having been thinking about cooperation this week and, in small groups, we constructed spaceships to take us to the moon! We listened hard to each others' ideas and tried to work as teams.
On the art table we have had great fun creating some beautiful shooting stars. We made handles from lollipop sticks so that we could make them fly though the air.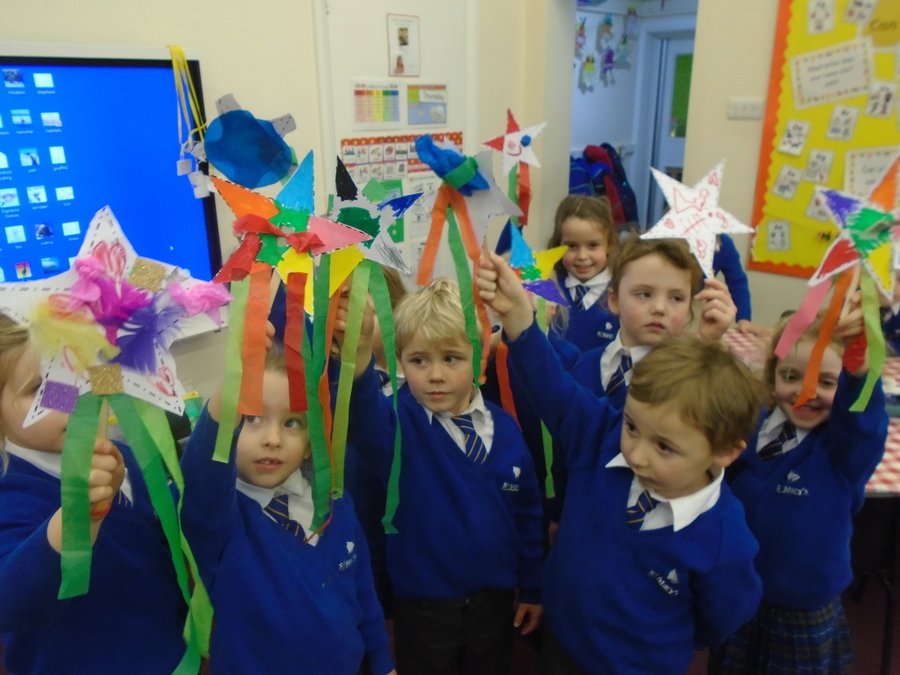 We have also created some spectacular junk model spaceships! Another busy week!
Week Beginning 7th January
Our space theme continues and we have enjoyed playing in our role-play rocket and Space station. The children have been enjoying travelling to all sorts of different planets that the space station crew have planned!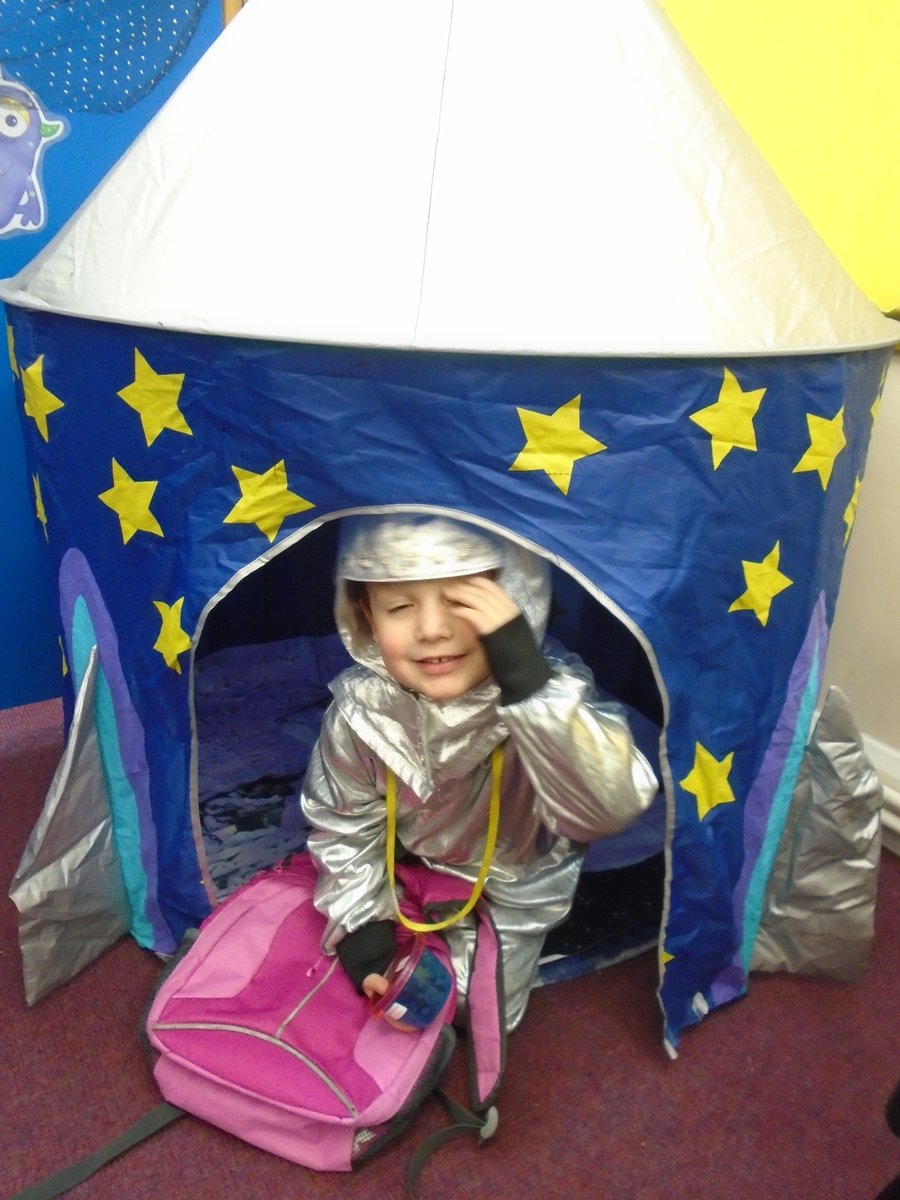 We have had great fun creating our own spaceships. We added a space themed background of our own choice and then used different tools to make our pictures. We were even able to animate our spaceships to make them move! We saved our work so that next week we can add sound effects.
We thought about who else might be living in space on far away planets we haven't discovered yet and made our own alien masks to show our ideas.
Week Beginning 10th December
With Christmas so close, we thought we should help out Father Christmas and his elves by making some toys as presents to go in the sack! We used different building kits and talked about our models. Then we measured them using unifix cubes, taking care to start and finish our measuring in exactly the right places. We compared our toys and ordered them by length.
We enjoyed a fabulous Christmas lunch on Wednesday in the hall with the whole school and all the teachers. Such good fun! and it really got us into the Christmas mood!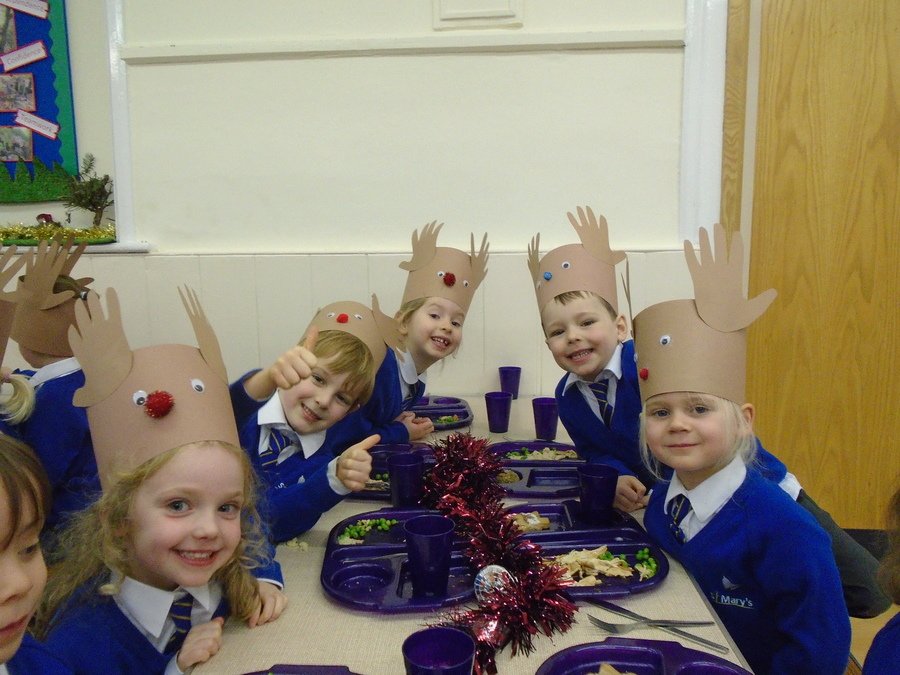 Week Beginning 29th November
We have enjoyed buying items from our Winter shop this week. We priced up woolly hats, scarves, gloves and different Christmas decorations. We were given 1ps and 2ps and had to count our the right amount to be able to buy our item of choice. We learnt that a 2p coin is worth the same as two 1p coins and needed two fingerpoints when counting up. Great fun had by all!
We looked at some different wintry paintings by famous artists and they inspired us to create our own. We worked on handling our paintbrushes correctly and making snowy pictures from our own imaginations.
Week Beginning 12th November
We have continued our learning about Autumn this week. We have talked about the different signs of Autumn that we can find outside and we made a special pictogram to show our favourites.
The children have been busy at home and school making some fabulous star decorations which will be used to decorate a Christmas tree at Frensham Garden Centre next week. Don't forget to visit and vote for your favourite tree!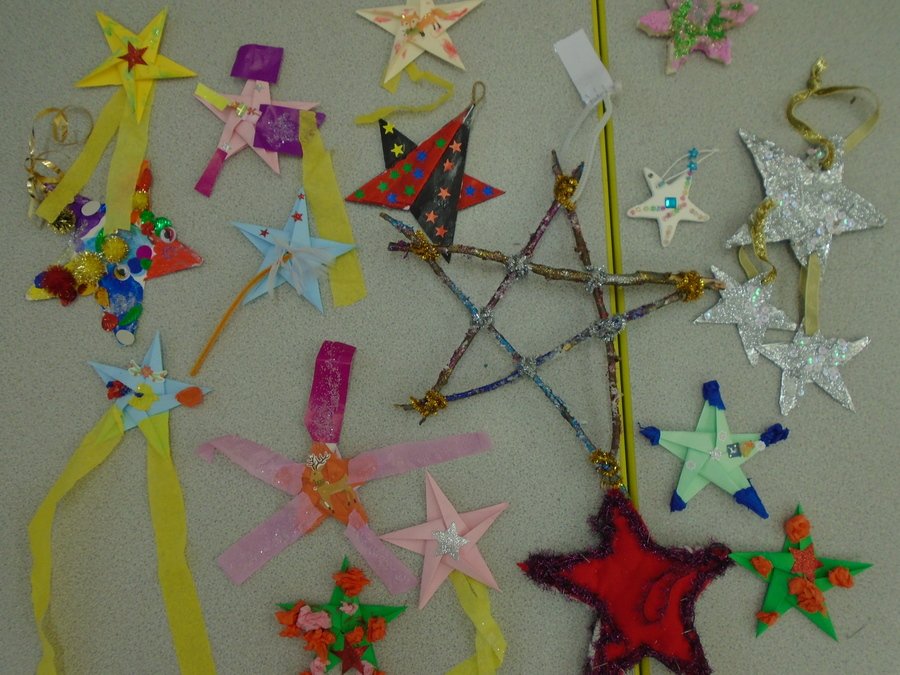 We have begun to practise our Christmas Performance this week and the teachers are amazed at just how brilliant the children have been both in terms of their behaviour while they wait for their turn and how confident they are on stage. Well done Goldfinches - we are looking forward to a spectacular show!
Week beginning 29th October
Welcome back to a new half term everyone. Our learning over the next few weeks is linked to the theme 'Autumn and Winter.' We have an Autumn interest table in the classroom which the children have enjoyed looking at. Please feel free to bring in items in from your own family walks outside to add to our table.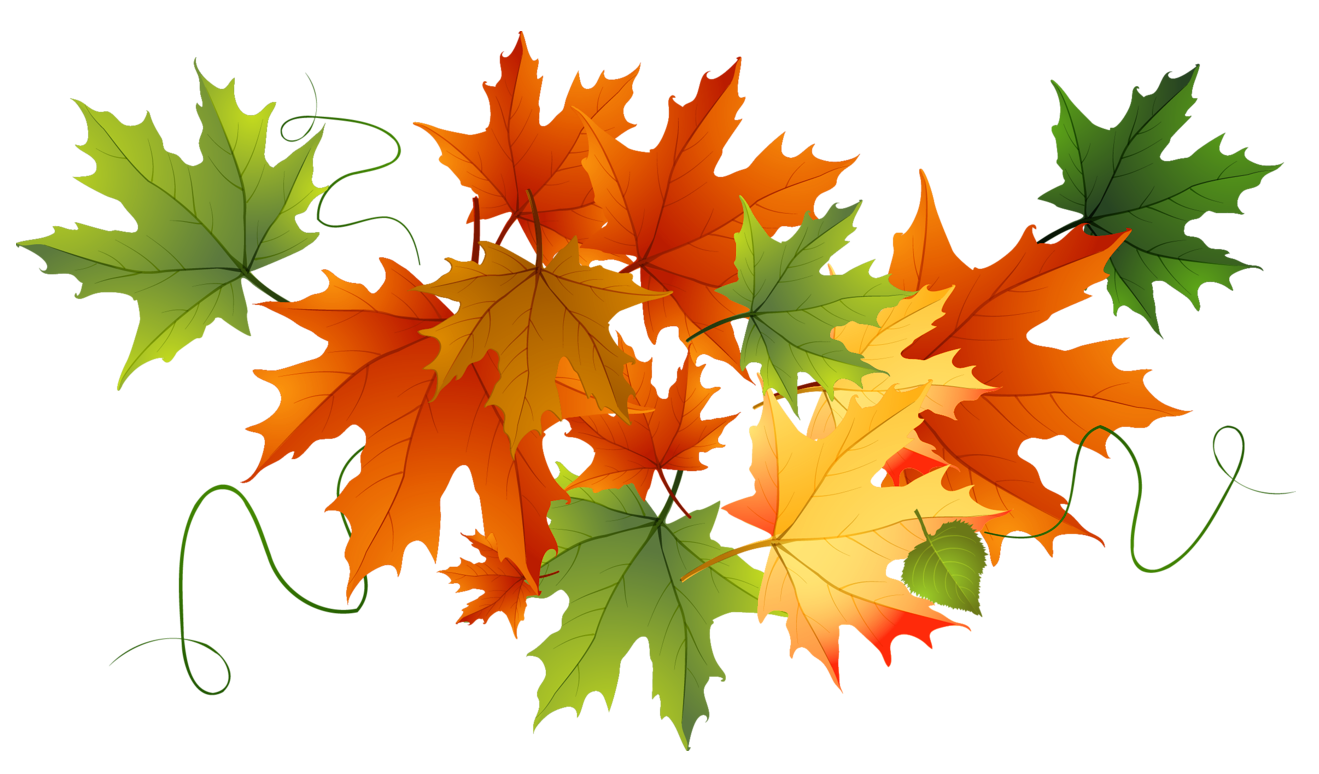 We have also been learning about Bonfire Night. We have listened to the story of Guy Fawkes and his friends to help us understand why we have fireworks and bonfires on 5th November. We learnt about how to stay safe on bonfire night. We have made firework pictures on the Chromebooks and we have also enjoyed making fabulous shape fireworks. We talked about our creations using everyday maths words such as sides, corners, long, short and the names of the shapes we used.
Week Beginning 8th October
Our learning this week has been linked to homes and families. The children have written their own shopping lists, counted features on pictures of houses and found matching numbers and made some marvellous junk models of houses and things you might find in the home.
We also enjoyed programming our beebots, pressing the buttons in sequence to send them backwards and forwards under bridges and tunnels that we created with our friends.
We have been practising our song for Harvest Festival and trying hard to remember all the words, all the actions and to sing with beautiful loud voices. We look forward to seeing our families at St Mary's Church on Monday at 9.30am to help us to celebrate harvest time.
Week Beginning 24th September
On Friday the children will be sent home with blue exercise books containing sounds and words to practise reading at home. This week our sounds are...

This week our learning has been linked to the body. We enjoyed singing songs about the body and we made repeating patterns of body sounds. We drew around one of the children and labelled the drawing with words for different body parts - you will find it on one of the display boards in the classroom. We have talked about and practised lots of actions that we can do with different parts of our bodies. We have also had great fun learning about height and using words like tall, taller and tallest, short, shorter and shortest while making towers of big bricks as tall as our friends.
Week Beginning 10th September
This week we have been settling down, finding out about the things we like to do in school and having fun together. We have enjoyed building with different construction kits and talked about our work.
We have had great fun playing and exploring magnets. We made some amazing discoveries!