Welcome Back to all the new little Kingfishers!
Week beginning 29th October
Well we do hope that you had a lovely half term and enjoyed the autumn sunshine. Back at school we have been thinking about bonfire night. We watched fireworks and bonfires then tried to find descriptive words and phrases to describe how they looked, moved and sounded. We them used these to write shape poems.
We used our poems to produce some artwork for the classroom. Come in and have a look, it really is lovely!
In maths we have started to think about subtraction and subtraction sentences. We used small world objects to tell subtraction stories to each other. Some of us wrote subtraction sentences for our stories.
Our science topic this half term is all about the weather and the different seasons of the year. We thought about the changes happening to the trees outside now and about the time that it starts to get dark in the evenings.
Week beginning 1st October
In maths this week we have continued to compare numbers and sort them into those that are bigger than or smaller than. We then tried to find a number that came between the two.
Then we challenged our learning partners to estimate how many objects were in a container and counted to see how close their estimations were.
In English Kingfishers have been learning what a story setting is and they looked at different fantasy story settings, sorting them out from real settings. We will be reading Superhero stories with fantasy settings over the next few weeks.
During P.E. Kingfishers practised their archery skills, trying to improve their aim. Some children were so good they could hit the target nearly every time!
On Friday we had a very special visit from the Life Educational Bus. Kingfishers learnt all about our bodies and how to keep them fit and healthy. They also met Harold the Giraffe and became 'feelings detectives' as they learned how to resolve friendship issues and how to recognise, name and understand how to deal with their feelings.
Week beginning 17th September
Kingfishers can all name different parts of their body and they know that a skeleton helps to support their bodies so that they can stand, sit and move around. In science this week they also learnt some of the bones that make up the skeleton and made their own skeletons out of straws. In art Kingfishers made collage images of themselves using torn pieces of coloured paper.
For English this week children were investigating capital letters - matching them to their lower case letters.
In maths this week we have been finding numbers that are 'more than', 'less than' and 'equal' to. We used dinosaurs, numicon, cubes, fruit and small world people to help us.
We had fun in art this week - learning how to mix colours with white paint to make new lighter colours.
Week beginning 3rd September
What fun Mrs Dodgson and I have had welcoming all the new Kingfisher to their classroom this week. We have been so impressed by the way that everyone came into the class each morning and found their pegs, put their books away and settled in so quickly!
We have already started on our number work in maths, looking at numbers to 10 . We collected data by asking questions like; who in the class had blue eyes, a brother, liked science, had a fish?
Week beginning 8th October
This week in maths we have been sorting whole numbers into two parts and then learned how to use the plus and equal sign to make an addition number sentence.
Some of us have been learning 'ow' blow the snow our phonics sessions. We made snowflakes to blow around and thought of different words with the 'ow' sound in them. It was funny to be thinking about snow when it was so warm outside!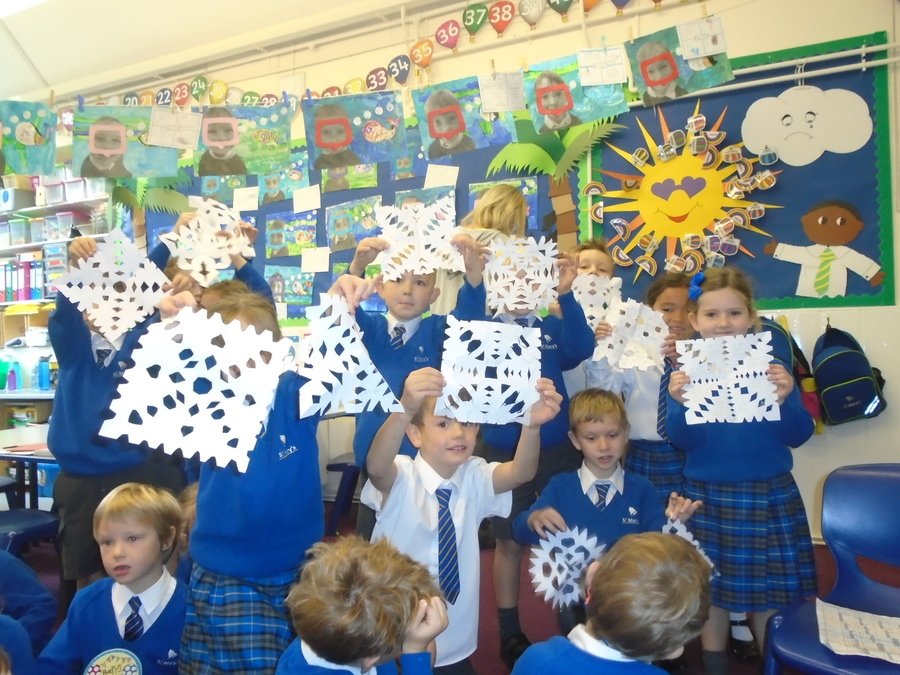 During art we have been making collages, but we cannot show you the results just yet - they are a secret that you will be able to find out about if you visit the Autumn Bazaar!
We have been improving our shot during archery by making sure that we position our bodies correctly, hold the bow securely and pull back the bow string to touch our ears. Look at the results!
Week Beginning 24th September
In maths this week we have been ordering numbers and deciding which numbers were greater or less than. We chose two numbers and used Charlie Crocodile to show which of the numbers was the greatest or smallest. We learnt that Charlie Crocodile always eats the biggest number.
For art this week we have been looking at different ways that we can apply paint to a piece of paper. We looked closely at the painting ' The Starry Night' by Vincent Van Gogh and tried to recreate his style. Instead of palette knives we used glue spreaders to apply a thick layer of paint.
Some of us looked closely at our friends and tried to draw a portrait of them using pastels.
In morning worship some of Kingfisher Class helped 'Open the Book' to retell the story of how Jesus healed the 10 lepers. We were surprised to hear, that once Jesus had healed the lepers, only one returned to thank him!
Week beginning 10th September
Our first full week at school and we have learnt so much already. We can all come into class and put our things away independently and start a morning task.
In Science this week we learnt about the different parts of our body and then in English we labelled all the parts we new.
For maths we tried to group objects in as many different ways as we could.
During R.E we thought about God, what he might be like and what symbols we could use to represent him. Here are some of our ideas.