Kingfishers News
Week Beginning 12th March 2018
There was trouble in story-land this week when the Three Billy Goats Gruff's bridge broke! Sounds like a job for some budding designers and engineers! Luckily Kingfisher Class were on hand to help. Having tested a range of materials for strength, they tried a range of methods to attach them together in order to create preliminary designs for a new bridge. Mr Barker took on the role of quality control and made sure that each structure could bridge the gap over the river and hold the weight of the three billy goats.
The children communicated their ideas to each other brilliantly and were able to work cooperatively in their groups. It was fantastic to see how many different ways the challenge was met. Each design was unique and met at least one or more points of the design brief. Well done Kingfisher Class!
Week Beginning 5th March 2018
This week we celebrated World Book Day! Our class became a Julia Donaldson wonderland of characters! We were so impressed by all of the fantastic costumes from snails and ladybirds to witches and dragons!
The children got to show off their costumes to the whole school in our character parade. We then spent the day enjoying lots of activities based around some of our favourite Julia Donaldson books. These included making paper dolls, creating wanted posters to catch The Highway Rat and even designing our own characters. What a wonderful way to end the week!
Happy Mother's Day to all our lovely mothers. This week the children worked very hard on a little surprise for you all....
During maths this week we learnt all about the properties of 3D shapes. We painted them, built them and grouped them.
Week Beginning 19th February 2018
Welcome back! We hope you had a good half term. This week we started our new topic 'Mega Structures' by finding out what 'mega' meant and then thought of as many 'big' words as we could to describe pictures of giant structures. During History we used photographs to discover information about a very famous engineer called Isambard Kingdom Brunel (if you want to find out more - check out the VLE page) - he built many different mega structures.
During maths we read the story of Jim and the Giant and used our measuring skills to help him to find new clothes and a new friend.
Week Beginning 29th January 2018
At the beginning of this week we looked at the features of play scripts, and used our speaking and listening skills to rehearse our family assembly. We can't wait to show you all that we have learned.
In maths we have been investigating the capacity of different containers. Capacity is the maximum amount that a container can hold. We have been filling containers with rice, water and cubes. Kingfishers have learnt that different shaped containers can have the same capacity.
We continued to look at the properties of materials in Science. Captain Jack asked us to do an investigation to find a waterproof material he could wrap his treasure in. First we coloured in treasure coins with felt tip pens, then we wrapped them up in different materials before putting them in a bucket of water for 10 seconds.
We made a collage of a sea scape this week. We used different types of blue paper to create sky and sea. Then we made a galleon to sail on the sea. If you come into class you will see some of our pictures of display.
Week Beginning 8th January 2018
Welcome back everyone, we hope you had a fantastic holiday. This half term our topic is 'Ahoy There' and this week in literacy we have been looking at galleon ships. We have labelled the different parts of a ship (including the 'poop deck', which we all thought sounded very funny!). and added captions to them.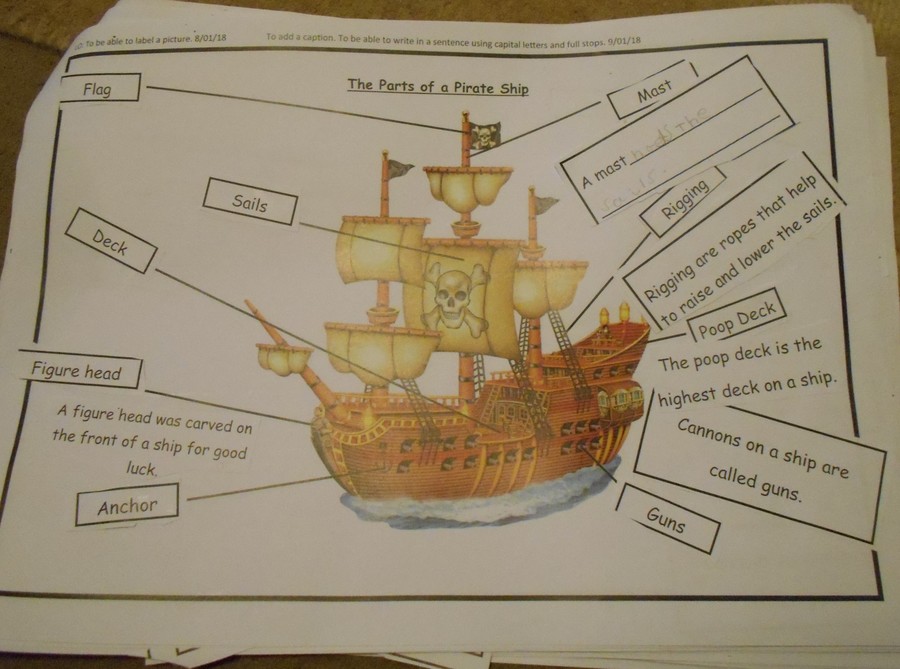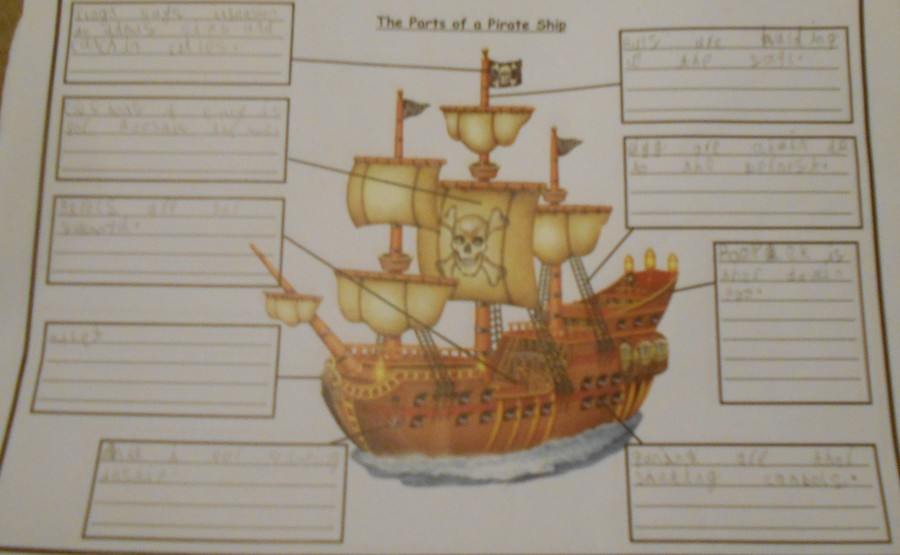 On Wednesday we followed a set of instructions to make our own treasure maps. First we drew our island and then we made our maps look very old be dabbing on tea. We think they turned out brilliantly!
In maths we looked at numbers in words and digits. We had fun playing number word bingo with each other.
Week Beginning 11th December
Christmas is finally here and everyone has been making decorations for the Kingfisher classroom. Why not pop in and have a look at some of them - they are lovely. This week we have been looking at instructions during literacy. We have followed instructions and made some yummy Chocolate Rudolphs and little gift boxes for them to go into. Then we wrote a things you need list and our own instructions on how to make the chocolates.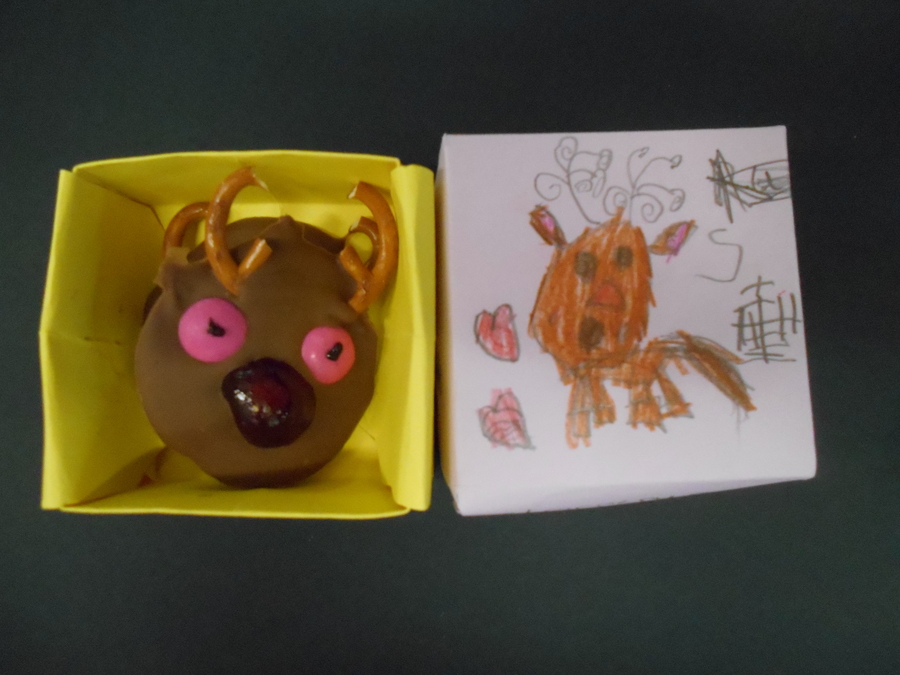 We had great fun learning how to weave paper and made calendars for next year. They look super!
During maths this week we have been looking at odd and even numbers. We know that even numbers always have a friend - but when you have an odd number, someone is always left on their own.
Week Beginning November 20th
During maths this week we have been adding and subtracting 1, 2 and 3 from numbers to 20. We used cubes, number lines and bears to help us with our counting.
During art this week we learnt how to mix colours to create an African sunset. Next week we will paint a silhouette on them.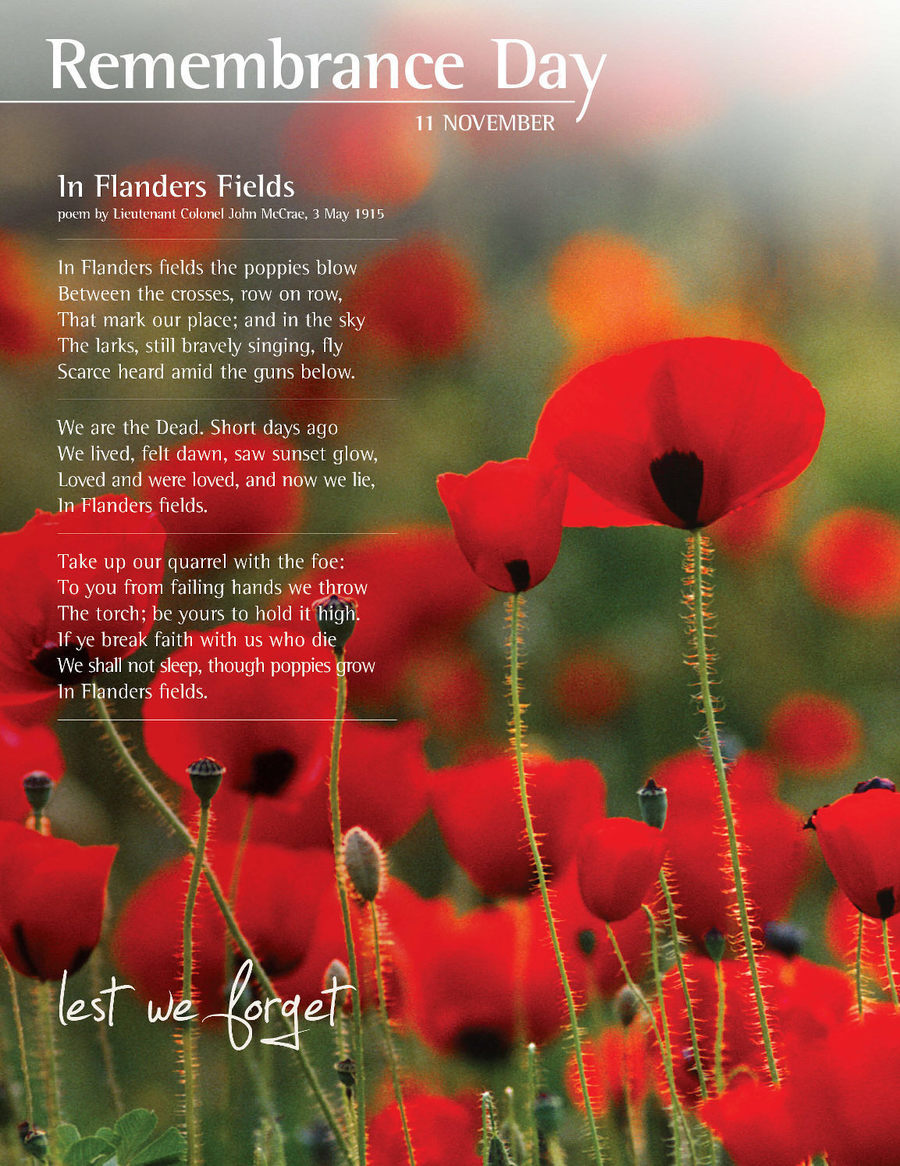 Week Beginning November 6th
This week children have been learning all about Remembrance Day, why we remember and how we remember. They thought about their own special memories, both happy and sad and different celebrations that are held throughout the year. Kingfishers made poppies for a wreath which they presented at a special Remembrance Assembly.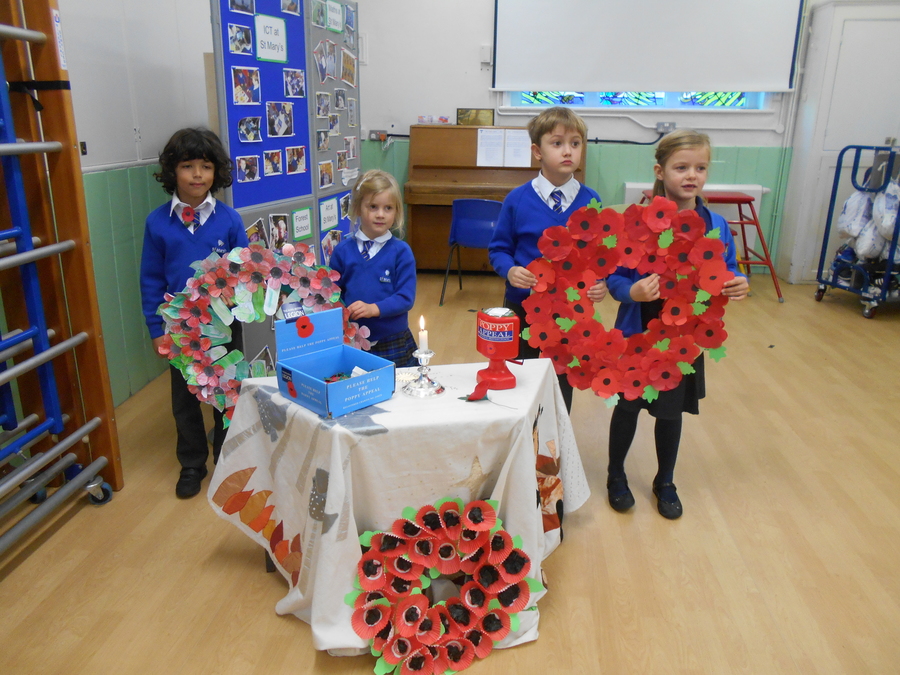 During Literacy we thought of adjectives to describe a poppy and put these into poems. We thought about the two World Wars and tried to describe our feelings about these in acrostic poems. Then we looked at a verse from the famous poem, 'For the Fallen' by Robert Laurence Binyon, and tried to work out what it meant.
They shall grow not old, as we that are left grow old:
Age shall not weary them, nor the years condemn.
At the going down of the sun and in the morning
We will remember them.
Kingfishers looked at the work of the artist Georgia O'Keefe this week. They then drew their own flower pictures of poppies making sure to fill the whole page and looking carefully at all the details. Finally they tried to mix reds, yellows and oranges to get just the right colour to paint their pictures with.
For maths this week children ordered three numbers - finding the largest and smallest number and then circling the number that came 'in-between'.
Week Beginning October 16th
This week we have been planning our own stories based on 'Charlie's Superhero Underpants'.
We have thought about characters and settings.
During maths we have looked at shape and measurement. First we learned the names of 2d shapes and then investigated their different properties to find out how many sides, corners and faces each shape had. Later on in the week, we measured superheroes. Some of us used cubes, some used paper clips and others used rulers to measure length.
Have a happy half term everyone and get ready to learn when you come back to school. Don't forget My Maths and take a look at the VLE.
Week Beginning October 2nd
During DT this week we learned more about measuring when we cooked our fish cakes. We learned to follow a basic recipe and use kitchen equipment safely. We hope they tasted yummy!

In RE work this week we continued to think about the different images of God. We thought about the work of a shepherd and how God might be a shepherd of man.

In Forest School this week we explored the site and had fun hunting for minibeasts.
We flew to China to find out how people in different countries might live. After finding out what Chinese people might eat, the language they speak and seeing the Great Wall of China, we made dragons which are very important in Chinese culture.
Week beginning September 18th
What a busy week we have had. In science we have continued to investigate our bodies making straw skeletons of ourselves.
Then we had fun trying to build our own skeleton, we think they look pretty good, although some of us had some spare bones left over!
During maths this week we have been working on recognizing and writing teen numbers. We have learnt that teen numbers always start with 1 ten. We have used multilink, numicon, arrow cards and played games including bingo.
On Thursday we had a real treat when two tennis coaches came into school to give everyone a taster session. We had fun catching balls in our ice-cream cones and then had a go at hitting the ball over a net.
Week beginning September 4th
Welcome to all our new Kingfishers, you are looking so grown up now you are in year 1 and you came into class in a very mature manner. All the children have settled in well and have spent the last 3 days learning all the new year 1 routines.
So far during PHSE we have discussed and written a set of class rules for us all to abide by and you can see these on one of our classroom displays. In maths we went on a treasure hunt to find out where all the resources are kept - it was great fun, whilst in literacy we investigated capital and lower case letters. It was a busy few days.
To see news from the Kingfisher Class of 2016-7 please click here
To see news from the Kingfisher Class of 2015-6 please click here
Week Beginning 26th February 2018
What a fun week we have had so far....
In maths we have been looking at 3d shapes, trying to remember their names and properties. We investigated how many faces, edges and vertices they had. Then we searched around the school to find examples of 3d shapes. Miss Parsons bought in a triangular prism (toblerone), but would not share the contents!
On Tuesday we had fun in the snow, but we didn't know what was to come...
On Wednesday morning we enjoyed a very funny performance by Booster Cushion Theatre when Alistair McCallister came to tell us a story. There was a lot to watch and join in with as we were told the story of Old McDonald with a twist. It was great fun!
Week Beginning 5th February 2018
What a fantastic week we have had. To start the week we celebrated the start of the Chinese Year of the Dog. Kingfisher class took part in a brilliant workshop where they played lots of VERY loud instruments and took part in a dragon procession. Back in class we heard the story of how the animals were chosen for the Chinese calendar. In maths we used our knowledge of ordinal numbers to order the animals.
Then on Tuesday, after school, we all snuck back in to hear some bedtime stories. We had lots of fun and we also got hot chocolate, marshmallows and biscuits. What a treat!
On Wednesday morning the whole school had a great treat when Kingfisher class performed their family assembly to show what they had been learning over the last half term. The assembly was a pirate themed one based on our topic 'Ahoy There'. Miss Parsons was so proud of everyone for remembering all their lines. We hope you came along and enjoyed it too!
Week Beginning 15th January 2018
This week we have started to learn about a very famous Admiral. Do you recognise him? That's right - it is Horatio Nelson. We have been looking at paintings of him to see what we could find out about him.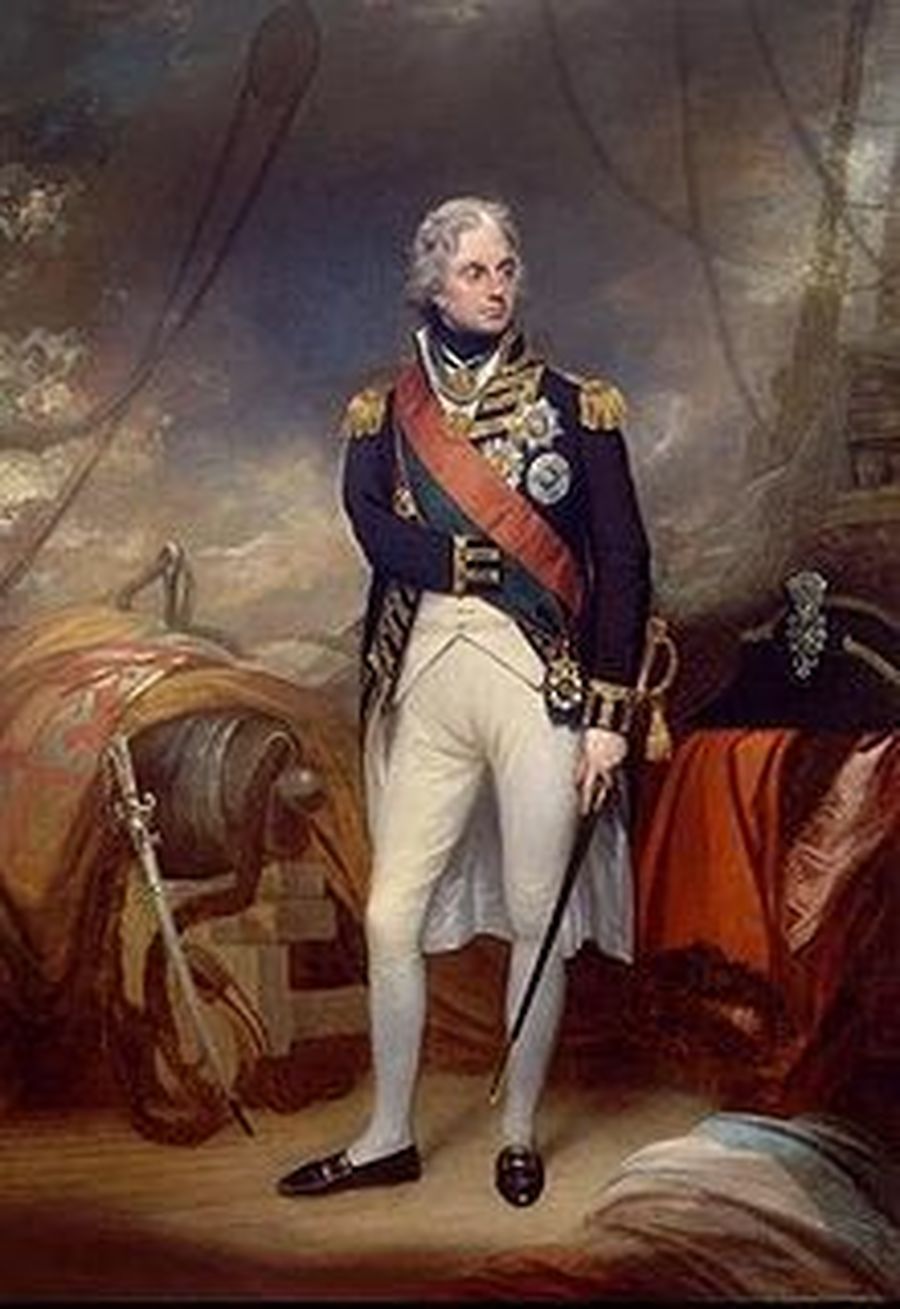 We found out that he was a very important man. His clothes told us that he lived a long time ago and is not alive today. His medals told us that he was brave. The ship and cannon in the background gave us a clue as to his job. What can you find out?
Then on Wednesday we had a very exciting trip to Portsmouth Historic Docks to see the Victory, a ship that Nelson fought on. It was fantastic, we had so much fun! We got to see Captain Hardy's cabin, and Admiral Nelson's bed. We found out that sailors slept in hammocks and even went on the Poop Deck! We also found the plaque that marked where Nelson fell after he had been shot. In the afternoon we went to a workshop and learnt how to tie knots, we dressed up as sailors and looked at artifacts from the ship.
During science this week we went on a material hunt around the school and we tried to think of the different properties of materials. Here are some new words that we learnt...
hard soft rigid flexable see-through strong
Week Beginning 18th December
What a fun start to our week. On Monday we made beautiful angel Christmas cards for our family and friends - which we hope you will like. Then after lunch we had our Christmas party. We played lots of fun games with Woodpecker and Goldfinch classes and then a fun tea party back in the classroom. Then we had a visit from a very special person, who left a sack full of gifts too!
We have made lot of fab Christmas decorations during the week and on Wednesday we wore our wonderful hats to the Christmas lunch - which was yummy!
Week Beginning November 27th
We have been to the South American continent this week, finding out about Brazil. We looked at Sugar Mountain, the Statue of Jesus on Corcovado Mountain and Iguazu falls. Then we made masks for the Mardi Gras.
During Maths this week we will be looking at time and telling the time to the hour. We started the week by thinking about how long 1 minute is. We tried to complete lots of different activities in 1 minute.
Then we learnt how to tell the time on an analogue clock. We found out that when the minute hand is on the 12 it is an o'clock time. When the minute hand is on the six it is half past the hour. We had to solve a time mystery out in the playground.
Mrs Morgan came in twice this week and took one group of children to America, making maple syrup and bacon pancakes. The second group visited South America and made little empanadas which were like mini Cornish pasties. They were very tasty and we all got to try a taste of North and South America.
To finish off a busy week, on Friday the Life Education Bus arrived and we had great fun learning about our bodies and how to treat one another and stay healthy. We met Harold the Giraffe and saw glittering stars in the middle of the day!
Week Beginning November 13th
Wow, what a busy week we have had, with three special assemblies! On Tuesday Princess Jasmine came into school and we had great fun learning to speak 'banana'. Then some of Kingfisher class joined Woodpeckers and Goldfinches in a special French assembly. On Friday we had an assembly all about Children in Need and just look what Mrs Dodgson was wearing!
In maths this week we have been looking at positional language describing where our teddies have been hiding themselves.
During English we read a new book called 'The Shopping Basket'. Once we had heard the story we got into groups and tried to retell it in our own words. Then we tried writing super sentences which contained a noun, adjective and verb.
We have been learning all about the different countries around the world during topic and on Thursday Mrs. Morgan came into school and taught a group of children all about China. Then they made stir fried tofu with dipping source. At the end of the day the children showed the rest of the class how to use chopsticks and we all got to try the food. I wonder what country Mrs. Morgan will take the children to next week.
Whilst some of us were improving our archery skills during pe lessons, the other half of the class were at forest school looking for minibeasts.
Week Beginning October 30th.
This half term our topic is the 'World around Us', but we will also have a mini-topic all about Remembrance and to get ready for this, children have been busy making a poppy wreath and poppies for our display board.
During science we have been looking at the different seasons of the year. We have noticed that some trees loose their leaves in the autumn. We collected leaves, looked carefully at them using magnifying glasses and then drew what we could see.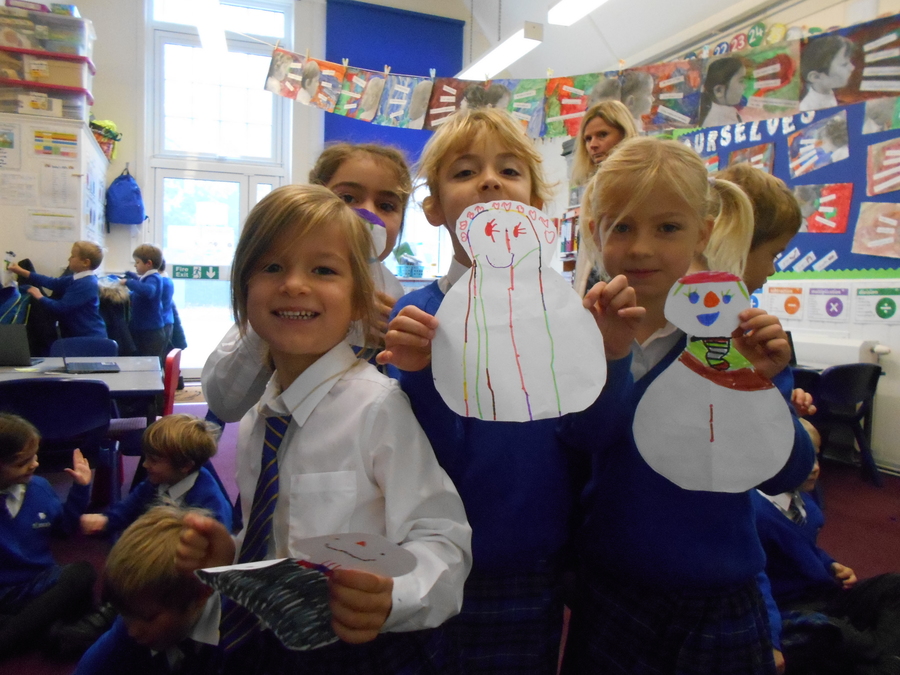 We had fun in phonics learning the 'ow - blow the snow' sound.
Week Beginning October 9th
What shapes can you see in the school building? This week we went on a shape hunt to find out. We also looked at symmetry and made symmetrical patterns by painting butterflies, using lego and coloured pegs!
In science we have continued to investigate our senses. We have used our sense of taste to investigate which crisps we like best, our sense of touch using a feely bag, our sense of hearing by listening to and trying to work out the contents of different boxes, our sense of smell by investigating different scents and our sense of touch through cooking, sport and art.
We also had the chance to cook ginger bread biscuits with Mrs Dodgson - they tasted yummy!
We continue to enjoy archery and forest school. This week we made mini beast hotels - take a look.
Week Beginning September 25th
We have been having fun in phonics this week learning lots of new sounds. We really enjoyed learning the 'qu' sound and made crowns for queens and then went on a quest.
In maths we have been looking at addition and subtraction, taking 1 away and adding 1. We really enjoyed playing a minions game to help us.
Forest school started this week and that meant that the rest of the class had fun firing arrows during an archery lesson.
Week beginning September 11th
We have completed our first full week in Kingfisher class and everybody has worked very hard. This week in English we have been learning how to write labels and captions, we labelled a superheroes bodies and then labelled ourselves!
During numeracy we estimated and counted different objects ..... some of us counted fruit, some dinosaurs! We ordered numbers and added and subtracted one.
For art and science we have made pictures of ourselves and labelled some of our senses. The pictures were great fun, some of us even have purple hair!