GOLDFINCH CLASS NEWS 2019/20
Welcome to Goldfinch Class News Page. This half term our learning will be linked to the theme 'All Creatures Great and Small.'
Week Beginning 13th July
It has been our last full week in school this week and we have enjoyed a new mini theme 'It's Summer Time.' We have designed and made pictures of ice creams, completed summer themed number problems and written our own lists for things we might to take for a trip to the beach.
On Friday we held a beach day. We enjoyed making sandcastles, playing in the water, going on a summer pictures treasure hunt, making paper boats, exploring things that float and sink, cutting and sticking our own rock pools and making kites. The weather was glorious - an added bonus! A lovely way to end the week.
This will be our last news page for the academic year. We have loved teaching the children and we are so glad that we have had the opportunity to support the them with their development and learning in school this last half term. Mrs Bridges, Mrs Morgan, Mrs Holmes and Ms Lankester would like to wish all our fantastic Goldfinches and their families a very happy, safe summer holiday.
Week Beginning 29th June
We have enjoyed completing activities linked to wild animals this week. We have made some fantastic animal collages using different sorts of paper.
This week our butterflies came out of their chrysalis's! After they had dried their wings and had a sugary drink, we took them into the playground to let them go. As we passed one of the butterflies around, we got to see its proboscis as it drank from a piece of orange. Good bye butterflies! Enjoy finding all of the lovely flowers in our library garden!
We listened to the story 'Baby Bear, Baby Bear, What Do You See.' We talked about good 'describing words' and exciting 'doing words' that might help with our own writing. Then we composed and wrote our own sentences about different wild animals.
Week Beginning 15th June
Our learning this week has been linked to farms and farm animals. The children have enjoyed exploring farm oriented activities and challenges on the chromebooks.
We listened to the story 'Rosie's Walk' by Pat Hutchins. We learnt and retold the story with actions and using all the direction words - over, past, through, under, around, across. We made our own maps and added labels. Then we wrote a sentence.
We loved creating our own funny animations of farm animals on the computers. We added backgrounds and sound effects and tried to use all the drawing tools.
We enjoyed learning about farms and the food that farms produce. We did some planting of our own and filled the hanging baskets for the playground. We thought about what plants need to grow and how to care for them.
We painted our favourite farm animals. What a lot of fantastic artists there are in Goldfinch Class!
We had lots of fun in our learning zones too!
Week Beginning 1st June
Welcome back to school everyone! Goldfinches have settled beautifully into their new classrooms and are learning the new rules and routines very well.
This half term our learning will be linked to animals. This week we have enjoyed writing about our favourite animals.
We also made some jointed moving animals too. Great fun! We cut carefully along the dotted lines to create the shapes of our animals, used split pins to fix the pieces together and then we added in details to make them our own.
Week Beginning 9th March
This week we have been learning about firefighters. We have watched video clips about how firefighters help people and the special equipment they use. We have explored a firefighter website for children and talked to our teachers about our learning. We have added labels to pictures of fire engines. We really enjoyed dressing up as firefighters, role-playing putting out fires while practising our capacity vocabulary - full, full to the brim, half full, half empty, empty.
Week Beginning 24th February
Welcome back everyone. We hope you had a happy half term break.
This half term our learning is linked to our new theme, 'People Who Help Us.' Each week we shall be learning about a particular job including those of teachers, firefighters, police officers, builders and doctors and nurses. You can find online activities to support our learning on our VLE - just log in and click on the 'Learn' app.
This week we have been thinking about the job of a teacher and what we do in school. We have loved playing at being teachers and children in our role-play school and making signs for the classroom.
We have been learning to count on as a way of adding up. We played a fun game with a partner to help us with our counting on.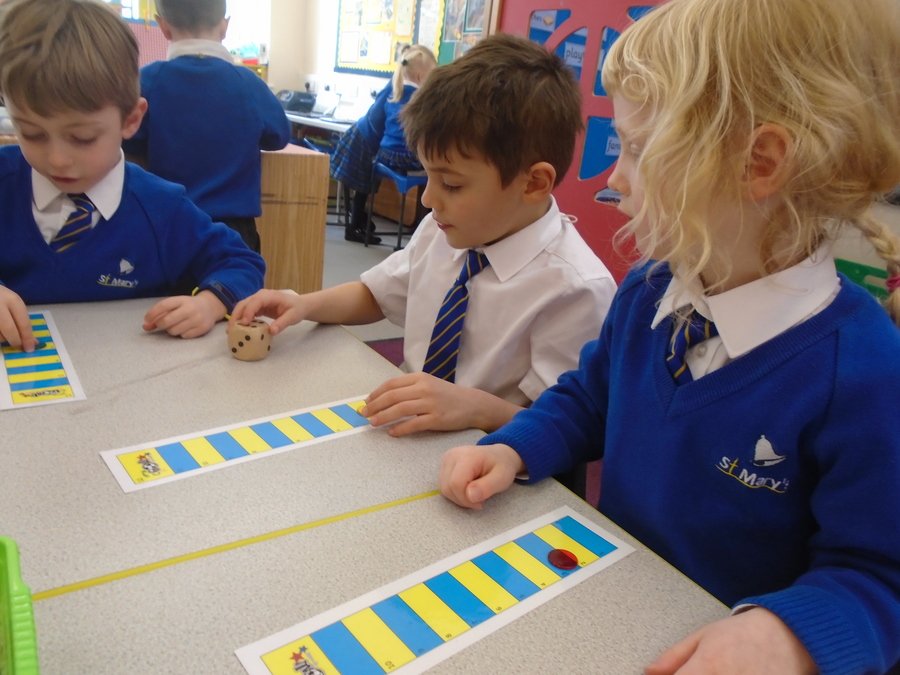 We have had great fun learning about how to make things move by pulling and pushing. We explored the inside and outside classrooms and then recorded our learning in our own way.
Week Beginning 3rd February
In our maths work this week, we have been learning about numbers that add up to 10, our number bonds. We used numicon to make marvellous rockets, each with 10 windows and then we recorded our learning. Some children included written numbers in their recorded work, while some even wrote number sentences!
We loved flying our model space rockets around the playground!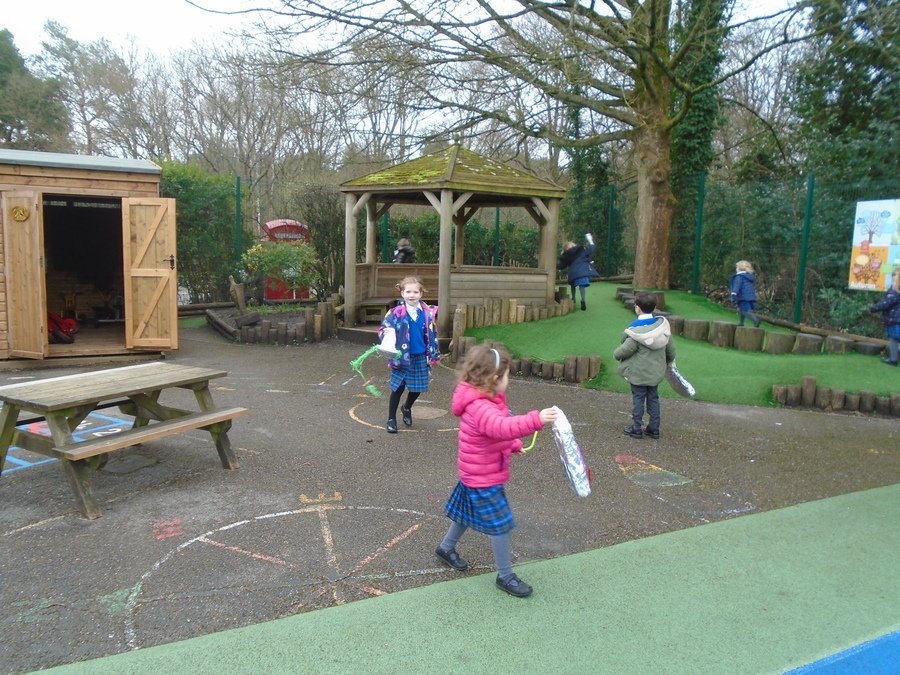 We also made blow rockets on Friday. We made them fly by blowing into a straw. We experimented with different types of blowing and discovered that a quick hard blow worked best to make them fly high!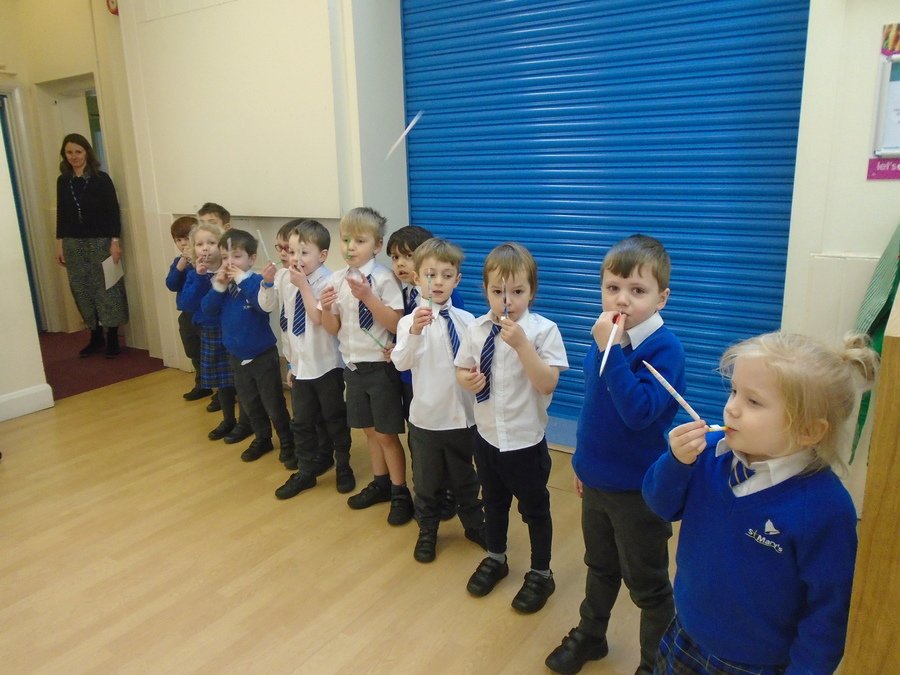 We enjoyed our Godly Play session, listening and responding in different ways to the story Mrs Dodgson told us.
Week Beginning 20th January
Our space theme continues....! We have written lists of the things we might like to take to space, we have worked in small teams to build space rockets using construction kits and we have even made our own shooting stars.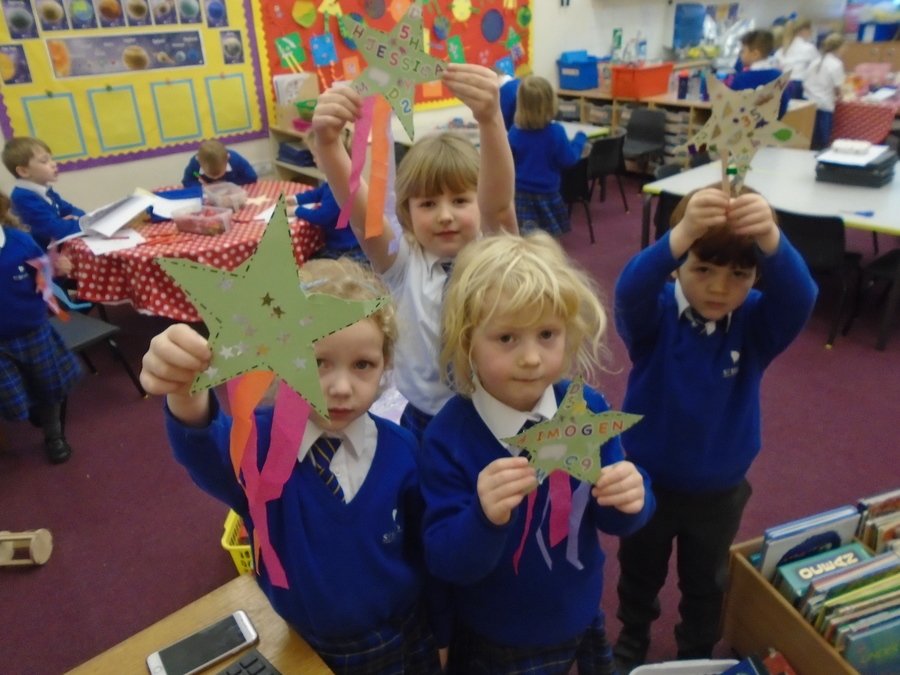 We have enjoyed making space craft out of junk, choosing the right shapes and fixing the pieces together using glue and masking tape. We covered our models with silver foil for a real spaceship effect!
We sequenced numbers to 20 in groups, talking together to find the right order. We found different ways of making the numbers too, matching them to our ordered number rockets. Then we had a go at ordering non-consecutive numbers - what a challenge!
Week Beginning 6th January 2020
Hello everyone and Happy New Year to you all. We hope you had a lovely Christmas and enjoyed the holidays. This half term we look forward to learning through the theme of Outer Space.
We have measured paper space rockets, role-played a visit to space and drawn some super space pictures. We have loved watching video clips and looking at pictures and books to help us with our learning. Everyone is very excited by our new theme!
We have a fantastic new role-play area and we have enjoyed pretending to be astronauts in the space station and rocket!
Week Beginning 9th December
Well done Goldfinches on a wonderful performance of our Christmas Nativity Play 'Christmas Counts.' You remembered your words and spoke with beautiful loud voices, you sang the songs with great gusto and you looked spectacular in your costumes. Your teachers are very proud of you all.
This week we have been thinking about Christmas. We have made beautiful Christmas tree cards, layering tissue, printing snowflakes and writing messages inside.
We read instructions together and followed them to make super Christmas stocking decorations. We tried especially hard to cut along the lines without wobbles!
We have been thinking about everyday language linked to time - yesterday, today, tomorrow, morning, afternoon and evening. We drew pictures of what we do in our own homes on Christmas Day to show our understanding.
Week Beginning 25th November
We have begun to think about Winter this week which has been especially appropriate because the weather was particularly wintry on Friday! We have enjoyed handling and talking about ice, making close observations and describing how ice feels and how and why it changes.
We have been learning to find totals by counting how many there are altogether. We made different groups of snowmen and cotton wool 'snowballs' and counted them all up, taking care to give each a finger-point so that our counting was accurate!
Rehearsals for our Christmas Nativity play continue and the children have been working hard at learning and remembering all their lines as well as acting and singing! Parents, please help your children to use their loudest voices as they practise at home.
Week Beginning 11th November
This week we have been learning about Remembrance and Diwali.
We have thought about the ways soldiers are remembered and have made our own paper poppy wreath. We attended the school service on the green in front of the memorial to show care and respect.
We listened to the story of Rama and Sita and watched video clips to find out about Diwali and the ways it is celebrated. We have created mehndi hand patterns and rangoli mats. We were really excited to create our own diva light holders. We rolled and shaped clay and then used tools to create patterns and added beads for decoration. We put tealights into our holders to complete our work.
Week Beginning 21st October
We have been thinking about birthday celebrations this week. We have written party invitations, food lists, printed wrapping paper made party food and even held a party with fun games for one of our class toys.
We have also been learning words linked to measuring weight - heavy, heavier than, heaviest, light, lighter than, lightest. We used a balance to compare the weights of different birthday presents and talked about what our learning and exploring. Then we tried to balance our presents against some counting toys.
Week Beginning 7th October
This week we have been learning about harvest time. At our harvest festival on Friday at St Mary's church, we sang our 'Down, Down to the Allotment' song. Goldfinches sang beautifully - loudly and clearly. Super job children - your teachers are proud of you.
We have enjoyed exploring using our senses again this week. We tried hard to use different describing words as we tried out the different baskets, bags and boxes.
Week Beginning 23rd September
We have been playing and exploring with magnets this week. We tried to talk about what we saw - our observations - and explain why we think sometimes the magnets seemed to stick together or attach to other items. Some children noticed that lots of the things they explored were made of metal and wondered if that might have something to do with it!
We have enjoyed using the chromebooks to add labels to a picture of the body. The touchpad can be tricky to drag and drop with - what an achievement to complete the activity by yourself and put all the labels in the right place!
We also labelled real people - the children. Volunteers stood while their friends added labels for different body parts in all the right places.
Week Beginning 9th September
We would like to say a big hello and welcome to St Mary's School to all our new children and their families. There will be lots to learn for everyone but we are going to have great fun doing it!
This week the children have been settling into their new classroom, learning the names of their teachers, making new friends, trying out different activities and getting used to the new rules and routines of school. A super start to life in Goldfinch Class - well done children!
Week Beginning 6th July
We have concentrated on writing our own stories this week. At the beginning of the week, we wrote endings to an 'Elmer the Elephant' story.
At the end of the week we enjoyed writing our very own story books about our favourite wild animals.
Week Beginning 22nd June
This week our learning has been linked to minibeasts. The children enjoyed going on a hunt for minibeasts and then choosing their favourite to paint onto a rock.
We have our own minibeasts in school! Caterpillars have arrived and over the next couple of weeks we shall be watching them carefully for changes.
We looked at pictures of different minibeasts and wrote our own descriptions. Can you guess which minibeasts we wrote about?
Week Beginning 8th June
This week our learning has been linked to animals that live in water. We chose sea creatures to write about and created fact booklets. We researched some of our facts using the computer.
We listened to the story 'The Rainbow Fish' and created our own rainbow fish using clay and decorative pieces for the scales.
We enjoyed making beach scenes and practised using positional words as we played.
We explored different materials and talked about what they might be used for. We used describing words to talk about the materials. Then we did a little test to see if any of the materials were waterproof.
Week Beginning 16th March
This week we have been finding out about the role of police officers. We have looked at books and watched video clips about what police officers do. We have enjoyed dressing up as police officers, making important notes, and We have learnt how to cross roads safely.
We read the story 'Mog The Forgetful Cat' by Judith Kerr and wrote our own endings to the story.
We have been learning all about doubling numbers this week. Lots of us recorded our work in our own way - fantastic!
We have made some super paintings of different people who help us. We worked hard to add detail and to select the right colours for all the different uniforms.
Next Sunday is Mothering Sunday when we say thank you to our mums and offer to help them. We have made some beautiful cards to give our mums on the special day.
This will be our final newspage for a little while. Parents, please remember to support your child's development by logging on to our VLE and clicking on the learn app for daily activities to support learning. We wish all our families all the very best in what will be a challenging time for us all. Take care and stay healthy.
Week Beginning 2nd March
This week our learning has been linked to the job of builders. We have role-played in our builders yard, enjoyed story making with our small world trucks and diggers and we have written about builders and their vehicles.
On Thursday we enjoyed dressing up as our favourite story characters. It was fun to do all our everyday school activities in costume!
Week Beginning 10th February
During our last week of our space theme, we have listened and talked about the story 'Aliens Love Underpants.' Then we made our own 'wanted' posters so that people know who to watch out for should their pants go missing!
We have enjoyed programming the beebots, sending them around space and including forwards, backwards and turn instructions in our programmes.
Week Beginning 27th January
We have taken little break from our space theme this week to learn about Chinese New Year. We have found out about how the Chinese celebrate this festival from books and video clips. We have handled and written about Chinese artefacts and tasted Chinese food. Some of us dressed up in traditional Chinese costumes. We enjoyed a fantastic Chinese New Year workshop in the hall, playing instruments and joining in with the dancing.
Week Beginning 13th January
We have continued with our space theme this week. We have made up our own funny space creatures and used shape vocabulary when we talked about them.
We read the story 'Whatever Next!' by Jill Murphy together and then sequenced some pictures to help us to retell it in our own way. We drew pictures of our favourite parts of the story and wrote labels and captions to go with our drawings. We are getting better at holding our sentences in our heads and at sounding out to spell.
Week Beginning 16th December
We have been doing all things Christmas this week! We have measured tinsel and written our own present lists, working hard to identify sounds and write them down in order for words we want in our writing.
On Thursday, we enjoyed a super Christmas party. We dressed up in party clothes and played games in the hall with the rest of the school. When we came back to the classroom, some of our amazing mums had transformed the room into a fabulous tea-party room! We had snacks, drinks and even a visit from Father Christmas. Thank you everyone who made the party a success!
We wish all our families a very happy Christmas and look forward to seeing you all again in the new year.
Week Beginning 2nd December
This week we have listened to the story 'One Snowy Night' by Nick Butterworth, a tale all about a cold winter's night when Percy the Park-keeper has a few unexpected animal guests! We looked at the pictures and wrote our own sentences to tell different parts of the story.
We have also enjoyed making snowy pictures using paper shapes, black marker pens and white paint - the children worked hard and their final pictures look rather good!
Week Beginning 18th November
This week we have written our own Autumn Poems. We thought carefully about good words to describe signs of Autumn in our poems. We tried hard to sound out to spell the words we wanted to write and to form the matching letter shapes properly.
We have enjoyed making leaf rubbings and adding them to our poem display.
We have a table of natural items that you might find in Autumn. We have been looking closely with magnifying glasses and talking about our discoveries!
Numbers are really tricky to write so we have been practising writing them, helping each other on large sheets of paper. Super co-operative work!
And finally, we have begun to practise our Christmas Play. The children have been given their parts and their words have gone home in zippy bags. Please help the children to learn and practise their words at home. We have lots of songs to learn, but the children have been amazing and learnt them all in a very short space of time - Brilliant, Goldfinches!
Week Beginning 4th November
This week we have begun our brand new theme, Autumn and Winter. We began by finding out about bonfire night - we listened to the story of Guy Fawkes and talked about how we celebrate the failure of the Gunpowder Plot with fireworks, a bonfire and perhaps a party with special food.
We made our own fireworks out of 2D shapes and talked about the shapes we used. We also wrote firework words trying hard to hear and write sounds in order for the words we wanted.
We have loved using pinecones to create our own Autumn creatures.
Can you find any signs of Autumn while you are outside with your families and friends on a walk or perhaps in your gardens?
Week Beginning 14th October
We have continued our theme 'Getting to Know You' thinking especially about our homes and families. We have looked at photos of our own homes and made models of items that you might find in a home using junk, glue and masking tape.
We have also had fun writing our own shopping lists. We drew pictures and tried hard to hear sounds in the words we wanted on our lists. We used sound cards, with help, to find the letter shapes to match the sounds and wrote these down.
Week Beginning 30th September
This week we have been thinking about our different senses and how we can use them to explore the world around us.
We have enjoyed making and tasting gingerbread.
In maths we had to use our sense of sight to sort by colour and shape.
We have written our own poems about our senses too!
We enjoyed a visit from the Lifebus on Friday where we learnt about different ways to help us to keep ourselves happy and healthy. We also met Harold the giraffe who helped us with our learning!
Week Beginning 16th September
What a busy week we have had! The children are trying so hard to remember everything and they are doing very well. We are especially proud of the way they are coming into the classroom by themselves, putting their zippy bags, water bottles and snack pots in all the right places AND hanging up their blue school bags on their pegs all by themselves. Brilliant!
We have had another gymnastics lesson with coach Tom this week, practising the shapes we learnt last week and thinking of different ways to travel.
We enjoyed drawing by ourselves - we could draw whatever we liked! Then we talked about our pictures with a grown-up. Some of our pictures are on display in the classroom.