This half term our topic is 'Our Green World'.
Week Beginning 24th June ...
This week Kingfishers enjoyed a fantastic day out at Wisley.
During the morning we explored the Glasshouse where we found different zones and plants that are suited to living in them. Later in the morning we collected petals and leaves that were lying on the floor and popped them into little bags to take home.
After lunch we explored the gardens searching for different stages of plant growth. We worked in groups to tally how many different buds, flowers, fruit and seeds we could find. We found the biggest tree growing at Wisley which was a Redwood. Then we went back to the education room to plant our own French Bean.
What a great day we had!
Over the next couple of days in English, we planned and wrote a recount about our fabulous day our. Then we wrote letters to Kyle to say thank you for showing us around Wisley.
Week Beginning 10th June
We have been keeping a diary of the growth of our cress and bean seeds. So far the cress seeds have germinated, grown roots, shoots and leaves but the bean seeds have just taken up water and swollen up.
We have been continuing to make our Frensham Fayre art entry - but we are not going to reveal all just yet. You will have to pop along to the fayre to see what we have made.
During RE this week we thought about places that are special to us and groups that we might belong to. We talked about how they made us feel. We learnt that churches are special places for Christians to go to and thought about all the different things that we could see on the outside of St Mary's church.
In PHSE we thought about friends, how to make them and how to keep them. We also talked about people who are special to us and made cards for our daddies. Happy fathers day on Sunday!
Week Beginning 20th May
This week we celebrated May Day by performing our dances with Woodpeckers and Goldfinches. It was a lovely afternoon which was introduced with the crowning of the May Queen and King. Well done everyone you worked so hard and danced so well.
After all that dancing we celebrated with May cakes - a big thank you to the mums who baked them.
Week beginning 13th May
This week we have had a special visit from Rabbi Zvi Solomons. He told us all about the way that Jewish people celebrate Shabbat and we learnt that Shabbat begins at nightfall on Friday and lasts until nightfall on Saturday. Rabbi Zvi set a table with candlesticks a cup or goblet and grape juice for kiddush; two whole challah loaves, placed on a tray and covered with a cloth. We said a prayer and tasted the bread and grape juice.
Break in at Local Library
Kingfishers became reporters for the morning and visited a crime scene in the school library. Their job was to look very carefully and record anything that they could see. They then interviewed eye witnesses before writing a newspaper article.
Week beginning 29th April
In science this week we have been thinking about the weather. First we thought of lots of different ways of describing the weather and then worked in groups to make up our own weather forecasts.
During DT this half term we are learning how to make moving pictures. This week me looked at a slider mechanism and then tried to make our own sliders........
Week beginning 1st April
Easter has arrived in Kingfisher class! What a fun start to the week we have had. The Easter bunny had paid a visit to Frensham common and left lots of eggs for us to find. We were so lucky that the sun was shinning for us too!
We made Easter bonnets in the shape of chicks and rabbits for the Easter bonnet parade. It was quite tricky but we really listened carefully to the instructions.
In DT we finally finished off our castles. We added moving drawbridges, arrow slits and coats of arms to the outside of them. They looked brilliant!
Finally on Thursday we got to show off our super bonnets in the Easter bonnet parade.
Week beginning 18th March
In maths this week we have been comparing the weight of different objects. Then we measured the objects using cubes, fruit or dinosaurs.
During history we learnt all about the Battle of Hasting, 1066. We acted out the battle and found out how William the Conqueror became King.
We acted out the story of Jesus' s last days. How he rode a donkey into Jerusalem then had a special meal with his disciples before praying in the garden of Gethsemane. We learnt that it was in the garden that Jesus was betrayed by his friend Judas and taken off by the guards.
On Friday morning, and after lots of rehearsal, Kingfisher class presented their family assembly which was all about Castles and Queens. There were lots of parents who came to see them perform and they were absolutely brilliant! Well done Kingfishers, Miss Parsons and Mrs Dodgson are so proud of you!
Week beginning 4th March
This week has been very busy. On Shrove Tuesday we learnt why we make pancakes before Lent. We ran in pancake races and even had a pancake to try. It was great fun!
Thursday was world book day and we all had great fun dressing up as characters from our favourite Roald Dahl books. We got to see everyone else's costumes in a parade in the hall.
On Friday an author called Tom Easton came to visit us and talk to us about writing books. He read us a book called 'Pirate Underpants' which was very funny!
In DT we have been investigating how to make castle walls, towers adn turrets.
Week beginning 4th February
On Wednesday we had a special visit from Earth Song. They told us all about Chinese New Year. It was great fun, Kingfishers took turns playing drums to wake up 4 sleeping dragons. They learnt a fan dance and a ribbon dance. We saw a film showing athletes training for a Lion dance!
During maths this week we have been learning all about measurement. We have used standard (cm) and non-standard (such as paperclips, cubes) units to measure different things around the school.
Week beginning 28th January
We have been reading the story, 'The Snail and the Whale' by Julia Donaldson, in English this week. First we looked at the book cover to see what we could find out about the book.
Then we all took a different scene and drew a pictures of it. Then we got into groups and used our pictures to retell the story in our own words.
On Tuesday evening some of us came back to school to hear some bedtime stories being read. We had some yummy hot chocolate with marshmallows and cream!
On Wednesday 'Spirit of the Wild' visited us and brought lots of exciting animals for us to see and hold. We found out about mammals, reptiles, birds and amphibians. It was such fun!
Week beginning January 14th
We have been looking at information books this week. First we looked at lots of animal books and tried to find all the different features they had in common. We found out that most have a contents page, index page, glossary, photographs, captions, labels and headings.
We used dictionaries to find the meaning of different words and used these to write our own glossaries.
Finally we used the chrome books to research different animals and record any interesting facts that we found.
We learnt how to represent subtractions in maths this week. We used numicon, a number line and tens frames. We first learnt how to partition numbers to make it easier to take away.
Henri Rousseau was a French artist who liked to paint jungle scenes containing wild animals. We have looked at some of his paintings and used them as inspiration for our own pictures. This week we worked on painting animals and collaging a background.
Week beginning December 10th
What a fun week we have had with lots of Christmas crafts. On Monday we followed instructions to make Chocolate Rudolphs and put them into cuboid boxes - 3d shapes that we had learnt about in maths.
We made super hats for our Christmas lunch. We all sat together in the hall, which had been decorated especially, and listened to Christmas music.
We have seen three different shows this week. Two were about the Christmas story. One by 'Open the Book' and one by 'Signpost'. We really enjoyed both!
Then we had a pantomime which was introduced by the new headmistress (who had been promoted from Kingfisher Class!)
Week beginning November 19th
During art this week Kingfisher class discussed the work of Georgia O'Keeffe, particularly her flower paintings. They then drew their own poppies - making them fill the page. We will be painting these next week.
We learnt all about Hannah during 'Open the Book'. Hannah was very unhappy and she prayed to God to give her a child. Hannah was blessed with a boy who she called Samuel.
For maths we have been learning how to tell the time to the o'clock and half past. We made wrist watches and tried to read everybody's time.
Week beginning November 12th
This week we have been learning a new story called 'The Shopping Basket' by John Burningham. At the beginning of the week we each took a character from the story and acted it out in front of the class.
In maths this week we have been learning how to find the difference between two numbers and then write a subtraction number sentence.
Week beginning 29th October
Well we do hope that you had a lovely half term and enjoyed the autumn sunshine. Back at school we have been thinking about bonfire night. We watched fireworks and bonfires then tried to find descriptive words and phrases to describe how they looked, moved and sounded. We them used these to write shape poems.
We used our poems to produce some artwork for the classroom. Come in and have a look, it really is lovely!
In maths we have started to think about subtraction and subtraction sentences. We used small world objects to tell subtraction stories to each other. Some of us wrote subtraction sentences for our stories.
Our science topic this half term is all about the weather and the different seasons of the year. We thought about the changes happening to the trees outside now and about the time that it starts to get dark in the evenings.
Week beginning 1st October
In maths this week we have continued to compare numbers and sort them into those that are bigger than or smaller than. We then tried to find a number that came between the two.
Then we challenged our learning partners to estimate how many objects were in a container and counted to see how close their estimations were.
In English Kingfishers have been learning what a story setting is and they looked at different fantasy story settings, sorting them out from real settings. We will be reading Superhero stories with fantasy settings over the next few weeks.
During P.E. Kingfishers practised their archery skills, trying to improve their aim. Some children were so good they could hit the target nearly every time!
On Friday we had a very special visit from the Life Educational Bus. Kingfishers learnt all about our bodies and how to keep them fit and healthy. They also met Harold the Giraffe and became 'feelings detectives' as they learned how to resolve friendship issues and how to recognise, name and understand how to deal with their feelings.
Week beginning 17th September
Kingfishers can all name different parts of their body and they know that a skeleton helps to support their bodies so that they can stand, sit and move around. In science this week they also learnt some of the bones that make up the skeleton and made their own skeletons out of straws. In art Kingfishers made collage images of themselves using torn pieces of coloured paper.
For English this week children were investigating capital letters - matching them to their lower case letters.
In maths this week we have been finding numbers that are 'more than', 'less than' and 'equal' to. We used dinosaurs, numicon, cubes, fruit and small world people to help us.
We had fun in art this week - learning how to mix colours with white paint to make new lighter colours.
Week beginning 3rd September
What fun Mrs Dodgson and I have had welcoming all the new Kingfisher to their classroom this week. We have been so impressed by the way that everyone came into the class each morning and found their pegs, put their books away and settled in so quickly!
We have already started on our number work in maths, looking at numbers to 10 . We collected data by asking questions like; who in the class had blue eyes, a brother, liked science, had a fish?
Week Beginning 17th June...
Well done Kingfishers, you are all winners!
Our Frensham Fayre art project can finally be revealed, and it came first! I am so proud of you all for all the hard work that you put into it!
In science this week we have been investigating plants and naming the different parts of a plant. Our cress has grown big enough to take home and put into a salad or sandwich. Some of our beans now have leaves on them.
On Friday we enjoyed a fabulous Sports morning. We all worked hard on the different activities and loved the ice lollies. There were sprints, relays, hurdles, potato and spoon and Javelin.
Enter text...
Week Beginning 3rd June
Welcome back Kingfishers to our last half term together!
This week we had a special visit to Waverley Abbey, it was great fun! We had three activities to complete. First we met Mr Cassim who taught us how to hold and throw a Frisbee correctly. Then Mrs Ferguson showed us some simple cords on a Eukulele. Finally we made an animation of a car chase in ICT. Many children would love to go back again!
Once we were back in class Kingfishers wrote thank you letters to all the teachers who had made their afternoon so much fun!
In art we have been working on our Frensham Fayre circus......but we are not letting you see everything just yet!
During science this week we have been thinking about the things a seed needs to germinate. We planted cress seeds and beans.
Week beginning 6th May
During maths this week we have been looking at and making arrays. We have discovered the difference between columns and rows.
In topic work we learnt about the life and times of Grace Darling. We found out that she did not go to school but was home educated with her other brothers and sisters. Life was not easy living in the lighthouse as there were no shops to buy food and no water supply. The children used role play to learn about cooking, cleaning, sewing, writing and gardening.
We have been writing our own Lighthouse Keeper's stories in English. There are stories about funny pets that need training, disasters at sea and lighthouse malfunctions! We have tried to include story language and wow words to make our work more interesting.
During DT we continued to investigate different mechanisms to make a moving picture. We used pivots and levers to make animals speak and arms wave!
Week Beginning 22nd April
Welcome back Kingfishers and this half term our topic is 'Sea Rescue'. Our reading corner is now a lighthouse! So what have we been up to during our first week of the summer term?
During maths we have been learning to work as a group to sort out problems around capacity and volume. We know what the two words mean and can explain their difference.
During topic work we have started to learn a little about Grace Darling. We have found out that she lived with her family in a lighthouse and was taught by her father. We know that she lived a long time a go and tried to find out what life might have been like for her.
We have been reading the Lighthouse Keeper's Lunch in English. The story is about a lighthouse keeper who keeps having his sandwiches stolen by pesky seagulls. Kingfishers have been writing instructions to make disgusting sandwiches to frighten the seagulls away!
Finally, here is what some of our boys get up to on a Friday afternoon. Watch out everyone the 'DJ boys' are in the house! Have a great weekend everybody!
Week beginning 25th March
During maths this week we have been using the vocabulary of, and looking at, the capacity of different containers. We had lots of fun filling containers with water and then had a race to fill up buckets using different sized containers.
During science we investigated materials to find the most suitable one to make a castle window. We decided our material needed to be rigid, strong, waterproof and see-through.
Finally in DT, the moment that we have all been waiting for! Kingfisher class made a start on their castles. So far they have designed, cut and painted. We hope to finish them all off on Monday.
During our Easter Pause Day we learnt about lent and the importance of the colours and symbols that are used. Afterwards we were allowed to express our thoughts in many different ways. Here are some of the things that we did.
Kingfisher class also made a special surprise for all their mums on mothers day. We hope you felt very spoiled!
Week beginning 11th March
We had a very special visit from Signpost this week and learnt all about the Easter Story. It was such good fun. We learnt that Easter is a special time for Christians. A time when they remember that Jesus died to save us and that he came back to life to be among us.
During maths this week, Kingfisher class has been learning how to count on in groups of 2, 10 and 5. They made arrays with peg boards and cubes.
In DT this week, we continued to learn about castles. We made a working drawbridge.
Week beginning 25th February
This week Kingfishers had an amazing day out exploring Windsor Castle. First we visited St. George's Chapel where we were told about famous Kings and Queens from the past. We found 10 kings that were buried in the chapel! We even saw where Queen Elizabeth will sit during the Easter Service and learned that if she did not want to talk to her husband there was a curtain, between their seats, that she could pull across to block him off! After lunch we took part in a workshop where we learnt how boys became pages, then squires and finally (after a dubbing service) a knight. Some of us got to dress up and one of Kingfisher class tried on a replica helmet from King Henry V111's armour. Finally we visited the State Rooms where we saw many suits of armour, and we even found the bullet that killed Nelson.
Week beginning January 21st
This week in English we have been using our research on different animals to write information posters. We wrote a title, headings and non-fiction sentences. Finally on Friday we organised our writing and added pictures. Why not pop into class and have a look at our super writing.
Week beginning January 7th
Our topic this half term is 'The Carnival of the Animals' so in literacy this week we started by writing animal riddles which were great fun. Then we wrote poems about lions and wolves. First we collected as many different images, describing words and phrases as we could think of to use in our poems and later in the week we wrote our own poems.
Here is a poem written by one of Kingfisher class:
Recipe for a lion
Take...
a creaking door and
a cracking bone and
a growling huskey
for her voice.
Take...
the flames of the fire and
the sand in Egypt and
the sand swishing on the beach
for her coat.
Take...
a point of a tooth from a sabre tooth tiger
the a stab of a nail and
a point of a stone
for her teeth.
Take...
a glimmering gem and
the sparkle of the sun and
the shine of a rainbow
for her eyes.
Take...
a scratch of a wolf
a chop of a saw
a pecking bird
for her claws.
Week beginning December 3rd
During maths this week we continued to learn about the differences between 2D and 3D shapes. We counted the number of sides and corners that 2D shapes have and compared them to the number of edges, faces and vertices that 3D shapes have. Miss Parsons brought in lots of 3D shapes from home and shared a triangular prism with all the teachers! (Can you guess what was inside her triangular prism?).
In science we made windmills to try and find out how hard the wind was blowing. We decided that if our windmills span around very quickly then it must be very windy and if they stopped then the wind had stopped blowing.
We had a real treat mid week as we got to watch the Goldfinches' Nativity Play. They were very good! We talked about the Christmas story during RE and thought about all the symbols that artists use, in their paintings, to show how important baby Jesus is to Christians.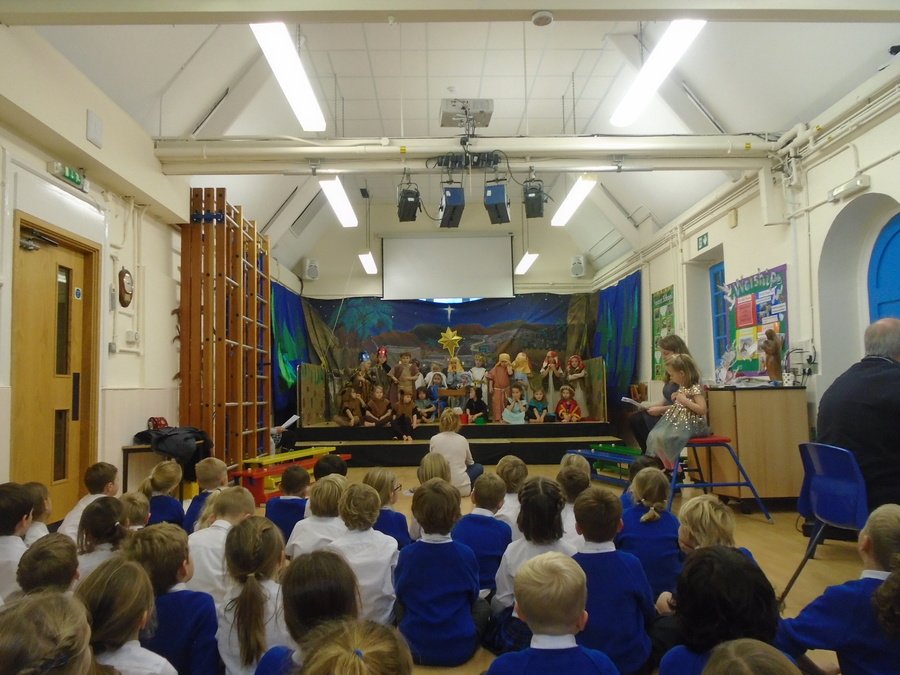 In literacy we have been looking at the features of a letter. We wrote letters to Father Christmas to tell him what good boys and girls we have been. We asked him for a special gift to be sent to someone we know who is very kind and promised to leave a mince pie and milk out for him on Christmas Eve!
Week beginning November 26th
Wow! What a fun week we have had this week with so many things going on. For our DT we made cheese and bacon muffins with Mrs Dodgson. We learnt how to read a list of ingredients and follow a recipe. The muffins were lovely - why not try them at home.
In art we mixed paints and painted our poppy pictures.
On Wednesday Kingfishers went on a school trip to Guildford Cathedral to learn about Advent. We all had great fun making advent wreaths, Christingles, drawing Angels and going on a walk around the Prayer stations of the church. We had a picnic lunch together and went for a very brisk and windy walk around the outside of the Cathedral! What a great day out...
We are learning all about the seasons in Science and have been discussing what happens during the autumn. Miss Parsons found lots of acorns that had started to grow, so we each planted one. We are going to watch to see if they produce a stem and leaves in the spring time.
Finally on Friday we had a very special show and tell....
Week beginning November 5th
This week we learnt all about Remembrance Day. We found out about the Unknown Soldier and wrote letters to him. We thought of interesting adjectives and wrote poems about poppies. At the end of the week Kingfishers created a poppy wreath for our special Remembrance Worship.
In maths this week we learned how to perform subtraction number sentences.
Week beginning 8th October
This week in maths we have been sorting whole numbers into two parts and then learned how to use the plus and equal sign to make an addition number sentence.
Some of us have been learning 'ow' blow the snow our phonics sessions. We made snowflakes to blow around and thought of different words with the 'ow' sound in them. It was funny to be thinking about snow when it was so warm outside!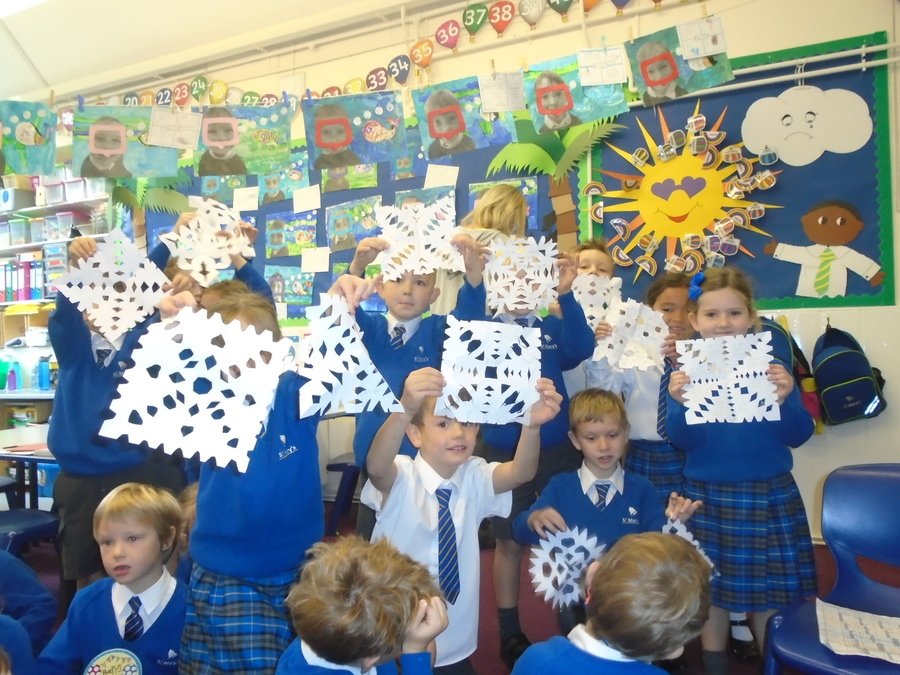 During art we have been making collages, but we cannot show you the results just yet - they are a secret that you will be able to find out about if you visit the Autumn Bazaar!
We have been improving our shot during archery by making sure that we position our bodies correctly, hold the bow securely and pull back the bow string to touch our ears. Look at the results!
Week Beginning 24th September
In maths this week we have been ordering numbers and deciding which numbers were greater or less than. We chose two numbers and used Charlie Crocodile to show which of the numbers was the greatest or smallest. We learnt that Charlie Crocodile always eats the biggest number.
For art this week we have been looking at different ways that we can apply paint to a piece of paper. We looked closely at the painting ' The Starry Night' by Vincent Van Gogh and tried to recreate his style. Instead of palette knives we used glue spreaders to apply a thick layer of paint.
Some of us looked closely at our friends and tried to draw a portrait of them using pastels.
In morning worship some of Kingfisher Class helped 'Open the Book' to retell the story of how Jesus healed the 10 lepers. We were surprised to hear, that once Jesus had healed the lepers, only one returned to thank him!
Week beginning 10th September
Our first full week at school and we have learnt so much already. We can all come into class and put our things away independently and start a morning task.
In Science this week we learnt about the different parts of our body and then in English we labelled all the parts we new.
For maths we tried to group objects in as many different ways as we could.
During R.E we thought about God, what he might be like and what symbols we could use to represent him. Here are some of our ideas.