Week Beginning 28th June
This week in science we have been recording the growth of our cress and bean seeds and discovering what plants really need to grow.
During English we started to think about pets that we could include in our story writing. We thought about what they might do and started to research a pet.
We learnt about human and physical features in geography and tried to name some of these on a map of the local area.
We have been keeping an eye on the time in our maths lessons, learning how to tell an o'clock and half past time as well as adding and subtracting an hour.
We are looking at the work of Yvonne Coomber in art and have started some of our own finger painted flower gardens.
Week Beginning 7th June
Welcome back to the last half term in Kingfisher class!
In Literacy this week we have been looking at poetry. We listened to the poem 'Daffodils' by William Wordsworth and thought about how the poem made us feel. Then we looked at the words in the poem and tried to decide what they meant. Finally we painted a picture of daffodils and wrote an acrostic poem using noun phrases.
Maths this week was all about rotation and direction. First we learnt our key vocabulary and then used it to try and make shapes in the classroom. We drew clocks to help us turn in a clockwise and anti-clockwise direction and looked at quarter, half, three-quarter and whole turns.
Week Beginning 17th May
We have been very busy this week learning all about the life and times of Grace Darling. We found out what a day was like for her and tried some of the activities that she might have had to do.
During DT we completed our moving pictures depicting a lighthouse and sea rescue. Children were challenged to use as many different moving mechanisms as they could.
Week Beginning 3rd May
This week Kingfishers have been busy listening to the story of Stanley's Stick.
We thought about an everyday object that we might find lying around and how we would use our imaginations to turn it into something else. We also learnt about noun phrases and how they could improve our sentences.

In maths Kingfishers have been thinking about sharing things into equal groups, including themselves! They have created arrays to compare sharing with multiplication.
Kingfishers have continued to investigate moving pictures in D.T and this week have used a wheel mechanism.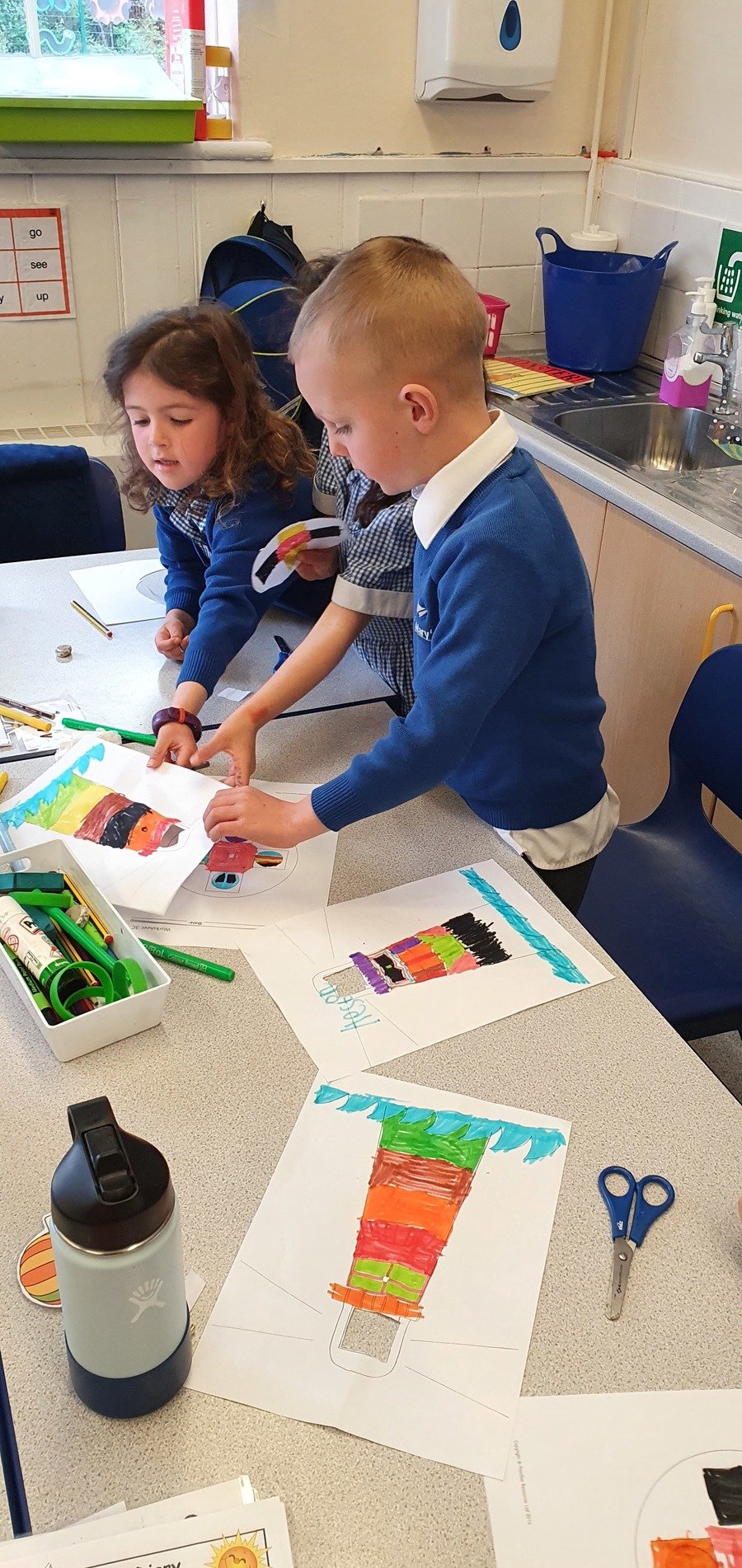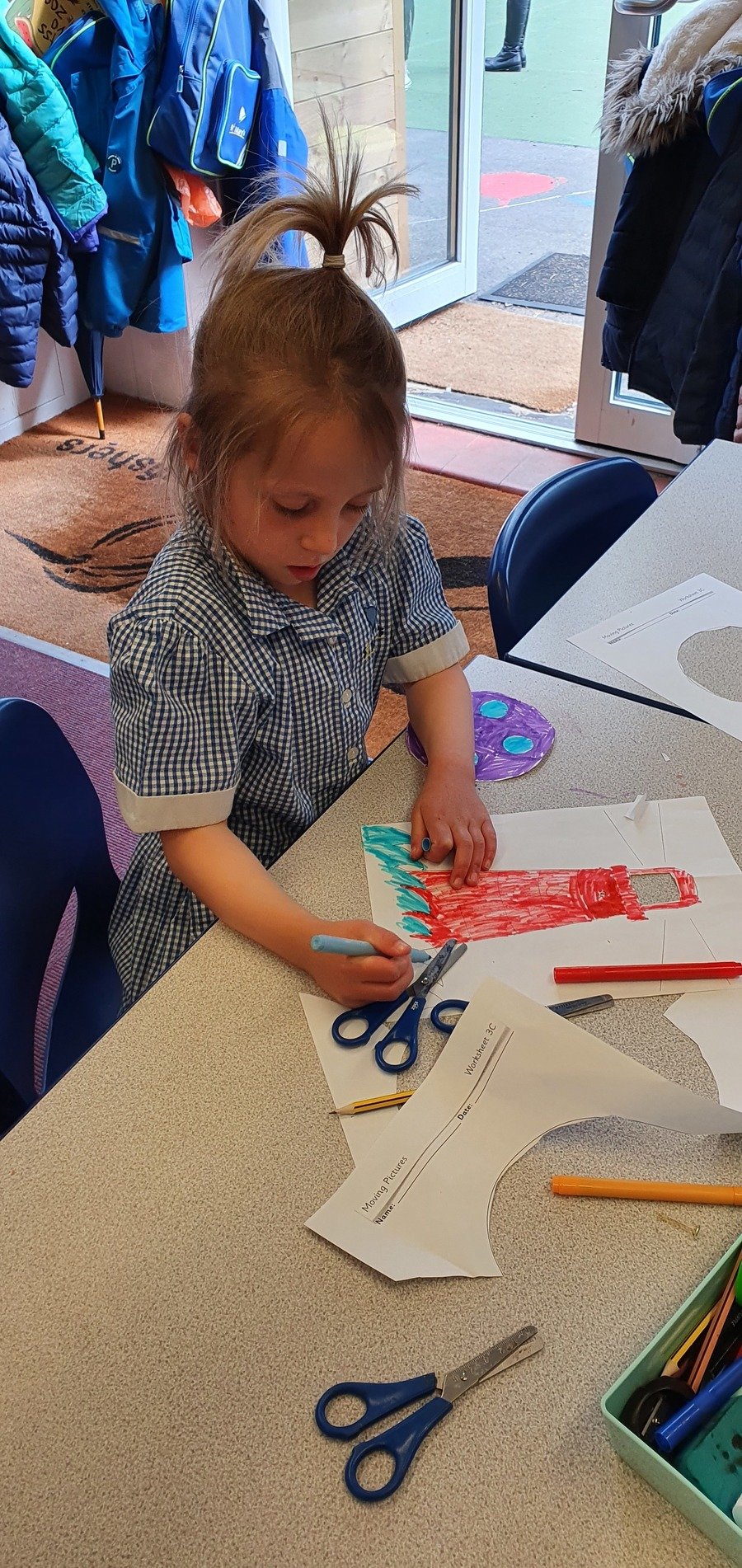 Week Beginning 19th April
Welcome back Kingfishers. Children have enjoyed returning to school and beginning their final term in Year 1.
Our topic this half term is all about Grace Darling and the children have been finding out what it means to be famous.
Kingfisher class also welcomed 30 new aspiring authors to their number as everyone published their own stories based on 'Lost and Found' by Oliver Jeffers. We hope to record some of these stories, during our ICT lessons, for you to hear in the coming weeks.
Here are our first 4 authors with their version of the 'Lost and Found' story.
MARCH
We are all back in school!
Week Beginning 7th December
This week we had our Christmas Pause Day and Kingfisher class thought about the true meaning of Christmas and advent. They made an advent wreath to help them count down until the day of Jesus' birth. Children learnt about the Angel Gabriel and made Angel themed Christmas cards.
Rev Jane sent us a virtual Christingle service and the children made Christingles in class.
We thought about other ways of counting down days and made calendars for the New Year. Finally we made decorations for the Christmas tree.
Week Beginning 23rd November
What a brilliant end to the week! The children celebrated Diwali with Bollywood dancing. Check out our home page to see more of the fun! Even Miss Parsons and Mrs Dodgson joined in!
In science we learnt more about the weather and how to measure the wind. We made windmills.
We have been looking at, and using the language of, position and direction in maths lessons this week. We have solved problems, helping Mr Whirligig to find things that he has lost.
Then we challenged each other to produce a pattern that we had made.
During R.E. Kingfishers discussed stories from the Old Testament of the Bible. They heard the story of Daniel in the Lion's Den and thought about what the story was trying to tell us. Here is some of their work.
Some of Kingfishers got to finish off painting their poppy pictures.
See you after half term Kingfishers!
Week Beginning 9th November
This week we have been learning all about Remembrance in Kingfisher class. In literacy we looked at the lives of soldiers in the past and wrote a letter to an unknown soldier.
We looked at the work of the artist Georgia O'Keeffe and then tried to draw our own closeup pictures of poppies.
Some of Kingfisher class then learnt how to mix and apply paint. They painted their poppies. When they have dried off the darker parts of the poppy can be added. The other Kingfishers will paint their poppies next week.
On Wednesday 11th of November we had a remembrance service in class. We learnt about two soldiers and at 11.00 am we held a two minute silence. You can watch the highlights on the VLE.
We have been learning how to make different shapes in gymnastics and how to hold a balance. Kingfishers were challenged to see how many cones they could balance on each others bodies.
We have continued to look at subtraction and finding the difference in maths this week. Some kingfishers subtracted by jumping back along a number line.
Week Beginning 19th October
Wow! Where did that first half term go?
Kingfishers have been working on number bonds to 10 in maths this week. They have used numicon, part-whole models, tens frames and dominoes to investigate bonds.
In science we have investigated our 5 senses. We used our tongues to taste onion, lemon, pretzels, bitter chocolate, bread and banana - with some interesting results.
We used our sense of hearing during music and made up our own musical scripts which we played in front of the class.
Kingfishers used all their senses when they made cheese and bacon muffins with Mrs Dodgson. The learnt how to measure, mix, chop and grate.
Enjoy your half term Kingfishers.
Week Beginning 21st September
This week we had a visit from two very special ladies from the NHS. They showed us how germs can spread around the classroom and how to wash our hands properly.
We heard the story of funny bones and thought of reasons why we might need a skeleton. Then we made our own skeletons with art straws and labelled them.
During maths this week we have been looking at numbers that are greater than and smaller than. We used Charlie crock to help us because he always eats the biggest numbers!
This weeks superstars were.....
Week Beginning 14th September
Kingfisher class have shown how grown up and sensible they are this week, coming in and following classroom routines. What superstars you all are!
This week in maths Kingfishers have been looking at numbers 1 more than and 1 less than. They used cubes, dinosaurs, fruit and numicon to help them to count. Children also investigated greater than, less than and equal numbers.
During English, Kingfishers learnt about labels and captions. They labelled lots of different things, including themselves!
Children looked closely at themselves in mirrors and tried to draw a self portrait during art.
On Friday we had a fun half hour and explored the toy box!
Look who got a certificate in our celebration assembly this week. Well done!
Week Beginning 7th September
A big WELCOME to all our new Kingfishers. Mrs Dodgson and Miss Parsons have been really looking forward to seeing you all in class. Don't you all look very smart and grown up?
And what a busy first week back we have had! The children settled in quickly and have been very productive. Kingfishers sorted out our class rules first and all agreed on the behaviour they need to show in the class. Children had fun painting pictures for our new topic board 'Incredible Me'.
In maths this week Kingfishers have been sorting and grouping objects to 10. The children had to think of as many different ways of sorting the same objects.
During R.E. Kingfishers thought about God and what he is like. They thought of words to describe God and a symbol to recognise him by.
Our super stars for the week were awarded a certificate each during our Friday assembly.
Week Beginning 5th July
What a brilliant week we have had! It was especially nice to see all Kingfisher parents who attended our afternoon of sports. The children behaved brilliantly and put on a good display of sportsmanship as they cheered one another on.
During English we have been researching different animals so that we can add them to our story writing next week. We found out what pets eat, where they sleep and what they like to play with.
We used finger painting and flicked paint onto paper to create a flower picture in the style of Yvonne Coomber.
Week Beginning 14th June
This week we have been thinking about plants. We planted beans and cress seed and started our 'Growth' diaries. We also planted an Oak as we will be learning all about trees in science.
On Thursday we had our first school trip of the year. Everyone was very excited about going to Wisley Garden and we managed to dodge the rain all day! Kingfishers learnt all about plants and collected lots of leaves and petals. We went into the glasshouse to see cacti and tropical plants and finally had lots of fun in the adventure playground.
Kingfishers have been working hard on performing their family assembly on Grace Darling. See the trailer below for a taster and the full assembly can be seen on Kingfisher learning pages.
In R.E. this week Kingfishers learnt all about Shabbat, the Jewish day of rest. They watched how a family prepare for Shabbat, and found out why it is special and different from other times of the week. Kingfishers came together to share challah bread (especially made by Mrs Dodgson!) and grape juice.
We have continued to find out more about fractions this week. Kingfishers have been trying to find numbers that will quarter.
On Friday we dressed up in our best party clothes and took part in the May Day Celebrations. We performed a country dance....
Then we danced around the Maypole before eating cake in the class! Thank you to the mummies for making such a delicious cake!!
Week Beginning 10th May
Kingfishers have been learning about the Jewish faith this half term and this week have made a Torah containing some of the 10 commandments. They also made a cover for their scrolls.
Week Beginning 26th April
This week in Science, Kingfisher class we have been looking at the movement of our shadows across the day. We were very lucky that the weather has been so sunny!
We have some more authors reading the books that they have written in class.
During DT we have been making moving pictures using lever, pivots, sliders and wheel mechanisms.
Kingfishers have been looking at multiplication during maths this week. They have been making arrays to show 'lots of'.
It is so wonderful having everyone together again in class! Although we are really busy working hard in class we took time out to see Ben and Hannah from Spirit of the Wild. They brought some of their amazing animals to see us and we learnt about what they eat and where they live. It's not every Monday morning that you get to hold a python and have an owl flying around the hall!
Week Beginning 30th November
We have been learning about the features of instructional text in class. We learnt how to follow and write instructions and made some lovely chocolate Rudolph's.
In maths the children looked at 3D shapes and made a cuboid, which they decorated, to take their chocolate Rudolph's home in.
Kingfishers investigated lots of 3D shapes this week.
We made some super wooden reindeer decorations to go on our Christmas tree.
Week Beginning 16th November
Kingfishers have had fun trying out their map making skills this week. They found out what an aerial view is and used this knowledge to make an aerial view of the classroom.
During maths, Kingfisher have been investigating teen numbers, making them in lots of different ways.
Kingfishers have been improving their hockey skills during PE with the Chelsea coaches.
Week Beginning 2nd November
Welcome back Kingfishers, we hope you have had a lovely half term break!
In English this week the children have been talking about Guy Fawkes and Bonfire night. They have looked at pictures and watched videos of fireworks and bonfires then thought of lots of adjectives to describe them. Kingfishers put their ideas into acrostic and shape poems.
Week Beginning 12th October
In English this week children have continued to work on the story of 'Super Daisy'. They have thought of different places for Daisy to visit and animals for her to meet. Kingfishers have planned their own stories on story maps.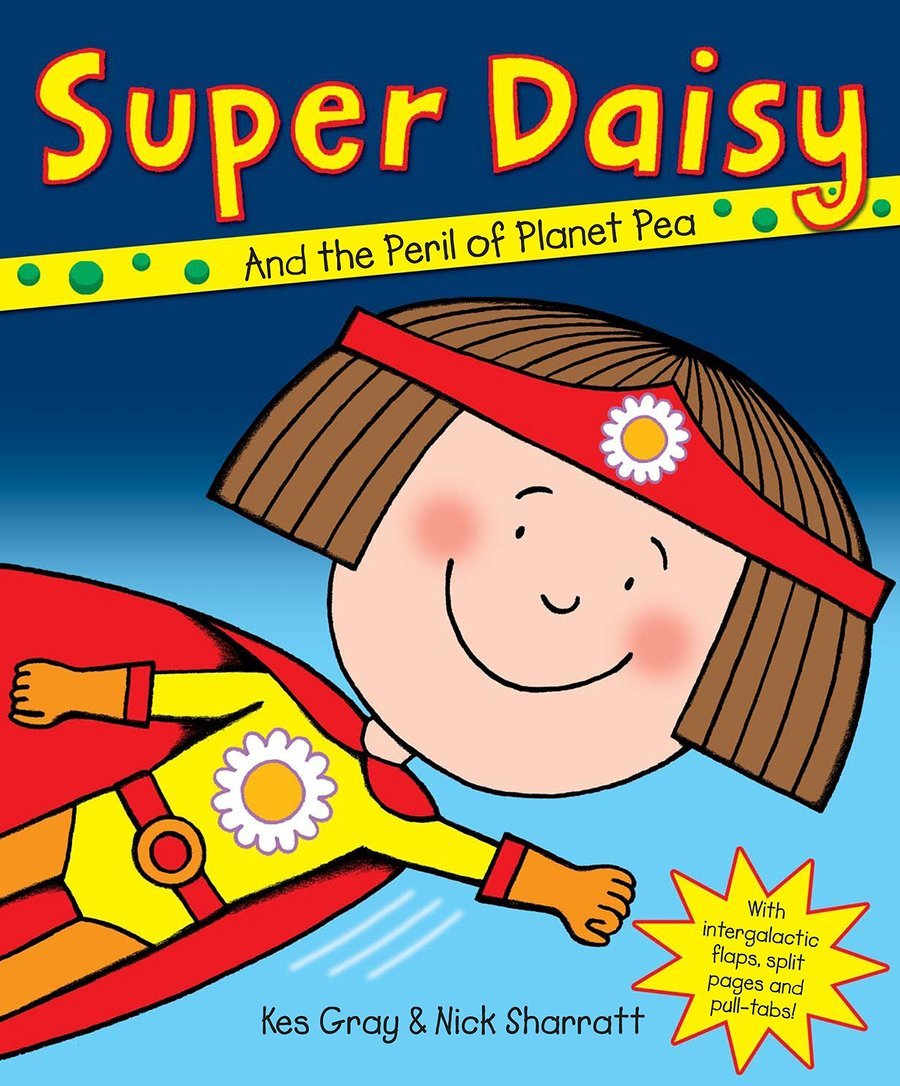 During maths children have been looking at number families, making number bond pairs of 5, 7, 8 and 10. They have recorded their number bonds as simple addition number sentences.
Continuing with our topic theme of 'Incredible Me', children have produced some amazing self portraits in the style of the Picasso. At the end of the lesson we looked at everyone's work - the portraits were very funny!
Outside learning with Mrs Dodgson this week was all about minibeasts and Kingfishers made super clay models of their favourite animals. There were a lot of worms, hedgehogs and flies.
Week Beginning 5th October
Kingfishers have been learning how to use the plus and equals signs in number sentences this week. They made a number sentence with numicon and other apparatus and then recorded these in their books.
Children found out more about the countries of the UK this week when we learnt about Northern Ireland. We looked at different features of the country including the Giant's Causeway. Kingfishers then watched a film about the tale of the two giants and drew their response.
During art Kingfishers talked about different actions they could do with their bodies. They looked at pictures of sports men and women and then made paper collages of themselves in action poses.
Kingfishers have had fun learning our sounds in phonics this week. During literacy they heard the story of 'Super Daisy', retold it in their own words and then wrote their own version using simple sentences, capital letters and full stops.
Week Beginning 28th September
Wow, this month has shot past very quickly and Kingfishers have been working very hard! On Friday we had a visit from the police too!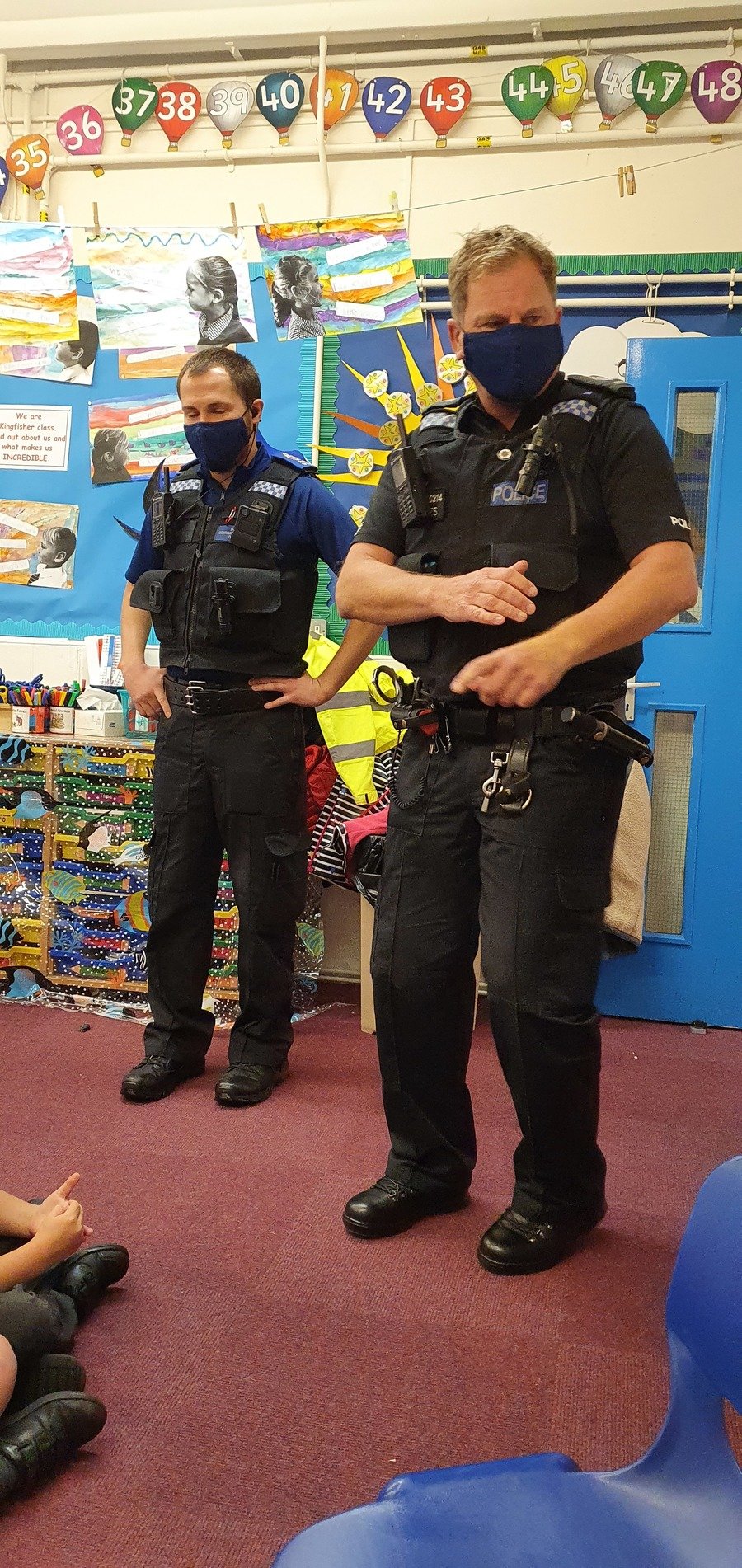 The children have been learning about the different countries that make up the UK. This week they found out more about Scotland and learnt that the capital city is called Edinburgh. Then they made their own tartan fabric from paper strips.
During maths we have been learning how to use a number line. We found numbers more than, less than and in between. Then we added two numbers together and drew our jumps along the line.
Outside learning, with Mrs Dodgson, was great fun this week and children made super forest crowns from natural objects. The rain held off and just look at some of the wonderful results.
Kingfishers have been learning how to programme a computer, giving them instructions and making a simple app.
This week our superstars are....